Contributing writer
Contributing writer
Jamey Powell is a writer and editor living in Brooklyn, NY. Previously the senior market editor at Healthline.com, she has years of experience scouring endless product reviews and testing out the latest and greatest products in the sleep, fitness, and nutrition markets.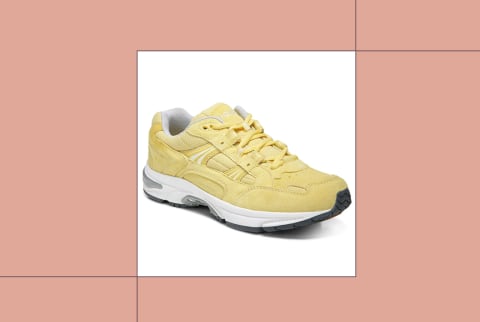 September 28, 2022
Our editors have independently chosen the products listed on this page. If you purchase something mentioned in this article, we may
It might sound silly, but shoes can play a huge role in your overall health. Wearing the wrong shoes can not only cramp your style, but it can also cause a cascade of postural and structural issues in your body. Whether you're a walker, a runner, or a frequent-theme-park goer, the best orthopedic shoes will offer sufficient support and cushioning to keep your feet happy—and your body healthy. 
Orthopedic shoes provide intentional arch support, targeted cushioning, and room for custom orthotics. Each person has different needs when it comes to footwear, so we rounded up a few of the best orthopedic shoes to help you get a little more support in your soles.
How do you know if you need orthopedic shoes?
"The most common reason we prescribe orthopedic shoes is for foot deformity or 'at risk' feet," explains holistic podiatrist, Robert Kornfeld, DPM. "Patients with diabetes (who suffer from peripheral vascular disease or peripheral neuropathy) and non-diabetics with peripheral vascular disease and peripheral neuropathy are considered at risk." 
Still, even if those conditions don't apply to you, you may want to consider a pair of shoes that is designed to offer support and alleviate pain. Or, you might simply need a pair that can accommodate a custom orthotic, which is an insert that works to bring your foot into alignment.
Keep in mind, there are plenty of off-the-shelf shoes out there that label themselves as orthopedic, but might not be a total fit for your needs. "An authentic orthopedic shoe is fabricated off a cast of the patient, so all of the anatomy and contour is considered in the construction of the shoe," Kornfeld explains. "There are companies who claim to make 'orthopedic shoes' that supposedly put the foot in its proper anatomical position for function, but there are too many variations in foot structure and function for me to feel confident that they would be fine for my patients." 
The orthopedic shoes on our list are a great starting point for addressing foot pain on their own, or with the help of an orthotic insert. But if you're hoping to get a better understanding of your own specific footwear needs, it's best to see a podiatrist to get to the root of the problem—especially if you are experiencing any pain or discomfort.
How we picked
Per our expert's recommendations, in addition to being supportive on its own, a true orthopedic sneaker should be able to accommodate a custom orthotic if necessary.
We focused on brands that are transparent and reputable. Plus, we prioritized companies that take extra action to give back.
Custom orthotics can get expensive, as can off-the-shelf sneakers, so we tried to incorporate a variety of price-points to fit all budgets.
We read hundreds of reviews, focusing on those from folks with orthotic inserts or special support needs.
our picks for the best orthopedic shoes
How to choose
When picking out the right orthopedic shoes for you, you'll want to consider how much flexibility you like in a shoe and what you'll be using them for. For example, runners will need a little more flexibility in an orthopedic shoe than folks who stand all day. 
Most orthopedic shoes are designed for people seeking arch support, but this can vary by brand (and of course, your foot's arch). If it's a top priority for you, make sure it's called out in the shoe's design. 
Another thing to keep in mind is whether you need a shoe that accommodates a custom orthotic. Some folks need a little more spaciousness for their orthotics, so it might help to look for shoes that have a wide version available.
All the shoes on our list are sneakers, as they offer the most orthopedic support—but we also have a list of podiatrist-recommended sandals, too!
FAQ
What is the difference between orthotic shoes and orthopedic shoes?

Orthotics are shoe inserts that bring your foot into proper alignment—they can be custom made or purchased over the counter. Orthopedic shoes are designed to support your feet and legs while relieving pain and can be purchased both from a podiatrist or off the shelf.
How do you know if you need orthopedic shoes?

If you have a foot deformity or constant foot pain, you may need orthopedic shoes or inserts. It's best to see a podiatrist for a full diagnosis.
Can anyone wear orthopedic shoes?

"Absolutely," Kornfeld confirms. "However, if there is no medical requirement it will not be covered by insurance and they can be quite expensive."
The takeaway
Whether you're a walker, a runner (or someone who stands all day at work), our feet go through a lot—and it's up to us to keep them happy and healthy. If you're needing more stability and cushion in your shoe, one of the orthopedic and orthotic-friendly shoes on our list might just do the trick. Just remember, don't hesitate to reach out to a podiatrist if you're experiencing any concerning foot or ankle pain—life's too short to let the wrong shoes slow you down.