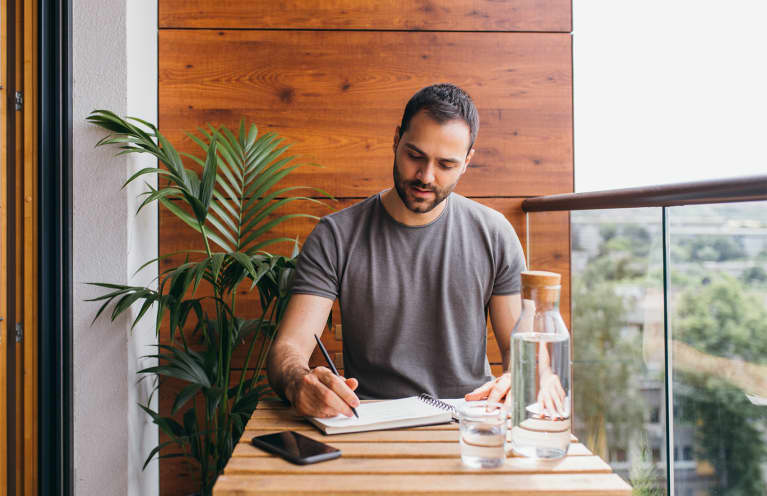 October 13, 2022 — 11:02 AM
Your home is a mirror of your life. And when you're looking to boost your wealth—along with your confidence, self-esteem, sense of personal power, ingenuity, motivation, focus, and all the other factors that are associated with making more money—your home can be a fantastic support system.
It's far easier to maintain a growth mindset in a space that feels like a sanctuary. As a feng shui master, I've found that once people's home becomes more organized and deliberately designed, they begin to feel a shift in their day-to-day lives. So as you care for your home, you're also caring for yourself. This investment of energy in your home is an investment in your well-being.
Here are some simple and very deliberate shifts you can customize in your own home to lean into wealth energy:
Decluttering can often bring you instant abundance. As you eliminate old stuff, you make space for new things to arrive—often with great speed.
2.
Make small home repairs and updates. 
Your home projects may be minor, but their effects can be major. Some examples: fix a stuck window or a squeaky hinge on a door, replace a knob on a drawer, or get a new shower head if yours is leaky. Broken items are not just annoying, they can sap the energy from your space. These simple fixes can put an end to these energetic drains.
3.
Put your favorite high-vibe tools on display.
You might keep a sound bowl or candles on your coffee table, a handful of your favorite crystals for meditation on a nightstand beside your bed, or your most energy-activating incense and room sprays on a table in your entryway. As you see them often, you'll be prompted to use them more often.
These powerful tools can also serve as a reminder to focus on—and reach for—more positive energy and great outcomes as you move through the day.
Create an art gallery wall and fill it with things you love. It can be art that you create yourself or even photos you print and frame from your digital collection. The idea is to boldly imprint your creativity onto your home. Your freedom of self-expression is the engine of so much abundance, and you'll feel more creative in a home that's infused with your style and artistry.
5.
Add a plant to your desk.
I always recommend keeping your at-home workspace minimal—with the exception of a thriving plant. With a plant as your focal point, your focus will be on growth. Many people ask me if an artificial plant counts, and the answer is yes, as long as you keep it very clean. That said, if you are not big on plant care, I recommend placing some bamboo stalks in a vase full of water (just keep the water clean) for a low-maintenance way to bring the energy of nature into your home.
6.
Add rich texture to every room, especially ones that feel flat or uninviting. 
Ideas include: a fluffy rug, a soft throw blanket, beautifully textured pillows, even a wall tapestry full of texture. These sensory touches will all add more dimension and softness to your home. Your space will look richer, and that soft, receptive energy will also welcome in abundance.
7.
Create an opportunity for money to pile up.
You might grab a beautiful glass, a big Mason jar, or a decorative crystal bowl and add your spare change to it. This aesthetically pleasing piggy bank will serve to remind you of all the ways you are proactively building your abundance. Add a few of your favorite crystals to make it even more of an energized wealth magnet.
As you continue to add feng shui to your space, you'll start living in a vision board of your dreams and desires. You'll be immersed in everything that you want to experience and feel on an emotional level. Making these tweaks at home is both a practical and magical way to multiply your manifesting power.
https://www.mindbodygreen.com/articles/feng-shui-for-abundance