Registered Nurse (RN)
Registered Nurse (RN)
Amanda is a registered nurse with over a decade of experience in clinical nursing and a member of the Association of Healthcare Journalists.
Image by LetsGetChecked/ mbg creative / mbg creative
October 13, 2022
Our editors have independently chosen the products listed on this page. If you purchase something mentioned in this article, we may
Interest in at-home testing is surging as people become more comfortable than ever taking an active role in their health care, and home-testing brands like LetsGetChecked are quickly rising in popularity as consumers consider their options.
After all, we've become accustomed to doing seemingly everything from home: working, ordering food, teaching, and scheduling telehealth visits. So it's no surprise performing at-home medical testing from the comfort of our kitchen counters feels pretty, well, normal—and experts predict the at-home testing market will be worth more than 25 billion by 2025.
This option to self-administer a lab test, find out the results, and then go to a health care provider for treatment is changing trends in health care. The ability to bypass busy waiting rooms, expensive office visits, inconvenient testing locations, and strict insurance qualifications is streamlining the health screening process and pushing consumers to take health care into their hands.    
While we always recommend working with a health care provider when possible, especially if you have a chronic condition, it's important to know the options. We took an in-depth look to find out why LetsGetChecked has garnered so much praise and how it compares to competitors in the market.
What is LetsGetChecked?
LetsGetChecked is a leader in at-home testing. With over 30 tests to choose from, the brand emerged in 2013 as a one-stop shop for direct-to-consumer testing. The company offers screenings for men's and women's specific health concerns, along with STI, wellness, and coronavirus testing.
Similar to other at-home testing brands, LetsGetChecked offers the general public a chance to purchase tests without a doctor's order or even an office visit. However, the brand sets itself apart by allowing shoppers to add a virtual consultation to discuss test results with a health care provider for just $39. Considering the lack of information about test results and post-test care is often one of the biggest downsides for many at-home test kits, this process helps the brand stand out in an ever-growing market.
Depending on the state you reside in, the doctor can also send in prescriptions for you, should they deem it necessary. There is a considerable list of conditions that are not treated, as well as quite a few medications that are not prescribed by LetsGetChecked providers. But for basic health care needs, this is an affordable and convenient option.
How does LetsGetChecked work? 
My LetsGetChecked testing kit was delivered via USPS four days after it was ordered online. I opted to try out the at-home vitamin deficiency test, as it felt the most comprehensive of the offerings.
The sample box comes in what some may consider a discreet shipping bag, and the return address reads "Privapath Diagnostics." It's a clever move from the company—however, if you were hoping to keep your testing a secret from your mail carrier or someone in your household, it doesn't take much to realize this is a lab test. Inside the bag is a compact, neatly organized sample kit box.
The sample kit comes complete with printed directions (plus a link to video directions), lancets (very small pinprick needles), gauze, Band-Aids, a collection tube, a card with a bar code, a sample bag, and a shipping bag. To say this company is user-friendly is an understatement.
As soon as I opened the box, I was prompted to register my test in the LetsGetChecked app by scanning a QR code on my phone. From there, the instructions walked me through each sample collection step, one by one.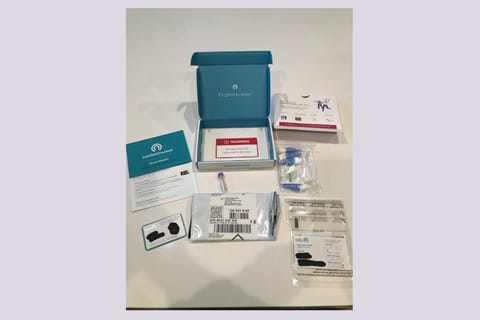 Once I laid out all the materials and read through the directions, I began to prep my sample finger. (Nurse's note: It's incredibly important to make sure your hands and working surface are clean.) After sanitizing my finger with the provided alcohol swab, I went in for the prick. I will say, this part was a bit uncomfortable.
After pricking your finger, you're directed to ease the drops of blood into a tiny little vial while being careful not to touch the vial and tip it over. This was the most difficult part of the whole process. It took about 10 drops of blood total to fill the container to its marked lines, and I had to use multiple fingers.
Once I placed the sample vial in the bag, I sealed it up, placed it inside the box that it arrived in, and then put the sample inside the provided self-addressed envelope. The whole process took me about 10 minutes to complete.
As the brand requires, I dropped the sample off at a UPS Store the same day the sample was taken. As soon as it was scanned into the UPS system, I received a notification on my phone that it was on its way. I mailed it on Monday morning and was notified in the app that it was received by the lab on Wednesday. The notification that my results were ready to be viewed arrived on Saturday afternoon, five days after I had dropped off the kit.
My results revealed that I was low in vitamin D. This is not surprising to me as vitamin D deficiencies are incredibly common. The test incorporates a generic blurb, outlining the results and why this vitamin is important. This is the point at which you can choose to schedule a virtual consultation with a health care provider to review your results (for an added $39 cost). I declined further interpretations but read up on how to reach my optimal vitamin D status.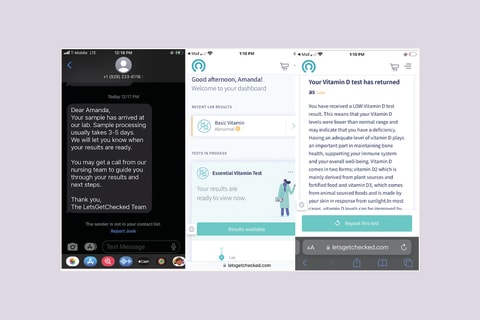 Who is LetsGetChecked good for? 
LetsGetChecked makes it very clear that it is a screening tool only, and its tests do not diagnose health conditions. According to naturopathic provider Jennifer Bennet at Aria Integrative Medicine, the benefits of using an at-home lab test include:
Getting labs done when you want them. You don't have to wait for an order from the doctor.
Receiving results back as soon as they are ready. Again, no need to wait for the doctor to sign off on the results, as they come directly from the lab.
Getting tests done that your doctor might be reluctant to order. Many times, if a provider is not comfortable treating a condition or is unfamiliar with the symptoms, they will not order the test. With at-home testing, you can choose which conditions to test for (assuming a kit is available).
Cost-efficient. Out-of-pocket costs for at-home testing are typically less expensive than trying to go through insurance, as many lab tests are not covered. Bennet notes that it is very important to follow up with a health care provider once you receive your results. Most people who aren't physicians or health care professionals do not understand abnormal results. A physician can match lab results with current symptoms and make sure that additional testing is ordered if needed. (Although, with LetsGetChecked's option for a virtual health consult, anyone can chat with a health care provider to discuss treatment options.
What tests does LetsGetChecked offer?
LetsGetChecked offers tests in five categories: women's, men's, and sexual health; wellness; and coronavirus tests. Although there are some overlaps in categories, here's how LetsGetChecked breaks it down:
Women's Health
Female Hormones
PCOS
Ovarian Reserve
Progesterone
Vaginitis
Bacterial Vaginosis
Thyroid
Thyroid Antibodies
Men's Health
Male Hormones
Male Hormones Advanced
Male Hormone Complete
Testosterone
Colon Cancer Screening
Cholesterol
Diabetes and Heart
Sexual Health
Simple 2 (chlamydia, gonorrhea) 
Standard 5 (chlamydia, gonorrhea, trichomoniasis, HIV, syphilis)
Complete 8 (chlamydia, gonorrhea, trichomoniasis, HIV, syphilis, gardnerella, mycoplasma, ureaplasma)
Wellness
Colon Cancer screening
Cortisol
HsCRP
Diabetes
Diabetes and Heart
Kidney
Essential Vitamins
Lyme Disease
Cholesterol
Minerals
Micronutrients
Vitamin D
Thyroid
Thyroid Antibodies
Most of these tests require a small pinprick of a blood sample from your fingertip. However, depending on the type of test, other potential sample types are nasal and vaginal swabs, urine, or fecal samples. The LetsGetChecked website has informative step-by-step videos on collection methods.
We tested out LetsGetChecked: A detailed review
Collection method: Finger prick
Coverage: Insurance not accepted
Payment/subscription options: Accepts all major credit cards, and also typically qualifies as a medical expense for HSA/FSA accounts
Checks levels of: Vitamin B12, D, and E
Result Time: The website states 2-5 days for results, but once the lab received my sample I was informed via text that it would be 3-5 days for sample processing
The LetsGetChecked Essential Vitamins test measures vitamin B-12, vitamin D, and vitamin E levels. Making sure these vitamins are within a normal range is valuable information—especially when taking a holistic approach to your health.
Checking the levels of these vitamins is not necessarily standard practice in your yearly doctor's office screenings, so at-home options like this one are useful. Even if you were to convince your health care provider to order these tests, it's rare that they would be covered by insurance, unless you had a medical diagnosis to warrant the testing. 
For a flat rate of $109, you get the test delivered to your door and results in about a week. This simple, innovative way to take charge of your health bypasses the need for lengthy doctor's office visits, lab visit inconveniences, and fees associated.
LetsGetChecked vs. EverlyWell vs. imaware
LetsGetChecked is not the only at-home lab testing brand on the market. Although the company does have a longer track record than newcomers, there is still stiff competition. Two other prominent players in the game are EverlyWell and imaware.
EverlyWell is a relatively newer company on the at-home testing scene. Its testing process and costs are similar to LetsGetChecked; however, it stands out by including food sensitivity panels, which LetsGetChecked does not currently offer. You can also purchase vitamins and minerals directly from the EverlyWell site, and the kits are available for pickup at major retailers nationwide, such as Target, CVS, and Walgreens. EverlyWell does not offer a follow-up consultation, so you will need to take any abnormal results to your own provider.
Imaware offers affordable at-home testing for a range of specific issues. The company produces clear, easy-to-read results—just know, you may have to wait over a week for them to be processed. Email is the only way to contact the company for help, so if you have any questions mid-test, you are pretty much on your own.
FAQ
Are LetsGetChecked at-home tests reliable?

Yes, LetsGetChecked uses CLIA (Clinical Laboratory Improvement Amendments) certified labs just as a traditional lab does. In fact, they use the same labs as your doctor's office—so the accuracy of your results is comparable to your local lab. As with any at-home test, there is potential for user error. Following the directions carefully can help minimize the risk of contaminating or mislabeling your sample so that it will be processed successfully. 
Is LetsGetChecked easy to use?

Yes, LetsGetChecked at-home tests are very user-friendly. The step-by-step directions are clear, and your kit will even come with a link to a video tutorial. The only part of the sample collection that can be a bit tricky is getting the blood drops into the vial without tipping over the little container.
Is LetsGetChecked covered by insurance?

No, not at this time. However, at-home testing generally qualifies as a medical expense, so most HSA and FSA accounts will authorize the purchase. With the rise in at-home testing, insurance companies may need to change their coverage terms in the future.
The takeaway.
LetsGetsChecked has declared itself a reliable, convenient way to screen for basic lab abnormalities. The company offers physician consults for an additional fee, but each test provides simple-to-understand results and easy-to-use testing directions. These kits are making at-home lab testing accessible for anyone.  
In this in-depth review of LetsGetChecked, we came to love its streamlined approach to health care. Our only wish is that the company offered more options for testing. As at-home testing becomes more desirable, these companies will inevitably respond. LetsGetChecked is leading the way into the future of autonomous health care, and we love the direction it's going.
If you have decided that you want to try out LetsGetChecked, you can read about specific tests recommended by a functional medicine doctor to choose which ones are advised.