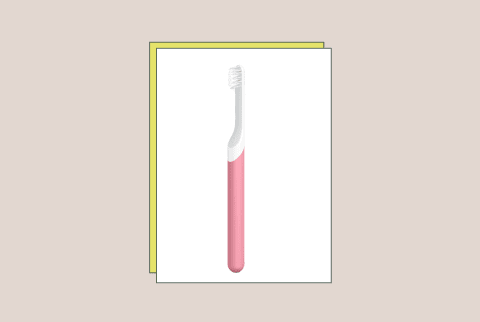 September 29, 2022
Our editors have independently chosen the products listed on this page. If you purchase something mentioned in this article, we may
Failing to have good oral hygiene does more than increase your risk of cavities or halitosis. Did you know that poor oral health also affects your brain, heart, and lung health? Studies show a link between people who suffer from periodontal disease and a higher risk of other health concerns, such as Alzheimer's, type 2 diabetes, and obesity. 
Good dental hygiene habits like regular cleanings, flossing, and tongue scraping can help fight off the bad bacteria that causes disease—and it all starts with your brushing habits. For many, the best electric toothbrushes stand out as any easy way to get the most efficient clean, disrupting plaque and leaving a healthier mouth. 
Below, we uncover why an electric toothbrush may be your best pick for your oral health, as well as our top picks chosen with input from dentists.
Is an electric toothbrush necessary?
Although the American Dental Association (ADA) says that both manual and electric toothbrushes are sufficient at removing plaque, the general consensus among experts is that electric toothbrushes are better. 
A review on electric toothbrushes found they were more efficient than manual options at reducing dental plaque and gingivitis. Dentist and private practice owner Ranae Sweeney, DMD says the easiest way to describe this improvement is that "electric toothbrushes do more of the work for you, so they're less technique sensitive." 
Of course, that doesn't mean you can skip the brushing technique altogether. You should still hit the ADA's recommendation of two-minutes per brushing session. Sweeney also warns, "When you're using an electric toothbrush, you'll need to be careful that you are using a soft bristle head and aren't using too much pressure, as you can cause damage to your gums." 
Which company has the best electric toothbrush?
Popular dental-care brands like Oral-B and Philip Sonicare both get the thumbs up from both oral health experts interviewed for this piece, as well as the American Dental Association due to the years of research completed by the brands. Beyond that, the debate comes down to personal preferences, per dentist Andrea Montoya, DMD. She says that neither brand is necessarily better, chalking up preference on whether you prefer a longer toothbrush head (Sonicare) or a rounder toothbrush head (Oral-B). 
"Both brands are great," Sweeney agrees—but she still swings in favor of one. "Across the board, Oral-B toothbrushes tend to be less expensive, and the brush head is smaller which allows you to get to hard to reach areas more easily."
What to look for in an electric toothbrush.
Of course, Oral-B and Sonicare may be some of the most popular oral care brands, but they're not the only ones inventing new technology to change the oral health game. When searching for the best electric toothbrush, Montoya says the first step is ensuring the oral care device has the ADA's Seal of Acceptance. This small label ensures that it's "safe and proven to remove plaque efficacious," among other criteria. 
From there, it's really about finding the right pick to suit your mouth and preferred brushing technique. As Montoya points out, designs vary: "some have a round oscillating head, some vibrate, some are bulky, [and] some have smart features." 
How we picked:
Personal preference on movement can vary a lot, so our selections span sonic vibrating, pulsating, and oscillating-rotating brushes that are all ADA-approved.
Both experts we spoke with agreed that soft-bristle brushes are best for all mouths, especially for sensitive teeth and gums.
Our selections have sensors that expert's believe mitigate overzealous brushing that can cause damage to enamel and gums.
We sought products that have earned the ADA Seal of Acceptance or are backed by research and expert approval, so you can shop with confidence. 
Our picks for the best electric toothbrushes of 2022:
Pros:
AI and Bluetooth technology for real-time coaching
Gum-specific brush head attachment
Sleek charging case for travel
Warranty: 2-year
Battery life: 14 days
Bluetooth connectivity: Yes
The Philips Sonicare DiamondClean is great for people with gum disease, because it offers four cleaning modes, including a gentle gum health mode, as well as three intensities levels to better customize your brushing experience. Dr. Sarmento deems this the best electric toothbrush, raving that "it makes my teeth feel the cleanest, and I prefer the long toothbrush head versus the round." 
Research shows this electric toothbrush results in seven times healthier gums in just two weeks of use—though that study is backed by Philips Sonicare. For sensitive or receding gums, you'll love the slower cleaning action paired with their specialized G3 Premium Gum Care brush head that will be softer on the teeth and gums than normal brush heads.
What Customers Say:
Customers say that this electric toothbrush is worth the price because it delivers a "just-left-the-dentist clean" and helps with teeth whitening. One happy customer who called this product a saving grace for their gums says, "To my surprise this product was extremely helpful with reducing gum pain. Within the first two days, I noticed a huge difference with my gum health. I would highly recommend this electric toothbrush to anyone and everyone. I never understood why someone would spend so much money on a toothbrush, but now I will be a loyal customer."
Pros:
AI and Bluetooth technology for real-time coaching
Lightweight design
Comes with phone holder & travel case
Warranty: 2-year
Battery life: 12.5 days
Bluetooth connectivity: Yes
Trial: 60 days
Anyone who struggles to perfect their brushing technique should turn to Oral-B's most advanced and arguably best electric toothbrush, the iO 9. This tech savvy brush is the personal go-to for our expert, Dr. Sweeney, who says the gentle micro-vibrations make her "teeth feel the cleanest with it." Beyond its sleek design, which adds a note of luxury to your at-home cleaning routine, it has new-age tech features that take brushing beyond the basics. The Smart Pressure Sensor turns red if you're brushing too hard, seven different cleaning modes customize your cleaning experience, a 16-degree angle reaches deep between teeth, and 3D teeth tracking and AI Recognition give you real-time feedback to know where you've brushed (and haven't) so you don't miss a spot. 
What Customers Say:
84% of reviewers left this high-tech device a perfect rating. Customers rave about the toothbrush's 3D teeth tracking, which guides you to your best clean using AI technology. One reviewer says, "I think that this is one of the best electric toothbrushes ever. The app is amazing and it allows you to be interactive when brushing your teeth. I decided to try [it] out for a whiter smile, and I can definitely see a difference." Another agrees, "The best feature by far is the ability to choose your setting for when brushing your teeth. I have very sensitive teeth, so the super gentle mode option is quite lovely." While this product rings in as the most expensive toothbrush on our list, reviewers agree that it's a worthy investment.
Pros:
Offers subscriptions for easy refills
Customizable brush handle
Affordable
Cons:
Some say customer service is hit or miss
Warranty: Lifetime
Battery life: 3 months
Bluetooth connectivity: No
Trial: 30 days
When shopping for an electric toothbrush for kids, Dr. Sweeney, DMD, says the "biggest goal is getting your child used to brushing and establishing good hygiene habits early on." Quip's kids' electric toothbrush checks all the boxes with four bright, kid-friendly color options and timed sonic vibrations that teach kids how long to brush by helping them move through four different quadrants in the mouth during the 2-minute timed session. Its soft bristles are surrounded by rubber massagers and powered with ultrasonic vibrations, which are designed to be gentle on tender gums with loose and erupting teeth. Plus, it's one of the most affordable options on the market that's also eco-friendly. 
If you want something with smart features, you can always pay a little more for the "smart" model, which is compatible with a smartphone app. It adds an incentive to brushing regularly by allowing kids to earn rewards in the Quip app, but the upgrade costs about twice the price.
What Customers Say:
The reviews for the Quip kids brush are mostly positive, with an average of 4.5 out of 5 stars with over 17,500 reviews on Target. Customers are saying their kids from ages 3+ enjoy using this to brush their teeth compared to others. One parent says, "My kid loves this electric toothbrush as it's not as wildly overpowered as some other brands. It results in them brushing their teeth for the full time!" It's worth noting that a few customers found switching subscriptions to be tricky.
Pros:
Gentle enough for new electric toothbrush users
Affordable
Warranty: 2-year
Bluetooth connectivity: No
Trial: 60 days
The Oral-B Pro 1000 is a great, affordable step up from a manual toothbrush, providing a superior clean and the tools to build excellent brushing habits. The 3D cleaning action oscillates and rotates to remove plaque, and the in-handle timer helps you brush for the dentist-recommended 2 minutes. While it only has one cleaning mode, it'll give you an everyday clean to step up your oral health if you brush at least two times per day for at least two minutes. 
What Customers Say:
With over 1,500 reviews on Amazon, this budget friendly electric toothbrush has an average of 4.7 stars. Reviewers mention the ease of use and the clean feeling that comes from using it. One reviewer said, "It is the best experience I have ever had brushing my teeth. The size and shape of the head easily reaches the back teeth, [and] the 2-minute timer ensures you are brushing for the right amount of time, leaving you with a fresh-from-the-dentist feel." It's worth noting that while most reviewers are happy with their purchase, many of them said that this was their first electric toothbrush ever. So if you're looking to level up from an electric toothbrush you already own, this might not wow you as much as it did others. 
FAQ
Which type of electric toothbrush is the best?

Our experts recommend electric toothbrushes that oscillate and/or vibrate to remove plaque efficaciously and reduce the presence of gingivitis.
Which company has the best electric toothbrush?

Our experts' top recommendations are Oral-B and Philips Sonicare, but between the two is personal preference
Which electric toothbrush is recommended by the ADA?

All Oral-B and Quip products on this page have been awarded the ADA Seal of Acceptance.
Which toothbrush lasts longer: Oral-B or Sonicare?

 Dentists recommend switching out toothbrush heads every 3 months, regardless of the brand. The durability of the toothbrush itself is dependent on how it is taken care of and maintained, along with design.
The takeaway.
Whether you're new to using an electric toothbrush or simply want to find the new, best electric toothbrush to take your at-home cleaning to the next level, these options have you covered. Anyone who wants a dentist-approved toothbrush to boost their overall health can't go wrong with Oral-B, Philips Sonicare, and Quip. Just remember to keep these tips in mind for oral health habits to avoid.