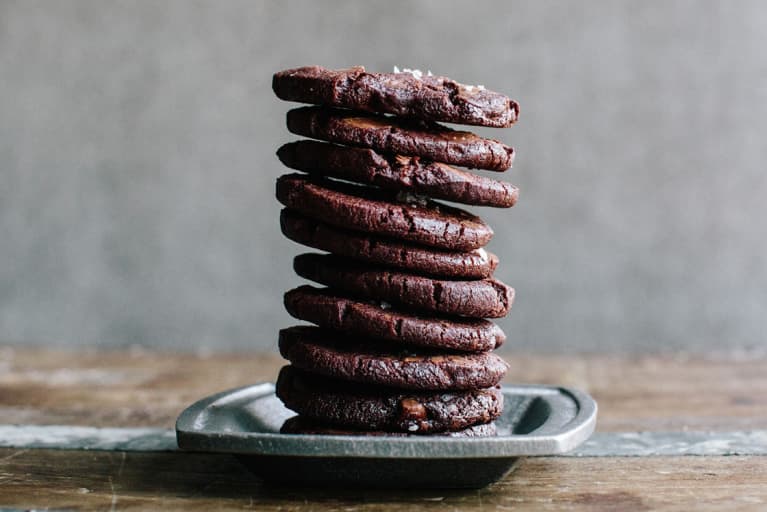 September 22, 2022 — 11:01 AM
When you think of indulging in a post-dinner treat, you may imagine ice cream, chocolate bars, or sugary beverages. While these may do the trick craving-wise, these foods will likely spike your blood sugar levels, which isn't so great right before hitting the hay.
Of course, everything in moderation is A-OK, but for those of us with a sweet tooth that shows its face daily, these sweets packed with added sugar may not be the answer. What is, then, you might ask? Well, here's one option reviewers say checks the sweet-craving box.
How mbg's chocolate beauty & gut collagen+ provides healthy flavor. 
The mbg chocolate beauty & gut collagen+ powder is one healthy alternative to a traditional chocolate dessert, without any added sugar. We use organic cocoa derived from cacao trees in South America, East Africa, and the Dominican Republic to create a rich chocolate flavor. These high-quality cocoa beans have been roasted and ground to retain the highest nutritional value, meaning you'll get the most out of your dessert.
Although, some healthy chocolate desserts have a bitter taste due to a lack of sweetener; after all, cacao alone can deliver a chalky, stark flavor. Luckily, there's one natural sugar we've found to be a better alternative: 100% pure monk fruit. Also known as luo han guo and "Buddha fruit," this sweetener has been used as a natural antioxidant for centuries in Chinese medicine.
Depending on where you buy it, some monk fruit sugars contain additives that can influence a blood sugar spike (read: Products labeled as monk fruit sugar may contain other forms of sugar as well). This is why it's so essential to read the ingredient list on your products, even if the label claims to be only one ingredient.
However, pure forms (like that in our blend, i.e., organic monk fruit extract) are fermented from the pulp of the fruit, which removes the sugars but leaves a residual sweet flavor. It's a win-win: You'll get the delicious sweetness needed to tone down bitter cacao but without the full sugar profile. In short, this monk fruit sugar is ideal for those with a daily sweet craving.
Not sure how to use this decadent powder? Here are a few of our favorite chocolatey collagen recipes for your browsing pleasure:
Just because you like to eat chocolate every day doesn't mean you must subject yourself to a huge blood sugar spike. If you want a healthier option, the mbg chocolate beauty & gut collagen+ is a great high-quality pick. This powder comes sweetened with plants (organic cacao and monk fruit) to offer a rich and sweet chocolate flavor. The best part? It can be used in ice cream, shakes, hot chocolate, cookies, and more. Sweet tooth satisfaction is just one of the many benefits of taking a supplement like this one—here's a breakdown of some of the notable others.
If you are pregnant, breastfeeding, or taking medications, consult with your doctor before starting a supplement routine. It is always optimal to consult with a health care provider when considering what supplements are right for you.
https://www.mindbodygreen.com/articles/how-mbgs-collagen-powder-satisfies-your-sweet-cravings