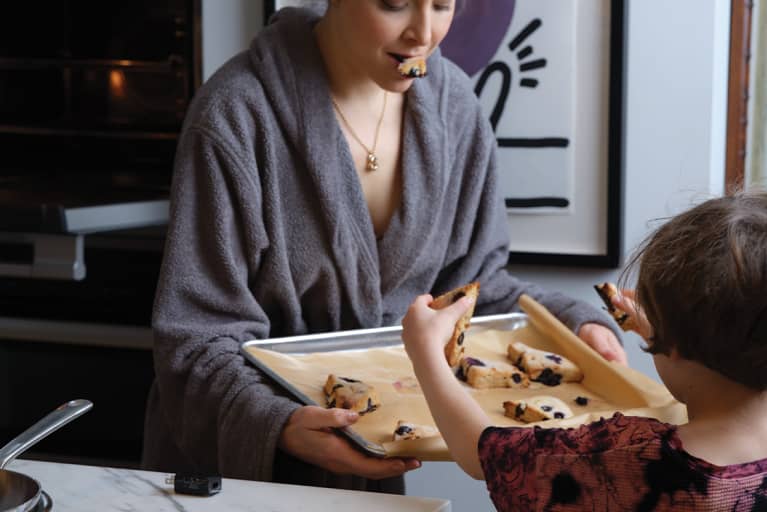 September 13, 2022 — 10:02 AM
Following a grain and dairy-free diet (whether by necessity or choice) is no doubt difficult to navigate, and oftentimes you'll find that in adjusting certain recipes to fit your dietary needs, the flavor is depleted in the process. However, actress and author Jenny Mollen understands the importance of preserving flavor while creating delicious, accessible recipes. Especially if you're cooking for children—or, as she calls them, "young dictators" in her new book Dictator Lunches.
Looking to create a decadent meal fit for your children without the allergens of dairy or grain? These blueberry scones are the perfect fit. "When I'm able to adjust a recipe by removing the grain without completely destroying the flavor, I always go for it. These scones pack all of the punch of an afternoon tea with none of the sugar hangover," explains Mollen. "They are also incredible for breakfast. You know I wouldn't make you use sugar unless you absolutely had to! Here, it adds a special kind of crunch."
Whether you're making these scones for your children or yourself, they're sure to be a hit.
(Grain- and dairy-free) scones with blueberries
1 cup almond flour
1/2 cup cassava flour
2 tablespoons sugar, plus an additional 1/2 teaspoons to sprinkle on top (like the scones just got married) before sending them off to the oven
1/2 teaspoon baking powder
3 tablespoons coconut oil, melted
1/2 cup unsweetened almond milk or milk of your choice
1/2 cup blueberries
1/2 teaspoon vanilla extract
Preheat the oven to 400°F. Line a baking sheet with parchment paper.
Whisk together the flours, 1 tablespoon of the sugar, and the baking powder in a large bowl.
Pour the melted coconut oil into the flour mixture and, using a pastry cutter or your hands, mix to distribute it evenly.
Make a well in the center of the flour mixture and pour in the almond milk and vanilla. Gently stir until the dough just comes together. (Don't overmix.)
Gently fold in the blueberries.
Turn the dough out onto your work surface. Pat it into an 8-inch round and cut the round into 8 wedges. Place the wedges 1 inch apart on the prepared baking sheet.
Bake until golden brown, 18 to 22 minutes.
Reprinted from Dictator Lunches by arrangement with Harvest, an imprint of HarperCollins Publishers. Copyright © 2022, Jenny Mollen.
Reset Your Gut
Sign up for our FREE doctor-approved gut health guide featuring shopping lists, recipes, and tips
You are now subscribed
Be on the lookout for a welcome email in your inbox!
https://www.mindbodygreen.com/articles/grain-and-dairy-free-blueberry-scones