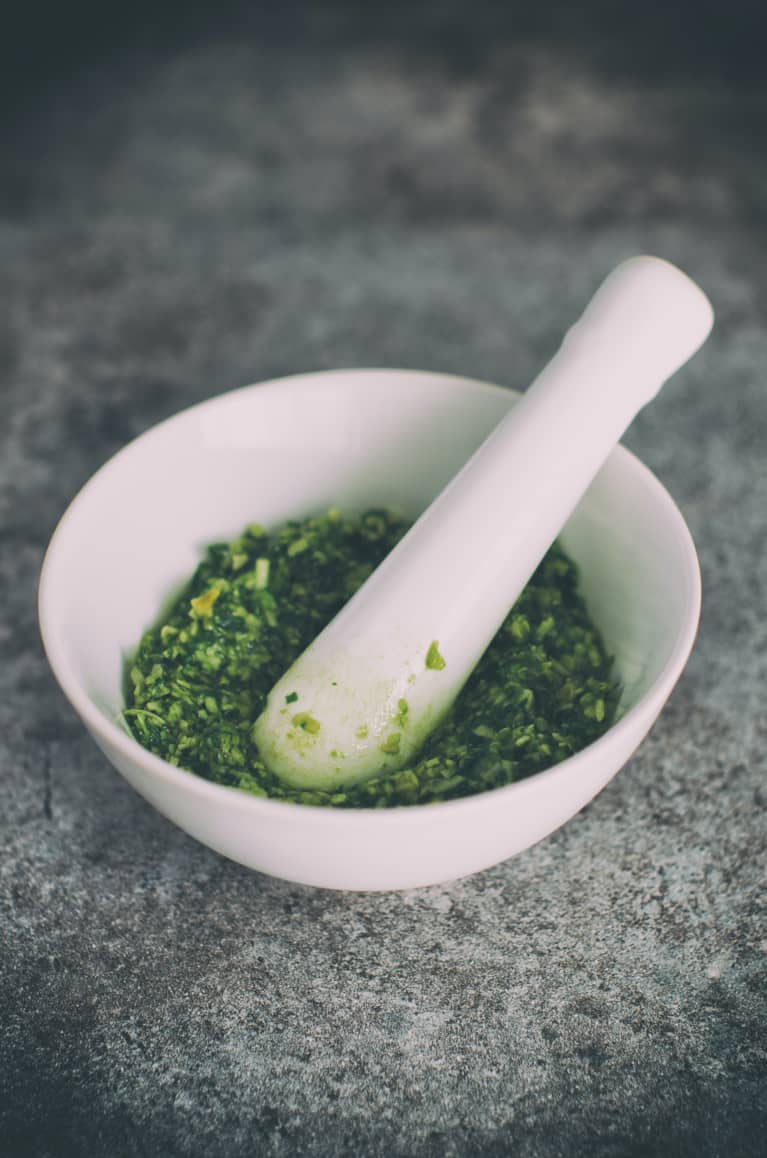 August 30, 2022 — 11:48 AM
If there's one thing TikTok is good for, it's recipe inspiration. I'm the first to admit that my meals can become a little uninspired at times, and I've been resorting to the same breakfast (two fried eggs—sometimes scrambled—with whole wheat toast) for nearly three years with very little variation. So, when I saw a new trend taking the internet by storm, I knew it was my time to shine. Ladies and gentlemen: pesto eggs.
We all know that eggs aren't particularly flavorful without seasoning, and while I often find myself reaching for an excess of paprika to complement the salt and pepper, I was immediately intrigued by the thought of integrating pesto into my cooking method.
The idea is simple: Instead of heating up the pan with a generous spread of olive oil, you coat the hot surface with a spoonful of pesto. It makes sense considering this fan-favorite sauce is already heavily dependent on its olive oil base. Salt and pepper are still essential to doctor up the overall flavor, but cooking your eggs on a bed of pesto adds a unique, and frankly delicious, touch to a meal I've eaten tirelessly for the last thousand-plus days. 
Now, hear me out. My favorite part of the pesto eggs trend is the creativity it allows me to have with ingredients. If you're fond of making your own dips and sauces like me (read me wax poetic about my favorite food processor here) then this recipe is the perfect opportunity to make your own pesto with ingredients you love. My recommendation? mbg's organic veggies+.
Not only does this greens powder have a neutral flavor that slips under the radar in the majority of my favorite recipes, but it also provides some significant nutritional benefits that I love to sneak in wherever I can so I know I'm making the most of my diet.
With 31 powerhouse ingredients, including organic sea vegetables, leafy greens, berries, prebiotic fiber, and more, my gut microbiome and digestion thank me whenever I add a tablespoon of this powder to my cooking.* Just include a serving in your favorite homemade pesto recipe—may we recommend this one—and your egg breakfast will be even healthier than before.
I know I need to switch up my breakfast routine, and pesto eggs are a great way to take a tiny step out of my comfort zone without entirely disrupting my cooking patterns. With homemade pesto including organic veggies+, this is a recipe I know is doing the most amount of good for my body and will keep me fueled all throughout my busy morning with a more diverse flavor profile than just salt and pepper.
If you are pregnant, breastfeeding, or taking medications, consult with your doctor before starting a supplement routine. It is always optimal to consult with a health care provider when considering what supplements are right for you.
https://www.mindbodygreen.com/articles/tiktoks-pesto-egg-recipe-is-made-even-healthier-with-this-sneaky-ingredient