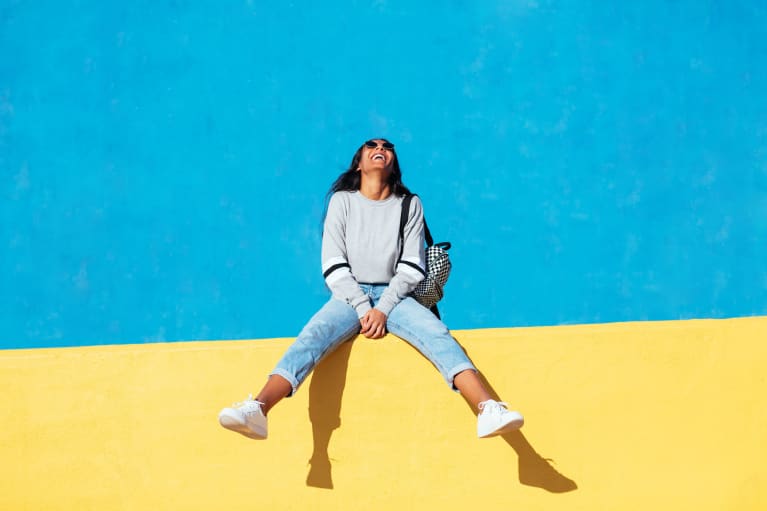 August 19, 2022 — 9:05 AM
A healthy inflammatory response will serve anybody well. You can help yours out by eating a balanced diet, prioritizing gut health, managing stress, and exercising regularly. Taking a supplement that supports normal inflammatory processes can help too—but with so many out there, which one should you choose?
Allow us to introduce turmeric potency+, a unique formula designed with real results in mind. Not only can it help support a healthy inflammatory response, but it also promotes musculoskeletal health and fights free radicals thanks to a cutting-edge formulation.* Read on for five things that make our turmeric supplement special.
1.
It has up to 10x higher absorption than other forms of turmeric.*
Turmeric is a powerful spice that's long been used to support good health, but unfortunately, most forms of it are rapidly metabolized in the body and poorly absorbed. For this reason, when creating turmeric potency+, mbg opted to include Acumin™ full-spectrum turmeric root extract. This turmeric form leverages a technology called polar-nonpolar-sandwiching (PNS) to protect the full array of bioactives (including curcumin, curcuminoids, and phytonutrients) in turmeric and make them more bioavailable.*
In fact, clinical evidence shows that it has up to 5x higher bioavailability than phospholipid/liposomal turmeric extract, 6x higher bioavailability than volatile oil/turmeric oil extract, and 10x higher bioavailability than standard turmeric extract.*† Using this form of turmeric makes it possible to pack tons of benefits into a small, convenient serving size (2 capsules/ day).
2.
It contains full-spectrum ginger root extract & black pepper fruit extract.
Along with 500 milligrams of Acumin™ full-spectrum turmeric, turmeric potency+ also delivers 150 milligrams of full-spectrum ginger root extract (Ginactiv®), and 5 milligrams of black pepper fruit extract (with 95% piperine).
Full-spectrum ginger root extract has complementary antioxidant benefits and supports a healthy inflammatory response in the body, while piperine, a bio-enhancer found in our black pepper extract, enhances the absorption of curcumin found in turmeric.*
3.
All these ingredients work synergistically in the body.
As you might be catching on, all of these powerhouse ingredients come together synergistically to support that bioavailable turmeric we mentioned earlier.
"Turmeric is our clear hero in this formula, but the ginger and black pepper are full-on additions, too. You receive full-spectrum ginger root extract as Ginactiv® that utilizes PNS technology, plus everyone's beloved black pepper bonus: piperine,"* explains vice president of scientific affairs Ashley Jordan Ferira, Ph.D., RDN. "This trio is next level for whole-body antioxidant benefits, and what's more, our turmeric has also been clinically shown to support healthy inflammatory pathways,"* she adds.
4.
There's the added benefit of antioxidants and joint support.*
If you thought this supplement was just for supporting a healthy inflammatory response, you'll be pleased to know it has other benefits, too. For one thing, all three ingredients make for a powerful antioxidant trio, and as we know, antioxidants play a huge role in everything from skin health, to heart health, to longevity, and more.*
And thanks to turmeric's ability to support a healthy inflammatory response, your joints will thank you for it too. Reviewers note that it's a great supplement to keep in their gym bag for muscle fitness and recovery after tough workouts.*
5.
Turmeric has been trusted for centuries.
And last but not least, if you still need convincing, look to ancient wisdom. Turmeric has been used in Ayurveda for thousands of years, so the benefits of this spice have withstood the test of time. We just gave them a modern makeover.
If you are pregnant, breastfeeding, or taking medications, consult with your doctor before starting a supplement routine. It is always optimal to consult with a health care provider when considering what supplements are right for you.
† Acumin™ research has demonstrated superior bioavailability, curcuminoid serum response, and stability compared to other common forms of turmeric root extract (e.g., volatile oil, phospholipid/liposomal, and standard 95% curcumin).
https://www.mindbodygreen.com/articles/why-turmeric-potency-is-best-for-healthy-inflammatory-response