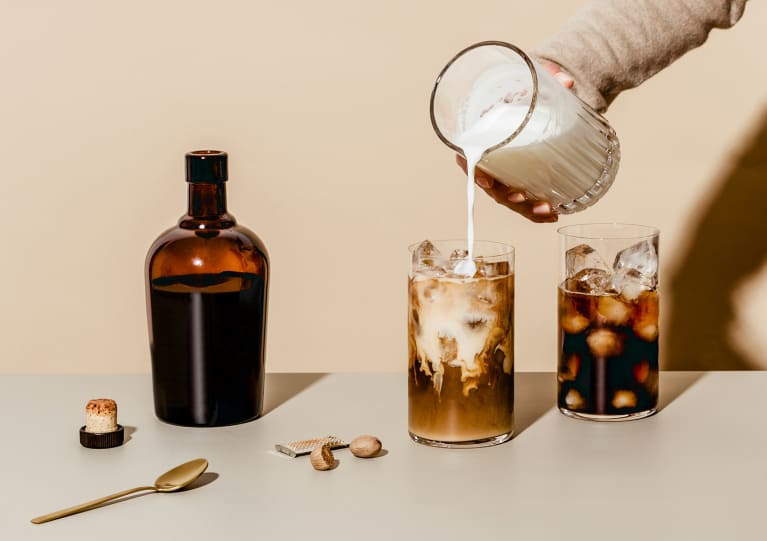 August 17, 2022 — 10:05 AM
It goes without saying at this point, but TikTok isn't just for dance trends anymore. Over the last few years, the digital platform has become the center for product recommendations, recipes, and even health and well-being tips (though they're not always research-backed, we should warn). 
One popular food-focused trend as of late: "proffee." This tag—meaning coffee with added protein—accompanies tons of videos showcasing different protein-packed coffee recipes. And while some people reach for traditional protein powders or premixed protein drinks, here's one surprising option you may want to consider for your next brew. 
Why you should add collagen to your coffee for added protein support.
Collagen is, in fact, a naturally occurring protein—in fact, it's the most abundant protein in the human body. However, collagen does lack one particular essential amino acid (called tryptophan) making it fall slightly short of the official title of, "complete protein." This means that while collagen peptides can contribute to daily protein intake, you'll want to complement them with an array of other protein sources (depending on your dietary pattern and preferences, of course) throughout the day.
However, stirring collagen in your coffee has added benefits compared to a traditional protein powder since you're getting some high-quality skin support.* Especially if you reach for the mbg beauty & gut collagen+, you'll be consuming a targeted dose of collagen peptides (the best kind: grass-fed, pasture-raised), plus a host of skin-loving ingredients, some of which include:
So if you're looking for protein support and pack in a skin-enhancing punch, you may want to opt for a multifaceted collagen supplement.* If you're still unsure which option is best for you, check out this in-depth comparison to learn more. And if you're looking for some "proffee" inspiration, here's a full list of recipes to help you out.
While protein powder may be the typical additive for "proffee," collagen serves as a worthy alternative for those looking to sneak in some skin benefits, too.* While collagen isn't technically a complete protein, it does contribute to daily protein intake. There's much more to learn regarding the ins and outs of collagen supplementation, so check out this full breakdown if you're curious about benefits, doses, and what to look for. 
If you are pregnant, breastfeeding, or taking medications, consult with your doctor before starting a supplement routine. It is always optimal to consult with a health care provider when considering what supplements are right for you.
https://www.mindbodygreen.com/articles/what-is-proffee-one-unlikely-protein-source-with-added-benefits