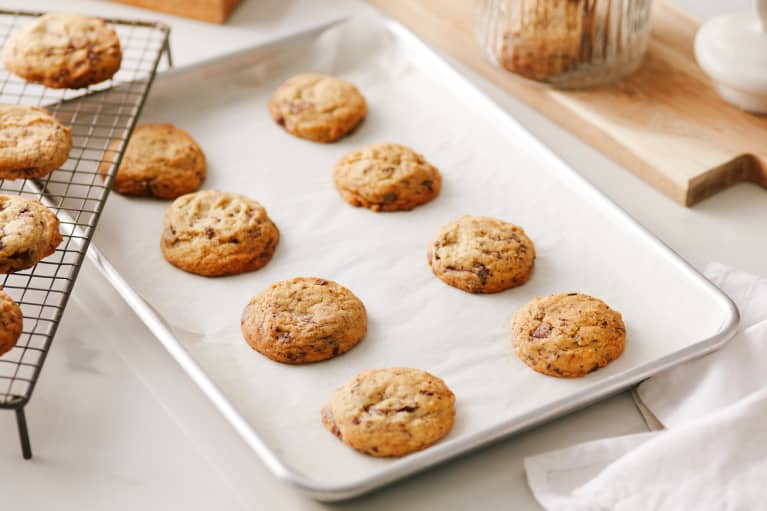 August 11, 2022 — 10:34 AM
If you're aiming to build a more sustainable lifestyle, odds are you've already taken up composting your food scraps. But have you considered actually integrating them into your recipes? Although not all food remnants are going to complement your baking, there's one ingredient that may actually be worth looking into: banana peels. More specifically, banana peel flour.
Sure, you've probably heard of almond or oat flour, but a new study recently revealed that using banana peels within your baking alongside traditional flour can actually provide a slew of nutritional benefits. Let's take a look.
Baking with banana peel flour.
Looking specifically at sugar cookies prepared with varying amounts of banana peel flour substituted for wheat flour, this study published in ACS Food Science & Technology discovered several benefits. Compared to "control" cookies (i.e., with no banana additions), cookies that had 15 percent of wheat flour substituted with banana peel flour had the highest level of moisture (important for cookie consistency) and micronutrient content, plus an increase in antioxidant properties without changing the flavor or appearance of the cookie.
"Banana flour is mostly made of carbohydrates, but it also provides some fiber and protein," registered dietitian Mia Syn, RDN previously told mbg. Although cookies in the control group of wheat flour contained the highest volume of protein and fat, the overall nutritional value was improved by mixing banana peel flour with wheat flour while baking. If you're sold on adding banana peels into your diet, may we recommend banana peel "bacon" as well?
Other ways to add nutrients to your baking.
Adding banana peel flour into your baking is one way to increase the antioxidant content of your cookies, but there are other easy ways to modify your baked goods for even more nutritional value. Our favorite? mbg's organic veggies+.
With 31 powerhouse ingredients—from organic sea vegetables and leafy greens, to digestive enzymes and prebiotic fiber—this USDA certified organic greens powder is the perfect, subtle addition to help promote a healthy gut microbiome, aid in digestion, and even offer a good source of fiber.* With just one tablespoon serving, you can give a little nutritious zhuzh to any baking project!
Adding certain nutritious ingredients such as banana peel flour and organic veggies+ to your recipes can help take your kitchen creations to the next level, without sacrificing flavor. Not to mention repurposing your banana peels is just another easy thing you can do to support the environment!
If you are pregnant, breastfeeding, or taking medications, consult with your doctor before starting a supplement routine. It is always optimal to consult with a health care provider when considering what supplements are right for you.
https://www.mindbodygreen.com/articles/baking-with-banana-peel-flour