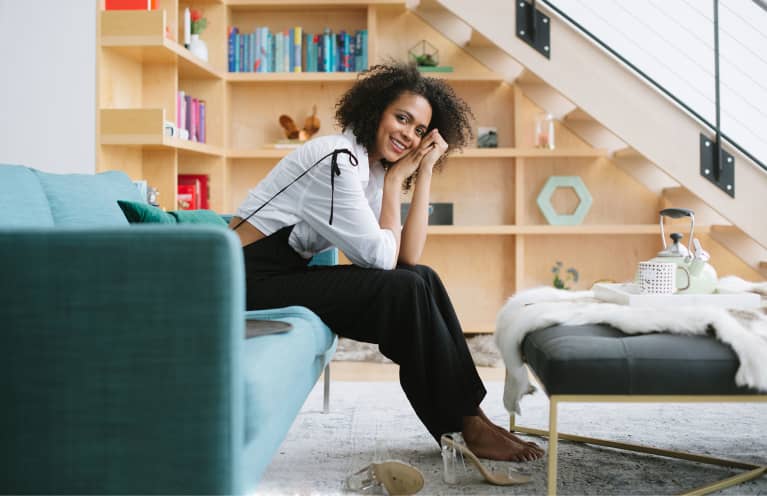 Turmeric has been used for thousands of years in Ayurvedic medicine to support joint health, promote optimal digestion, and more.* Thanks to this ancient herb's potent antioxidant properties and ability to support a healthy inflammatory response in the body, there's one lesser-known (but seriously important) area of health that turmeric can also deliver significant benefits: cognitive health and mood balance.*
How curcumin promotes mood balance & cognitive longevity. 
"Curcumin is the main antioxidant found in turmeric. Antioxidants help the body to fight off the effects of oxidative stress caused by free radicals produced via exposure to several things—such as less healthy foods and environmental pollutants,"* explains Uma Naidoo, M.D., nutritional psychiatrist, chef, and bestselling author of This Is Your Brain On Food. 
"This relationship is particularly relevant to mental fitness, as curcumin has been associated with fewer feelings of anxiousness and lower mood," she adds.
As it turns out, evidence indicates that curcumin (the principal curcuminoid in turmeric that's been most studied for its potent antioxidant properties) may play an important role in the synthesis of mood-boosting neurotransmitters.*
According to a 2020 Frontiers in Psychology scientific review, curcumin has been shown to increase levels of norepinephrine, serotonin, and dopamine in the frontal cortex, hippocampus, and striatum in preclinical animal studies.*
Other research indicates that curcumin influences the body's levels of brain-neurotrophic factor (BDNF), which plays a role in cognitive performance, memory, and yes—mood.* 
In a 2019 meta-analysis from Nutrition Research, researchers found that supplementing with turmeric daily for eight to twelve weeks significantly increased participants' serum BDNF levels.*
Evidence also suggests that increasing levels of BDNF can help maintain cognitive function later in life, which makes turmeric a dynamic herb to add to your brain longevity toolbelt as well.*
How to utilize turmeric's brain health benefits.
Supporting a healthy mood with turmeric potency+.
mindbodygreen's turmeric potency+ features 500 milligrams of full-spectrum turmeric root extract delivered with polar-nonpolar-sandwich (PNS) technology that's clinically shown to enhance turmeric's bioavailability tenfold, so you're getting the full mood-boosting benefits this Ayurvedic herb has to offer.*† 
The addition of two more ancient powerhouse botanicals, full-spectrum ginger root extract (which also utilizes PNS technology) and piperine from black pepper fruit extract, ensure that your body can fully utilize and benefit from the antioxidant actions these incredible plant extracts deliver.* 
And did we mention that our turmeric supplement is completely vegan, free from GMOs, gluten, and major food allergens, and has a short "other" ingredients list? We believe you should get all the cognitive perks you desire from your turmeric (and none of the extra stuff you're trying to avoid).
If you are pregnant, breastfeeding, or taking medications, consult with your doctor before starting a supplement routine. It is always optimal to consult with a health care provider when considering what supplements are right for you.
† Acumin™ research has demonstrated superior bioavailability, curcuminoid serum response, and stability compared to other common forms of turmeric root extract (e.g., volatile oil, phospholipid/liposomal, and standard 95% curcumin).
https://www.mindbodygreen.com/articles/turmeric-delivers-serious-mood-support