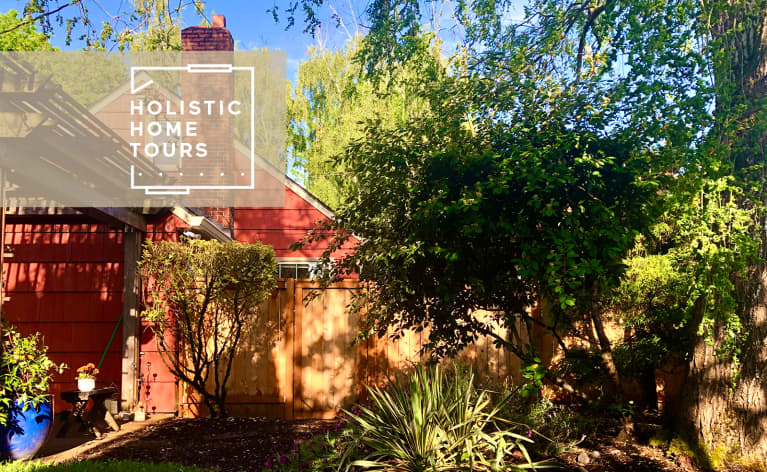 Our editors have independently chosen the products listed on this page. If you purchase something mentioned in this article, we may earn a small commission.
August 4, 2022 — 11:05 AM
Creative director Rachel Rowland had only been living in her Portland, Oregon home for a few months when the pandemic hit. Despite supply chain delays and massive material shortages, she decided to try her hand at renovating the space to better suit her needs, using techniques that were as low-waste as possible. We asked Rowland what the process taught her about sustainable design, self-sufficiency, and creating a house that feels like home—even during challenging times.
What are three words that describe your design philosophy at home?
Playful, curated, and cozy. 
Tell me about your recent home renovation!
Where to begin! This has been an evolving labor of love that has taken many forms. The largest project was a full bathroom addition to the upstairs of the home, which I designed, and built in conjunction with a contractor. We, quite literally, ripped the roof off by hand and built a bathroom into the sky! 
When I moved in, the attic had been somewhat finished, but it wasn't super functional (it very much felt like an attic) and I started getting the seeds of this idea to add on and make the whole space feel much more like a proper second floor. This led me to many late nights on Google figuring out how I could actually execute this, mood boarding, and eventually finding my rockstar contractor to make it become a reality.
Aside from the bathroom addition and attic renovation, I have done a lot of smaller-scale projects on my own, which have ranged from landscaping to staining to constructing a built-in bookshelf out of unused closet space.
What were some of the biggest challenges of keeping your upgrade sustainable and how did you overcome them?
Sustainability is always at the forefront of my mind with any project I undertake. I worked in experiential production for years, traveling around creating large-scale trade shows, festivals and the like. I saw first-hand the amount of materials that are disposed of to create these experiences, and it made me hyper-sensitive to waste in my own life.
With this project, I tried to come up with creative ways to reinvent and refurbish older pieces and limit my click-and-deliver level of consumption whenever I could.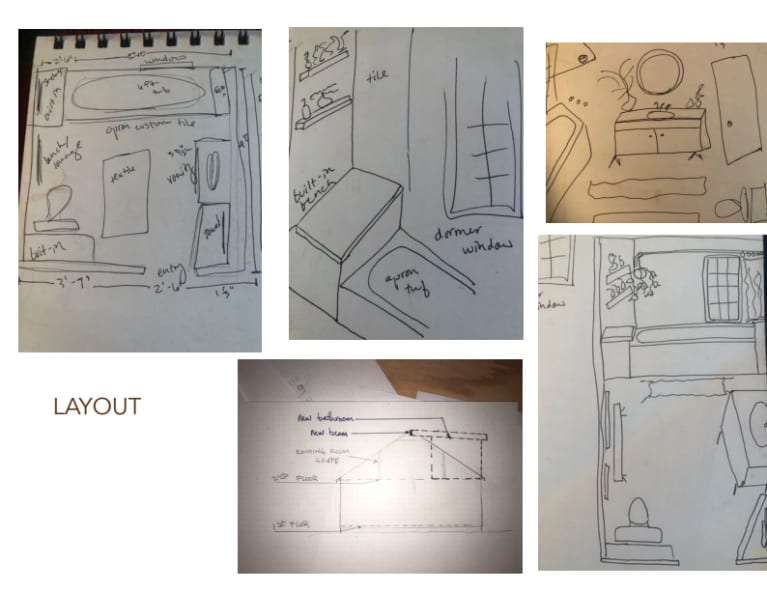 I am a huge fan of The Rebuilding Center, which is a climate justice nonprofit organization here in Portland. They aim to make reuse and repair affordable for all, reduce wasteful consumption, and make the best use of our planet's limited material resources, and they also host building education classes! They have been an invaluable resource for me that I can feel good about.
Pandemic-related sourcing challenges and logistics have actually ended up being a bit of a blessing, creatively and sustainability-wise. I would bring my inspiration and ideas, but then I had to work with limited materials, supply chain issues, etc., forcing me to lean into using what was already around me. I have lots of knick-knacks collected during my travels, and I started to let those shape my design. 
What advice do you have for people who want to tackle their own home reno but don't know how or where to get started?
I think just the action of deciding to do, and trusting your own resourcefulness, is an invaluable tool. It really bothers me that home renovation or anything that falls into the "building" realm is such a loaded, gendered thing and we assume men can do it better. I believe that the biggest hurdle is overcoming that gender-based doubt, and being open to learning. YouTube is a magical thing!
While it is important to realize your own capabilities, you also don't need to bite off way more than you can chew and exist on an island. For larger-scale projects, asking for help and working with a contractor who makes up for what you lack can produce a really great result!
Mostly though, a lot of the stuff I've done has come out of me just starting to tinker around listening to Fleetwood Mac and Alanis Morissette, getting inspired by cool lady vibes, having an idea, and breaking it down one step at a time. We've all got to start somewhere.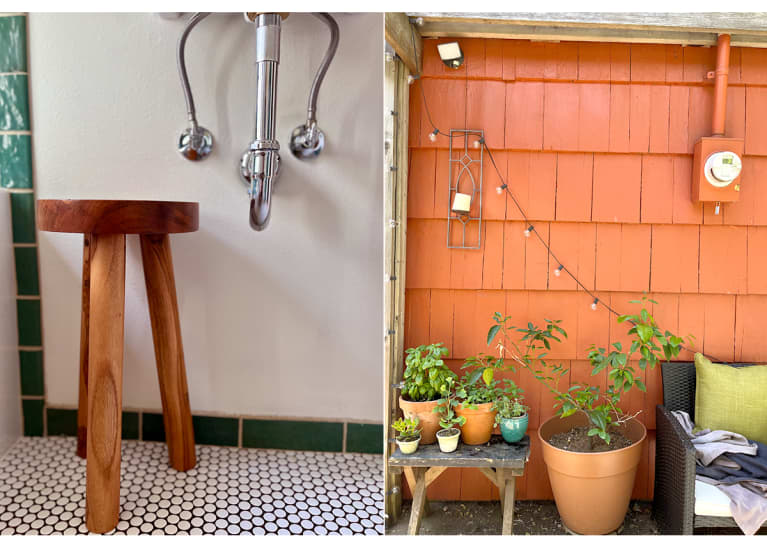 I know you'll find a lot of vintage and secondhand items in your home. Is there one piece, in particular, that has a cool story you can share?
My favorite piece in my home is probably my dining table. My grandmother and her sister were both artists, and this table belonged to their mother, my great-grandmother. It is almost 150 years old, and thinking about all of the meals shared, artwork created, and times spent at that table over three generations of women in my family is really special to me.
What is your favorite room in your home and why?
Ironically, even though I've put so much work into the house, my favorite "room" is actually the backyard! After living in Los Angeles for over a decade, I was nervous about re-adjusting to the climate of my native Northwest, so I made a conscious effort to tie the outdoor space here to that period of my life. I hung up a hammock and even put out a potted citrus tree, and sitting under the pergola is pretty much my favorite place to be at any given time.
I've tried to create a home that allows me to do the things I love.
What noises can be heard in your home? What smells?
Well, the last year has been filled with sounds of a lot of hammering and drilling, so I'm actually very much enjoying the sound of silence right now. Usually, though, I'm playing records and listening to my dog—a 14-year-old terrier mutt, Sprinks—snore.
I am always burning incense, candles, and palo santo, and I love using my fireplace—there are always smells of warmth here. I also have a few large rosemary bushes, and I sprinkle cut rosemary in vases around the house (I even rub in it my hair and on my skin as a bit of an au-naturel perfume.) Smell is such an emotional and memory-triggering thing, and it is very tied into a sense of home for me.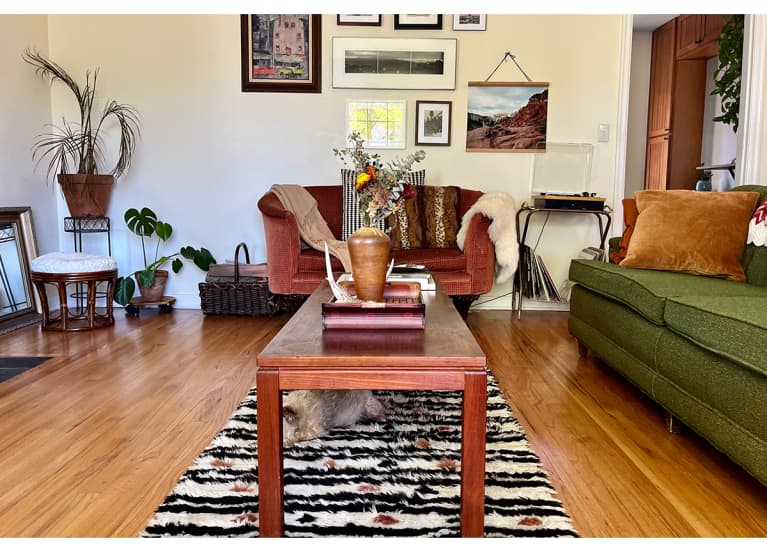 What is the best compliment you've received on your space?
Whenever people comment on my home's uniqueness or personality, that makes me happy. I try not to get swept up in trends, and I very much know when I see something if it speaks to me or not. I would rather wait and limit myself to collecting personality pieces over things just to fill space. So, I really like it when someone visits my space, and they can see that aspect of who I am and how I process things and what I value.
How does your home support your health & well-being?
I've tried to create a home that allows me to do the things I love. I like to cook and entertain, so I built a spot for people to chill and chat and have a glass of wine while I'm making dinner. I try to exercise every day, so I turned a cement slab out back into a makeshift yoga platform. I am a notorious tinkerer and get new ideas and feel inspired when I'm on the move, so I like keeping my space dynamic. Being able to do the things that make me feel like the best version of myself is the ultimate support for my mental health and physical well-being.
What does the word 'home' mean to you?
Home is a place for me to feel at peace, and absolutely comfortable in my own skin. It is where I am able to express myself and create memories. I don't necessarily think of four walls when I think of "home;" I think about watching movies and having sleepovers with my best friend when we were lonely and scared during COVID, making s'mores under a full moon, or having the first kiss with someone special. Having experiences that give life weight, no matter what that looks like—that's my version of home.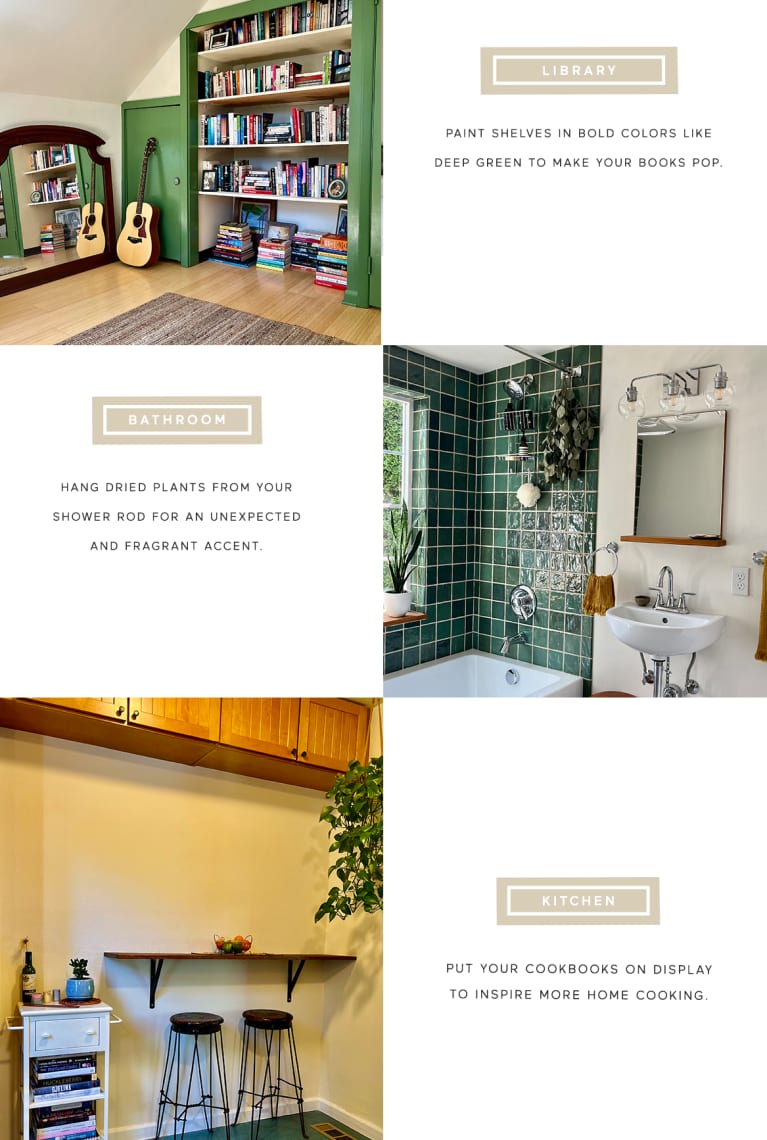 This interview has been lightly edited and condensed for clarity and brevity.
Reset Your Gut
Sign up for our FREE doctor-approved gut health guide featuring shopping lists, recipes, and tips
You are now subscribed
Be on the lookout for a welcome email in your inbox!
https://www.mindbodygreen.com/articles/holistic-home-tour-rachel-rowland-in-portland-oregon