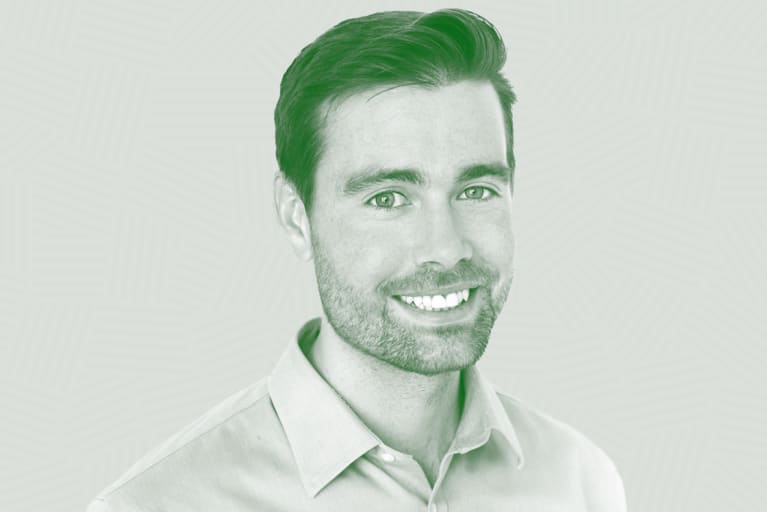 Our editors have independently chosen the products listed on this page. If you purchase something mentioned in this article, we may earn a small commission.
We love a good grocery list around here, so whenever we get the chance to probe experts on their go-to market grabs, we jump at the opportunity. Such is the case with internal medicine physician and New York Times bestselling author of Brain Wash, Austin Perlmutter, M.D. On this episode of the mindbodygreen podcast, Perlmutter discusses serotonin, balanced relationships, and social media's impact on mental health—but we couldn't let him go without asking about his top foods for brain health. 
"I am a huge fan of diet over specific foods as it relates to long-term health," he notes. Meaning, it may take more than five foods to enhance your brain health in a noticeable, sustainable way—still, you can't go wrong with adding these staples to your cart. 
"No. 1 on my list is going to be small, cold water, fatty fish," Perlmutter explains. He's a fan of the acronym SMASH—salmon, mackerel, anchovies, sardines, and herring. "The reason that these fish are especially relevant to brain health is because they're rich in omega-3 fats," he notes, specifically EPA and DHA. 
See, these fats are important for pathways that contribute to synaptic plasticity and memory, both of which support learning.* Diets high in these fats are also associated with healthy cognitive function. Plus, they may support various aspects of mood and mental well-being. Some research, for example, suggests that omega-3s support the body's ability to respond to and cope with feelings of stress.*
"One reason to consider smaller fish is because they tend not to bioaccumulate things like mercury, and they're a little bit more sustainable long-term for the environment," Perlmutter adds. "Rather than taking out bigger fish, which may still have omega-3's, but take a lot longer to grow." 
Still, 90% of Americans are failing to consume at least two servings of fish per week (your starting point recommendation from the American Heart Association), which is why many people leverage omega-3 supplements to ensure they meet their daily needs. Each serving of mbg's omega-3 potency+, for example, boasts 1,500 milligrams of EPA plus DHA sourced from wild-caught anchovies from the cold waters off the coast of Chile—and it prioritizes sustainability, traceability, and purity from sea to softgel.* 
Next up: Perlmutter praises dark leafy greens. "These tend to be vegetables that are incredibly rich in vitamins, minerals, as well as plant nutrients like polyphenols," he says. Think: collard greens, kale, swiss chard, etc.
"These vegetables are a part of many diets that have been associated with longevity with better brain health," he adds. In fact, a study conducted by Chicago's Rush University Medical Center found that participants who ate at least one serving of leafy green vegetables per day had brains that were operating 11 years younger than their actual age, compared to those who rarely ate those greens. The researchers propose it's the high content of antioxidants (like lutein, beta-carotene, and alpha-tocopherol [aka, vitamin E]) that makes these greens so brain-healthy. "So trying to prioritize these types of vegetables each day in your diet is a great step for brain health," Perlmutter adds. 
Perlmutter loves snacking on a handful of nuts and seeds, as they're filled with fiber, omega-3 ALA (i.e., different from the omega-3s you get from fatty fish), protein, and minerals like zinc and magnesium. "[They] have been linked to a variety of positive health outcomes, including better mental health," he explains. Specifically, research in rats shows that a lack of magnesium can kick-start the sympathetic nervous system (and when this sympathetic nervous system is on overdrive, it can lead to increased feelings of stress).
Plus, they make a quick and easy snack. "I am a big fan of having them on-hand, so that if you're super hungry, you don't have to turn to that ultra processed snack," Perlmutter notes. "I'm a big fan of toasted pumpkin seeds." 
"Many people will just say, 'Eat more fruits and vegetables,' but I think there is a big difference if you're eating a super sugary melon versus eating something like a blueberry," Perlmutter explains. "Less sugary fruits like blueberries may actually be a better overall choice for metabolic health and brain health." 
Blueberries contain specific polyphenol pigments called anthocyanins, which play an important role in brain and overall health; research has even associated a link between anthocyanins and healthy aging. "In general, it does seem like we want to be getting more of these polyphenols in our diets," Perlmutter adds. 
5.
Himalayan tartary buckwheat. 
Let's stay on the subject of polyphenols. Usually you might find them in colorful fruits and vegetables, but "there are also some unique plants that tend to be high in polyphenols for other reasons, mostly because they need to increase their levels to defend themselves against environmental stressors," Perlmutter explains. 
One of these unique plants happens to be Himalayan tartary buckwheat (HTB): "This plant is exceptionally high in certain polyphenols, like rutin and quercetin, that have been linked to overall health," Perlmutter adds. Rutin, specifically, has been shown to protect the brain and fight free radicals. And there's 50 times more rutin in HTB than regular buckwheat. (You can snag some HTB flour on Big Bold Health's website and read our health director's personal review.)
Plenty of other superfoods can nurture your brain, but if Perlmutter had to pick a top five, these staples above provide some pretty noteworthy benefits. Of course, a nutritious diet isn't the only way to nourish your brain; catch the full video below for more of Perlmutter's expert brain health tips.
If you are pregnant, breastfeeding, or taking medications, consult with your doctor before starting a supplement routine. It is always optimal to consult with a health care provider when considering what supplements are right for you.
https://www.mindbodygreen.com/articles/mds-top-5-foods-for-brain-longevity