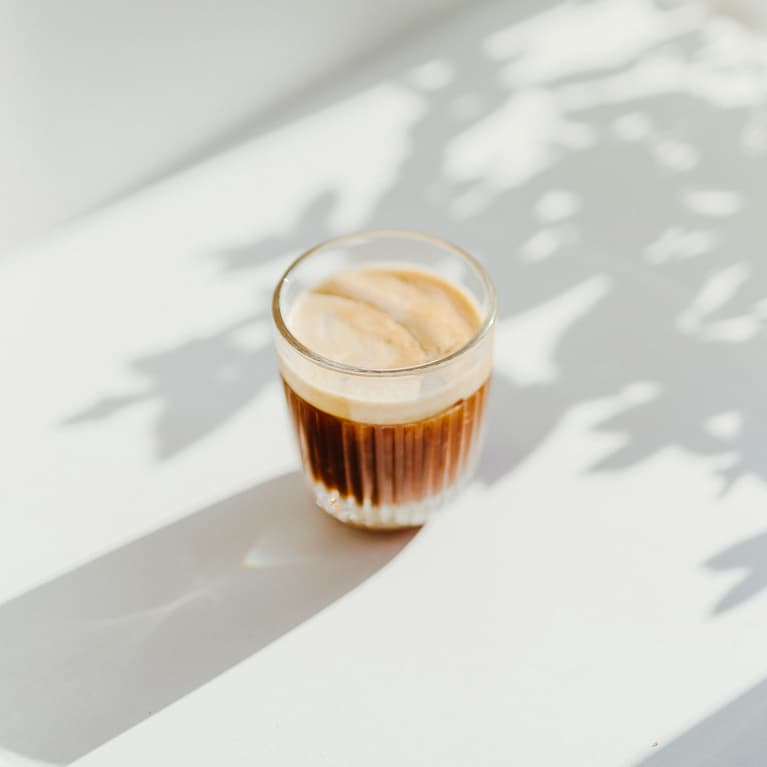 August 3, 2022 — 10:32 AM
Nothing sounds better than an ice-cold drink on a warm day, right? But here's the thing: Many seemingly refreshing iced beverages are packed with added sugar, which may taste sweet at the moment but won't keep your energy up throughout the day (of course, we're referring to the dreaded blood sugar roller coaster).
We know—sugar-free drinks aren't always as, well, tasty. But rest assured, we've got a yummy refresher recipe that not only satisfies the urge for a chilly beverage but also makes your collagen routine that much easier. Here, find the perfect collagen refresher for warmer weather:
Ingredients:
2 cups cold tea of choice 
Ice cubes
¼ cup milk of choice 
Optional: sweetener of choice
A beverage whisk (manual or electric)
In a separate cup, whisk a scoop of mbg beauty & gut collagen+ into your milk. Feel free to add your choice of sweetener into the mix as well. A few of our favorites are honey, agave, coconut sugar, or monk fruit sweeteners. Whisk it up until you get a foam-like consistency. Any beverage whisk will do, but electric whisks work the best to achieve fluffy foam. 
In a separate cup, pour your cold tea over ice. Then, top off with your collagen foam! Yes, it's that easy. 
If you're at a standstill on which tea to choose for this recipe, here's a quick explainer of three common (and super-healthy) teas to pick from: 
White tea: If you're looking for something with a mild taste, white tea may be the way to go. In addition, it has the lowest caffeine content on average of all tea types, making it a great choice if caffeine isn't your thing but you still want a little pick-me-up.
Black tea: On the flip side, black tea has the highest concentration of caffeine on average. So if you're looking to cut down on your coffee intake, this may be a good alternative that will leave you feeling more energized than the rest. This type of tea is also high in antioxidants, which means even more health benefits.
Green tea: Green tea contains high levels of the uber-beneficial compound epigallocatechin gallate (EGCG). Green tea and EGCG have been shown through research to benefit important health processes underlying cardiovascular and metabolic health. Additionally, green tea has a famous amino acid, L-theanine, known for its relaxing properties. Caffeine-wise, green tea is a good middle ground between white and black tea. 
Sweet, refreshing beverages don't have to have tons of sugar. This collagen refresher checks all the boxes: It's caffeinated, has natural sweetener, and helps you streamline your collagen routine for the day. And if you're wondering why it's a good idea to add collagen to your routine in the first place, well, you can check out our guide to collagen supplementation.
If you are pregnant, breastfeeding, or taking medications, consult with your doctor before starting a supplement routine. It is always optimal to consult with a health care provider when considering what supplements are right for you.
https://www.mindbodygreen.com/articles/collagen-cold-foam-iced-tea-refresher