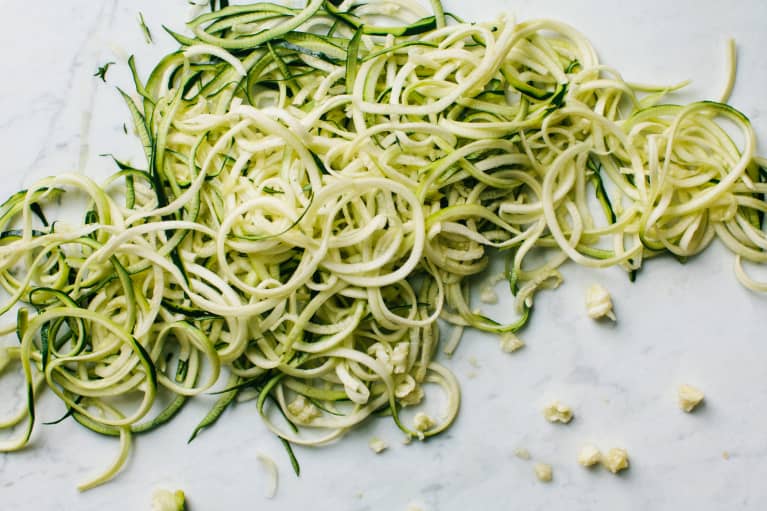 Our editors have independently chosen the products listed on this page. If you purchase something mentioned in this article, we may earn a small commission.
The season of zucchini and summer squash is upon us, and whether you're grilling, air-frying, or making zoodles with your courgette, there are endless ways you can prepare this nutrient-dense vegetable (OK, technically it's a fruit because it has seeds) to complement a healthy diet. But if you've grown bored of your usual recipes and want to get more inventive with your zucchini, may we recommend these homemade tortillas from recipe creator Alexandra Stafford of Alexandra's Kitchen?
"I'm always looking for new zucchini recipes to add to the rotation, and these zucchini tortillas are my latest favorite discovery," Stafford reveals in a recent Instagram reel. We love cooking with zucchini because it's rich in antioxidants and contains a range of vitamins and minerals, but if you want to take your recipe to the next level, these tortillas are the perfect opportunity to add in one extra nutritious ingredient: mbg's organic veggies+.
The best things about utilizing a greens powder is its unique ability to make a healthy meal even better, and mbg's organic veggies+ is packed with 31 powerhouse ingredients like organic dark leafy greens, sea vegetables, berries, and prebiotics—making it a great source of fiber and nutrients. Along with the prebiotic fiber, this unique USDA-certified organic blend also includes probiotics and digestive enzymes to promote a healthy gut microbiome and aid in smooth digestion.*
If you have some leftover zucchini from the garden or are simply looking to diversify your meals with a veggie-based tortilla (Stafford recommends pairing this recipe with an egg scramble and some cheese), cook up a batch in the morning and enjoy some flavorful veggies with ease.
Zucchini Tortillas With organic veggies+
1 lb zucchini or summer squash
1 teaspoon Kosher salt
2 oz Parmesan cheese
1 egg, beaten
1 tablespoon organic veggies+ (mbg addition)
Coarsely grate zucchini.
Transfer grated zucchini into a strainer and add salt.
Toss to distribute and let stand for at least 15 minutes.
Squeeze zucchini to press out as much liquid as possible.
Transfer to a large bowl and add egg, Parmesan cheese, and organic veggies+. Stir to combine.
Use ¼ cup to portion the mixture, then add the portions to a sheet pan with parchment paper.
Spread each portion into a thin circle, roughly 6 inches in diameter.
Bake the tortillas at 450°F for 12 to 15 minutes.
If you are pregnant, breastfeeding, or taking medications, consult with your doctor before starting a supplement routine. It is always optimal to consult with a health care provider when considering what supplements are right for you.
https://www.mindbodygreen.com/articles/zucchini-tortilla-recipe