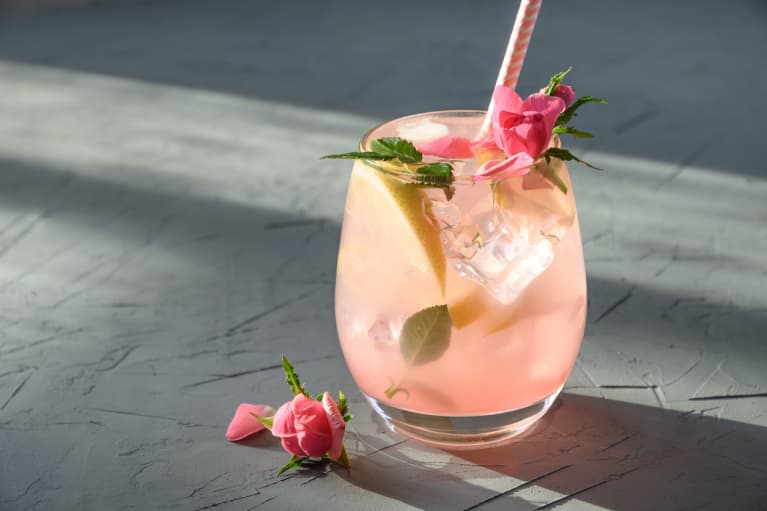 Our editors have independently chosen the products listed on this page. If you purchase something mentioned in this article, we may earn a small commission.
Summer calls for garden parties and buzzy gatherings, and it's nice to have a refreshing, healthy, and simple cocktail recipe on hand for the festivities. 
This rose cooler is low-alcohol, which makes it great for hot summer days when you're trying to stay hydrated and also limit your booze intake. The recipe doesn't have any added sugar, and it's super easy to whip up, so don't be surprised if you find yourself reaching for this delightfully floral cooler every time your doorbell rings with summertime guests.
A refreshing, anti-inflammatory rose cooler for summer.
2 tablespoons fresh or dried organic rose petals (more on sourcing below)
2 cups filtered water
1 cup organic berry juice (you can use the juice of your choice; my favorite is pomegranate)
2 cups carbonated water
1 cup white wine
Rose petals for garnish
Lime slices for garnish
To make rose tea, combine rose petals and water in a small stockpot. Cover, and simmer over low heat for 10 minutes. Turn off the heat and steep for an additional 20 minutes. Strain the petals from the water, then pour the cooled tea into a pitcher. (You can prepare your rose tea the night before and store it in the fridge if you're hosting and want to speed up the process.)
When you're ready to serve, add juice, carbonated water, and white wine to the pitcher; stir to combine.
You can keep this as a low-alcohol drink or omit the wine if desired.
Top off the pitcher with ice; stir again.
Garnish with rose petals and lime slices, then serve chilled. 
Known for its beauty and for making us feel cherished, rose (Rosa spp.) is so much more than a bouquet for lovers. Anti-inflammatory, cooling, and astringent, rose has a seemingly endless number of applications, serving as both medicine and food for centuries.
Rose flowers can be snipped and steeped in a summertime tea to naturally bring down your body temperature in the heat of the season. (If you're feeling overheated, you can also bask in a cool bath sprinkled with rose petals for a full-body experience!)
As an herbalist, I'm always trying to find ways to interest people in using herbs, and adding easy herbal teas to mocktails and cocktails is a great place to start. Teas lend an unexpected, all-natural flavor to your drink while also infusing your cup with a botanical wellness boost.
When it comes to sourcing your petals, it's never a good idea to consume store-bought roses from the grocery or florist because many cut flowers are treated with chemical pesticides.
If you want to use fresh rose petals for this recipe, then the surest and safest way is to either grow them yourself or source them from a trusted grower who can confirm they are organic. You can even forage for your own roses, as long as you know for certain that the plants have not been sprayed and you're able to safely identify them.
If finding fresh rose petals is difficult, then you can purchase organic dried rose petals online instead. 
This recipe is one of my favorite ways to soak up rose's heart-centering energy on a hot summer day. Bubbly, beautiful, and low in alcohol, it will help you feel like you're a part of the party without overindulging. Cheers!
https://www.mindbodygreen.com/articles/anti-inflammatory-rose-cocktail