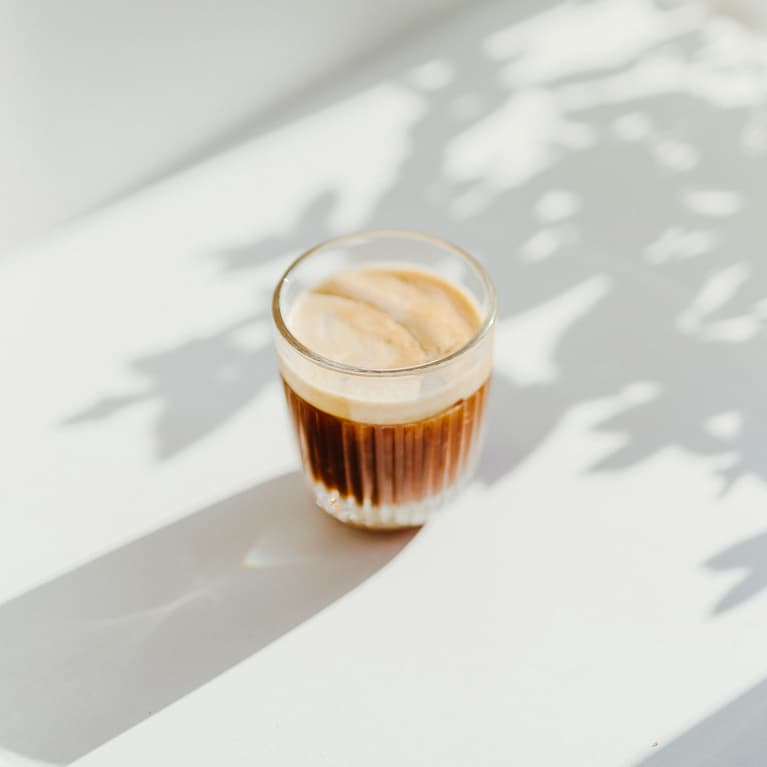 Our editors have independently chosen the products listed on this page. If you purchase something mentioned in this article, we may earn a small commission.
What is it about cafe-born mochas that makes them so much better than at-home recipes? Maybe it's the high-quality chocolate or type of espresso, or perhaps it's the expertly frothed milk that takes the consistency to the next level. We'll wager it's the latter—who doesn't swoon over a creamy, frothy beverage?
To replicate airy lattes at home, many invest in an electric frother to whip the milk into foam, but these can be expensive and time-consuming, especially if you're hoping to make a mad dash out the door. If this sounds like you, well, you've come to the right place. Here's how to craft a creamy mocha at home—no frother necessary.
How to make a frothy mocha, without a milk frother. 
First, you'll want to heat up your milk. If you're using alternative milk, you may want to opt for oat milk, as it froths up a bit better than almond or soy. 
Then add your espresso and your sugar-free chocolate collagen powder. The latter is what makes this beverage so frothy without an actual milk frother. (Just check out this video: This collagen powder seriously froths up like a dream.) Whisk the blend together using your electric whisk, making sure to mix at the bottom of the beverage and toward the top for an extra-fluffy layer. 
Finally, add your sweetener of choice, if you like a softer flavor. Because mbg's chocolate collagen powder is made with premium organic cocoa powder and organic monk fruit extract, it already offers a rich, smooth flavor—so you might want to skip the added sweetener, anyway. 
And voilà! A frothy, chocolatey mocha that tastes cafe-quality without the cafe price. Plus, you have a serving of hydrolyzed collagen peptides, turmeric root and broccoli seed extracts, vitamins C and E, hyaluronic acid, biotin, and L-glutamine, which provide a host of beauty benefits, like supporting firm skin and strong nails.* You can read more about what these ingredients do for your body here, if you want to learn more.
While a milk frother may be nice to have, it is possible to create a frothy beverage at home without the hi-tech tool. This chocolate collagen mocha has all of the texture and flavor of a cafe mocha, plus some added beauty benefits. If you want to dive deeper into why collagen is so important, check out this full guide. 
If you are pregnant, breastfeeding, or taking medications, consult with your doctor before starting a supplement routine. It is always optimal to consult with a health care provider when considering what supplements are right for you.
https://www.mindbodygreen.com/articles/how-to-make-frothy-collagen-mocha-at-home-sans-milk-frother