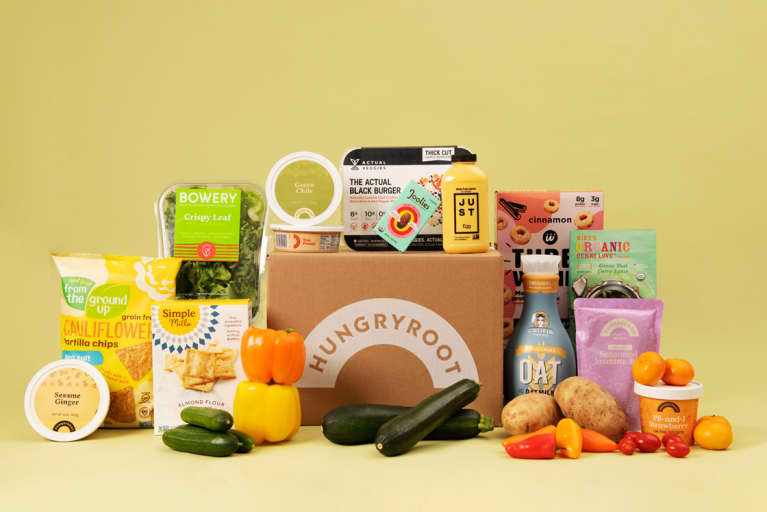 Our editors have independently chosen the products listed on this page. If you purchase something mentioned in this article, we may earn a small commission.
Nourishing your body with home-cooked, healthy meals is an essential pillar of wellbeing. But let's be honest: Time is short and not everyone can spend hours in the kitchen. Still, the importance of a healthy diet remains, so I'm always looking for convenient ways to maximize the nutrients in my meals. So when meal and grocery delivery service Hungryroot offered me a sample box to test out its lineup, I jumped on the opportunity to give my honest review.
How does Hungryroot work? 
Hungryroot is a grocery and meal delivery service that puts an emphasis on simplicity. The brand's main ethos is making healthy food accessible, which means every recipe takes less than 15 minutes to throw together with ingredients that can be incorporated into a variety of meals: salads, pastas, tacos, grains bowls, wraps, sandwiches, and more.
When you first sign up, you select how many meals you'd like to receive in your first order, which you can always change before placing your next one. For example, one week you may want four lunches and four dinners for one person, and the next week you want three lunches and five dinners for two. This subscription model makes Hungryroot a standout in the meal delivery space, as you have a lot of flexibility to make the plan work for you (rather than trying to build your meals around the plan).
Along with controlling how many meals go into your box, you also choose the exact recipes and meals that go into your order. The vast catalogue of recipes, which all integrate the same core ingredients, means there are nearly endless opportunities. Hungryroot counteracts this giving a brief survey that helps find the best options for your tastebuds, but it's worth noting that this can make some of the flavors seem a bit repetitive.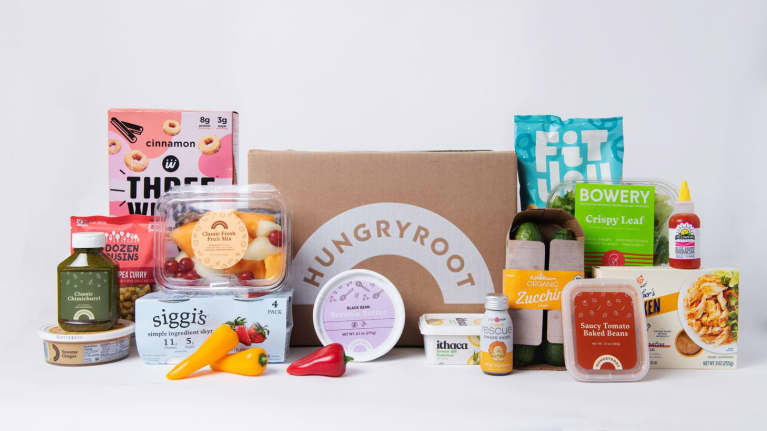 You can also choose to add individual items to your box similar to a traditional grocery service. This allows for full creative freedom, though I'd recommend sticking to the recipes as you learn how different sauces, grains, and proteins taste. This option leaves plenty of room for snacks—and they're definitely a highlight. Some of my favorites were a snack-pack of olives, and a sous-vide spinach and feta egg bite.
And like any good meal-delivery service these days, pretty much any and every dietary restriction is taken to account. You can select whether you're vegan, vegetarian, gluten-free, dairy-free, etc., as well as if you have any allergies. The filter also lets you choose what kinds of meals you gravitate towards, whether it's smoothies or stir fries, so Hungryroot knows what to recommend to you.
The idea is to essentially streamline the grocery to meal pipeline, so you're not left with any leftover ingredients that end up going bad. Everything gets used, and the recipes are all super easy, which is great if you're a) short on time or b) a novice chef. And in case you were wondering, you can cancel or re-subscribe at any time.
For my first Hungryroot order, I opted for six full recipes for two people, plus some additional groceries to get me through the week. I added four to six additional breakfast entrées and two to four snacks with a note that I was gluten-free.
Here's a look at what I received in my first box: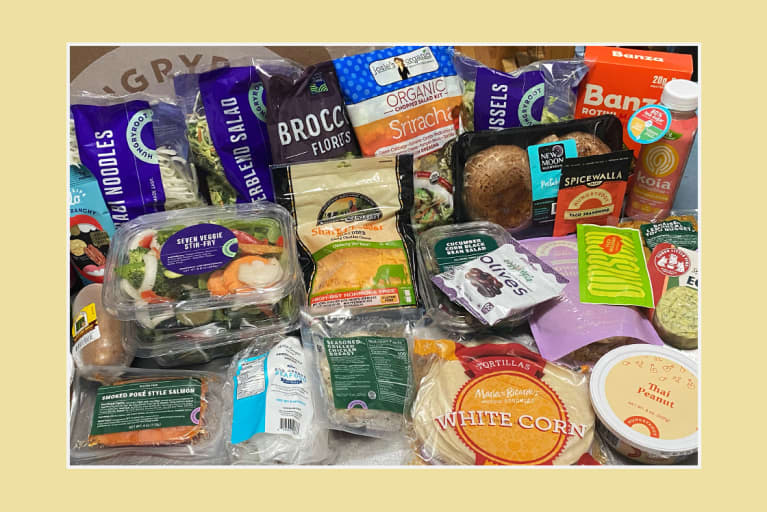 The cost for the order came to just under $150, which is somewhat comparable to today's grocery prices, especially with inflation. But unlike many large grocery hauls, everything in this order will get eaten with nothing going to waste.
It took me a little over a week to get through all the recipes and snacks, with only one thing going bad before I was able to use it (a russet potato, which I just replaced with a fresh one from the store).
Every Hungryoot recipe that I tried.
Grilled Chicken and Cheesy Broccoli Stuffed Potato: Hungryroot broccoli florets, Hungryroot seasoned grilled chicken breast, Wada Farms microwave ready russet potato, Andrew + Everett shredded sharp cheddar
Chickpea and Avocado Sriracha Chopped Salad: Josie's Organics sriracha chopped salad kit, Hungryroot fresh avocado, Jack's Quality organic garbanzo beans
Summertime Shrimp Tacos: Egg Harbor Seafood wild caught gulf shrimp, Hungryroot cucumber corn black bean salad, Maria and Ricardo's white corn tortillas, Spicewalla taco seasoning
Gingery Salmon Super Poké Bowl: Hungryroot superblend salad, Hungryroot sesame ginger, Hungryroot smoke poke style salmon, Hungryroot brown rice quinoa blend
Sweet and Sour Veggie Stir-Fry: Hungryroot seven veggie stir-fry, Highline portabella mushroom caps, Omsom yuzu starter sauce, Hungryroot organic seasoned jasmine rice
Peanutty Veggie Noodles with Tofu and Crispy Brussels: Hungryroot shaved brussels, Hungryroot kohlrabi noodles, Hungryroot thai peanut sauce, Hungryroot braised lemongrass tofu nuggets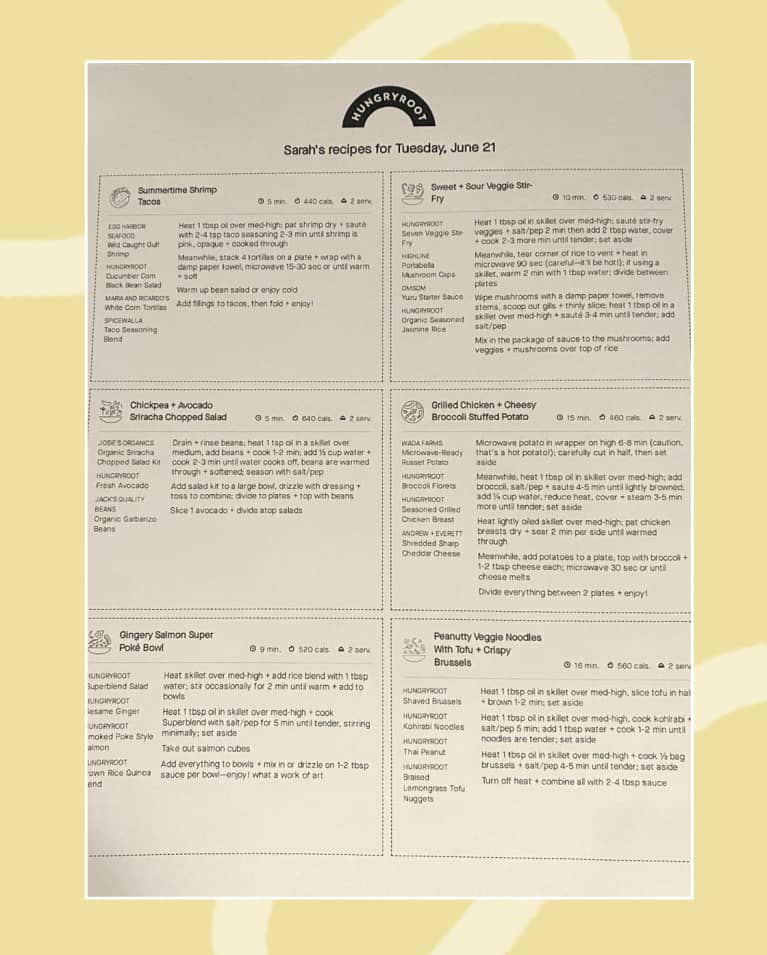 Hungryroot gala apple
Hungryroot navel orange
Nancy's Organic raspberry kefir
Bellwether Farms organic strawberry yogurt cup
Veggicopia pitted kalamata olives
Hilo Life ranch cheese and nut snack mix
Les Trois Petits Cochons sous-vide spinach feta egg bite
Koia vanilla bean protein shake
How does Hungryroot taste? 
The short answer: pretty good. The long answer: these are not five-star recipes and if you're a whiz in the kitchen, they might leave a bit to be desired. The sense I got from my order was that this is a delivery service about simplicity and making cooking easier, not necessarily cooking the best recipes you've ever made in your life.
Of course, if you have a bit of knowledge about flavor profiles, spices, etc., you can always amp up the recipes with things you already have—and Hungryroot even offers suggestions for dressing up your recipes even more.
To clarify, I'm not saying anything was bad. In fact, I liked everything I made and all the ingredients were good quality by my standards. But the flavors weren't exactly mind-blowing and may leave more experienced chefs feeling unfulfilled. However, the fact that most of the meals came together so quickly certainly made up for the simpler taste profile.
Lastly, I will say as someone who generally rejects diet culture, I did feel that Hungryroot offered a lot of recipes and products that cater towards exactly that. The portions were pretty small and not exactly hearty, so if you want to avoid things that feel too "diet-y," make your meal selections carefully.
How much does Hungryroot cost?
The various plans and packages Hungryroot offers makes it easy to spend as little or as much as you want in one order. You can select how many people you're feeding, how many lunches and dinners you need, and how many additional fruits, vegetables, breakfast options, snacks, etc. that you want.
The cheapest plan you can get comes with three recipes for a total of six meal servings, plus some additional snacks and breakfast option for $65 plus shipping. The largest plan gets you eight recipes (or 16 total servings) plus extras for $158. All orders over $70 get free shipping.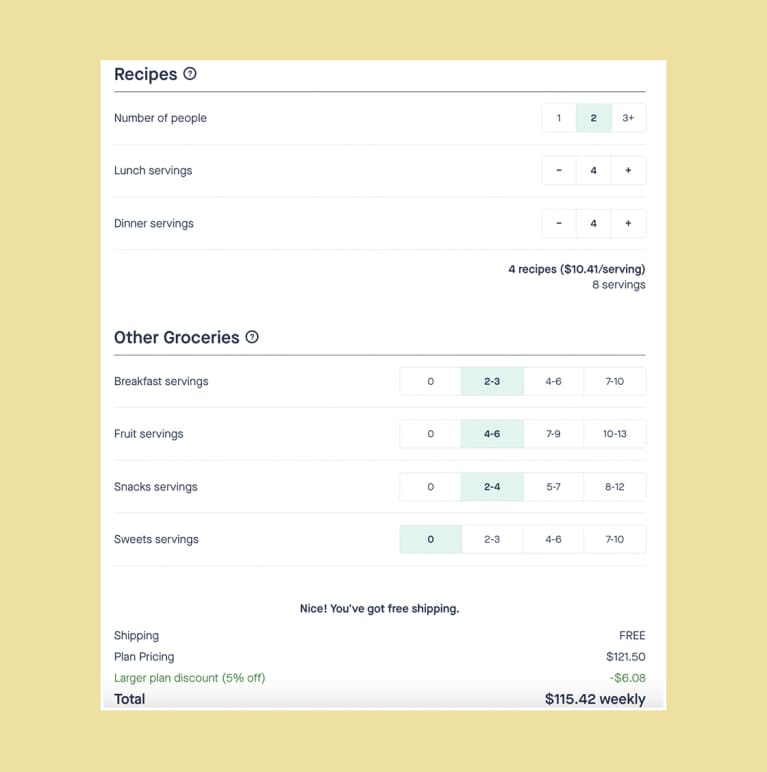 Essentially, the more you order, the cheaper your cost per serving. Again, my order was just under $150, with six full meals for two people, plus additional groceries. When you do the math, that's roughly $8.50 per serving and $50 worth of extra goodies.
Depending on your weekly budget, you can always increase or decrease the number of items in your order. One way to reduce the cost of your order is by skipping the snacks–but I will say they were some of my favorites. If you discover the order size doesn't suit your needs, you can always go back and update how much you want to receive late on. This flexibility is super nice, given some other meal delivery services are a fixed subscription.
The pros & cons of my experience.
Inclusive of many dietary restrictions (i.e. vegan, gluten-free, nut-free)
The ice packs used in the packaging are made of a liquid that can be used as plant food and the packaging itself is recyclable
Recipes come together very quickly with minimal dishes needed
Options to purchase full meals and individual groceries
Flexible plan options with ability to cancel any time
Organic and well-sourced ingredients
Not everything is organic
Some things taste like "diet foods"
Recipes may need extras to take them to the next level
The answer to this question ultimately depends on your needs. If you're someone who's short on time (either to grocery shop and/or cook), Hungryroot could be just what you're looking for.
I know for me, spending an hour in the kitchen after a full day of work just isn't always going to happen. So I found it incredibly helpful to have the shrimp taco recipe, for example, come together in literally 10 minutes.
If that sounds like a good deal in your book, it's worth a try. I plan to use Hungryroot again when I know I'm going to be particularly busy, because I did find it to be a helpful, streamlined way to approach the week's menu.
All that said, if you love the process of buying all you ingredients in the store and spending a considerable amount of time on a fancy recipe, this might not be the meal delivery service for you.
Overall, yes, I do believe it's worth a try, at least in order to see if it works for you compared to your standard grocery shopping.
Different meal kits offer something different for everyone, and in the case of Hungryroot, ease in the kitchen is the name of the game. If that ease is something you've been lacking lately, it could be just the meal delivery service you're missing.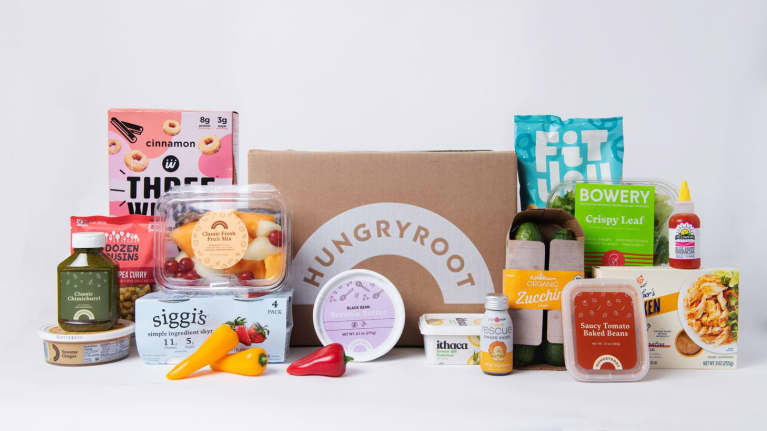 https://www.mindbodygreen.com/articles/hungryroot-review