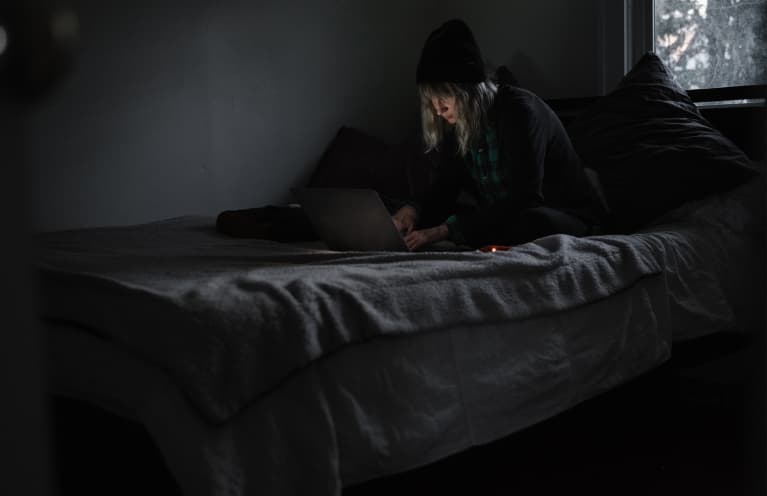 The hum of the air conditioning, the creak of a door, a rogue dog snore—these tiny, innocuous sounds are enough to jolt light sleepers awake in the middle of the night. It's unclear what causes some people to be lighter sleepers than others, but experts suspect it's partially genetic. Whatever the cause, those who wake up a lot in the middle of the night tend to miss out on deeper sleep stages like slow-wave sleep and REM sleep, which are essential for rest and recovery.
For all those light sleepers there frustrated by mid-night wakeups, there are a few ways to tune out distractions (that don't involve trading in your dog). Investing in gadgets that make your room darker and less noisy—such as blackout curtains, an eye mask, and a sound machine—can be a good place to start. Going to bed slightly earlier in the evening, keeping bedtime and wake-up time consistent, and fine-tuning your nightly routine to be more relaxing will also help.
Finally, taking a well-formulated sleep supplement before bed can be the secret weapon for reaching deeper sleep. Unlike sleep aids like melatonin that only help people fall asleep slightly faster, mbg's sleep support+ is designed to help people actually stay asleep longer and wake up feeling more restored.*
Reviewers of the bestselling supplement note that it's helped them snooze through more mid-night distractions, and fall back asleep from them quicker.* Here's what people are saying about how the science-backed blend of magnesium, jujube, and PharmaGABA® has majorly deepened their sleep:*
"Sleep support+ gave me deeper, longer sleep with no waking in the middle of the night. I used my first bottle, then experimented without it to see if it was truly helpful. I'm now ordering my second bottle as quickly as I can!"*
—Desiree L.
"I have been a terrible sleeper for years… Busy mind, can't fall asleep, can't stay asleep, wake up consistently in the 3 a.m. hour and then fall asleep right before my alarm goes off. It was not sustainable and I started getting anxious even before going to bed because I was afraid I wouldn't be able to fall or stay asleep. Every morning I was exhausted. I've almost completed my first bottle of sleep support+ and it's a game-changer. I sleep all the way through almost every night, and if I do wake up, I'm able to fall back to sleep instead of lying awake for hours."*
—Ashley W.
"This has helped tremendously with promoting restful sleep. It works through the night (I usually have no problem falling asleep, but I will wake up a few hours later and have trouble going back to sleep). I'm not groggy in the morning. Way better than melatonin for me."*
—Barbara M.
"It's subtle but it works. My sleep was often interrupted at least 2x per night with difficulty getting back to sleep each time. I'm almost all the way through my first bottle of sleep support+ and I've experienced fewer sleep interruptions, but more notably, when I do wake up, I go right back to sleep after a few minutes (instead of hours). I'm about to order another bottle."*
—Robyn S.
"I have almost finished my first bottle of sleep support+. It has greatly improved my sleep by helping me sleep through the night and I wake up feeling like I had a deep sleep minus any groggy feeling."*
—Valerie R.
6.
Deep, restorative, sleep…no grogginess.
"I have been taking this supplement for two months and my ability to stay asleep has dramatically improved. I take two capsules every night as I get into bed and have had increasingly more nights where I sleep all of the way to morning. When I do occasionally still wake up in the middle of the night, I am much quicker to fall back asleep. If I have a really rough night sleeping, I don't wake up groggy from the supplement."*
—Jenna B.
Being a light sleeper is super frustrating. In addition to maintaining good sleep hygiene and optimizing your bedroom for rest, taking sleep support+ is one way to help your body sleep through the night and get more restorative rest in the process.* Learn more about the product here.
https://www.mindbodygreen.com/articles/sleep-support-for-light-sleepers