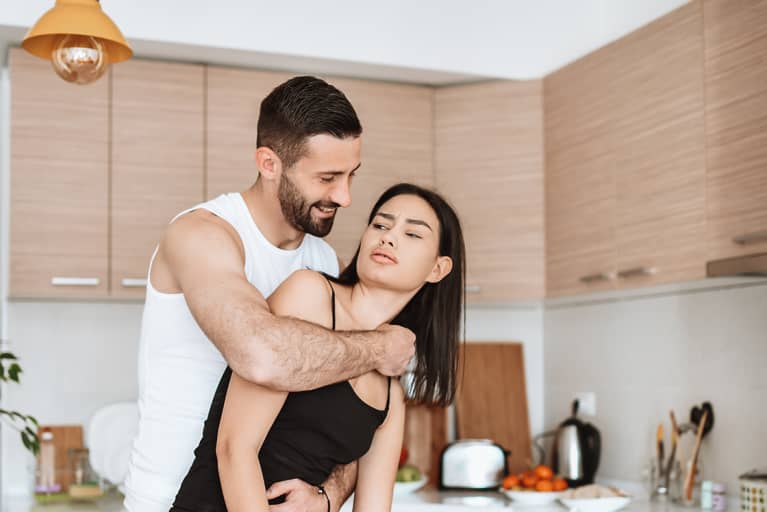 Maybe you don't identify as a particularly angry person…but have you ever been hangry? Odds are you've probably experienced a handful of times when you waited too long in between meals or forgot to pack a snack on a busy day out and felt the accompanying irrational frustration of being underfed and shaky. Yep, you were hangry.
And there's actually science behind this phenomenon. In fact, a new study published in the journal PLOS One explored the connection between negative emotions and hunger, supporting the idea that there is a significant tie between food and mood. 
This relatively small study (beginning with 121 people and ending with 64) called for participants to complete a questionnaire five times a day for 21 days assessing their hunger levels, irritability, and anger. Participants were also asked to provide information on their emotional state, discussing pleasure and arousal (in the sense of how awake they were feeling) in relation to when each person had consumed their last meal.
Authors of the study also factored in relationship status, BMI, geographic location, age, and a number of other practical pieces when weighing the data. "Furthermore, we asked several questions about their eating behaviours over the previous three weeks (e.g., frequency of main meals, snacking behaviour, healthy eating, feeling hungry, sense of satiety)," they explained. 
The primary finding of the study may not come as a major surprise to anyone who has experienced "hanger": the longer time in between meals and snacks, the more likely participants were to have negative emotions such as anger and irritability. However, the authors were surprised to find that hunger and arousal did not show any noticeable ties, as they expected hunger to lead to increased arousal. 
But why is this? "The present results contribute to the body of research suggesting that levels of hunger (or blood glucose levels) can affect feelings of anger and irritability," the study explains. As your blood sugar drops without food, it's this factor that causes a spike in negative feelings, i.e., getting hangry. 
How you can fight getting hangry.
Naturally the best way to keep your emotional state out of hangry territory is by eating your meals in a timely manner. However, what you're eating is just as important to your body as when you're eating, and you should always prioritize nutrient-dense foods that fuel your body with smart macros (complex carbs, fiber, protein, and healthy fats) and essential vitamins and minerals to leave you feeling your best. 
One great way to give your body what it needs is by incorporating a greens powder, such as mbg's organic veggies+. Utilizing a greens powder in your daily routine is a great way to increase your fiber intake, support healthy digestion, and help maintain balanced blood sugar levels—all of which play a role in your overall health and well-being.*
If you're staying nourished, you can also expect to experience a more stabilized mood as well, so try sneaking some organic veggies+ into nearly any of your recipes to help crush "hanger" in its tracks.*
Here are some of our favorite ways to cook with organic veggies+:
Although sometimes a bad mood is simply attributed to waking up on the wrong side of the bed, one factor that you are able to control is irritation as it relates to your diet. Timing your meals to help keep your blood sugar steady with nourishing foods can help. And if you often find yourself becoming hangry, it may be a good idea to start carrying around a healthy snack to improve your mood and adequately nourish your body.
https://www.mindbodygreen.com/articles/hangry-explanation-study