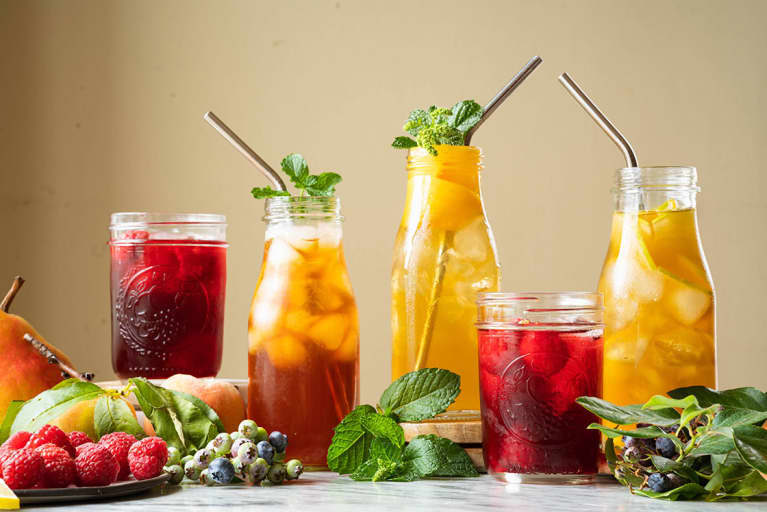 Our editors have independently chosen the products listed on this page. If you purchase something mentioned in this article, we may earn a small commission.
If there's one thing we know for sure, it's that a day off during summer calls for one thing: A refreshing beverage. If you're looking for something that supports your skin from the inside out, you've come to the right place. 
We're whipping up an elevated take on a classic iced tea that's packed with antioxidants and skin-boosting supplements, sans added sugar.
How to make a skin-supporting tart cherry refresher: 
2 cups chilled green tea
1 cup tart cherry juice 
1 cup milk of choice 
2 scoops mbg beauty & gut collagen+
A few ice cubes
An electric whisk (like this one from Amazon) 
This step can be done two ways. Either you can find pre-made green tea and place it in the refrigerator, or you can make your own at home. If you do buy a pre-made tea, be sure to look for 100% pure tea to avoid unnecessary additives (here's a list of our favorite green teas).
To do it yourself, boil two cups of hot water, let it sit for a few minutes, and then steep two green tea bags for three to five minutes depending on how strong you want the flavor. 
Once you're done steeping your tea, place it in the fridge to cool down. After about an hour, your tea will be ready to go. 
Next, pour one cup of tea and half a cup of tart cherry juice into each glass and stir. If you want a sweeter flavor, feel free to add a bit of honey, agave, or monk fruit sugar. 
Both sweet and tart cherries are great for the skin because they're rich with antioxidants. One review study done on these tasty fruits suggests that cherries can promote overall health by preventing or decreasing oxidative stress in the body.*
3.
Top with collagen cold foam. 
Now the final (and most important) step of all: Collagen cold foam. 
To whip this up, all you need to do is add two scoops of the mbg beauty & gut collagen+ powder to your milk of choice and whisk. Then, add a few ice cubes to your tea and top it off with a dollop of cold foam into each glass.
When used daily, this collagen supplement can promote your skin's natural collagen and elastin production which can, in turn, support healthy skin aging.* The added hyaluronic acid helps to support moisture levels in the skin leading to a more hydrated, supple feel and appearance.* Those are just a few highlights—here's a full guide to collagen supplementation including benefits, dosage, and more if you're curious.
There's no better way to spend a day off than sitting outside, enjoying the weather, and sipping on a tasty refresher. You can drink this tea in peace, knowing you're getting the ultimate skin-supporting boost thanks to the antioxidants and added collagen supplement.* Green tea has plenty of health benefits beyond much-needed summer refreshment as well—you can read about those here.  
If you are pregnant, breastfeeding, or taking medications, consult with your doctor before starting a supplement routine. It is always optimal to consult with a health care provider when considering what supplements are right for you.
https://www.mindbodygreen.com/articles/how-to-make-skin-supporting-tart-cherry-refresher