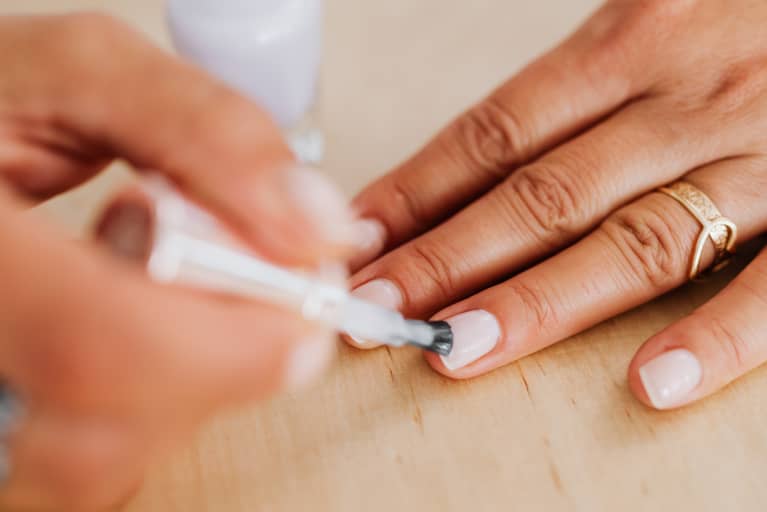 Our editors have independently chosen the products listed on this page. If you purchase something mentioned in this article, we may earn a small commission.
October 13, 2022 — 12:02 PM
What if you could wave a magic wand over your nails and instantly create expert-level nail art? As someone who has the painting skills of an angry toddler, I'm always looking for hacks to elevate my at-home mani game, and it turns out, that dream might not be so far-fetched—instead of a magic wand, all you need is a magnet to master shimmery, velvet tips.
Velvet nails are not a new beauty venture by any means, but they are seeing a resurgence as other textural nail trends skyrocket in popularity (eyes on you, glazed donut nails). Plus, there's something about a velvet look that exudes cozy fall energy. Metallics are hot this season, anyway, so why not crank the shade up a notch with some galactic elements? 
Below, find out why you might want to add a magnet to your mani kit.
The science behind magnetic nails.
Sadly, waving a magnetic wand over any shimmery nail polish will not result in a velvet texture. "Regular shimmers or glitters will not pull to the magnet," says celebrity nail artist Brittney Boyce, founder of NAILS OF LA. "It has to be the specific type of product for the [magnetic] look." Specifically, it requires a lacquer with iron oxide particles: "The particles used in that type of product react with the magnet," Boyce notes.
Essentially, the magnet attracts the iron oxide pieces to the surface of the polish, which makes those particles appear dense and super shimmery—like you waved your hand over a plush, velvet couch. Simply look for "magnetic" in the polish name or description, like LNMP's Venom (a mossy, magnetic green) or this Firecracker shade from Cirque Colors (a bright, magnetic red). 
How to achieve a textured look. 
The key is to use the magnet while your nails are still wet so the particles can rise to the surface of the polish. Boyce suggests waving the magnet over your tips after each coat (no need to go finger by finger) or as the last step before your top coat. "If it's highly pigmented, you could just do it on the last coat. But if it's something more sheer, then you might want to do it on multiple coats to give it a better effect, depending on the brand and the color," she explains. Finish it off with a top coat for extra shine, and you're golden (or, well, velvet). 
Now, let's say you don't have a magnetic nail polish on hand—can you still achieve a velvety finish? According to Boyce, you sure can! "Use a shimmer nail polish, not a glitter, and then add a matte top coat," she says. "That gives a really cool, velvet effect as well for people that don't have the product." Snag this matte number from sundays or Ella + Mila's formula for a plush, fabric-inspired look.  
To achieve velvet nails, all you need is a magnet and an accompanying magnetic polish. It's arguably the easiest nail art technique out there, and the result? Nothing short of magical.
Heal Your Skin.
Receive your FREE Doctor-Approved Beauty Guide
You are now subscribed
Be on the lookout for a welcome email in your inbox!
https://www.mindbodygreen.com/articles/velvet-nails