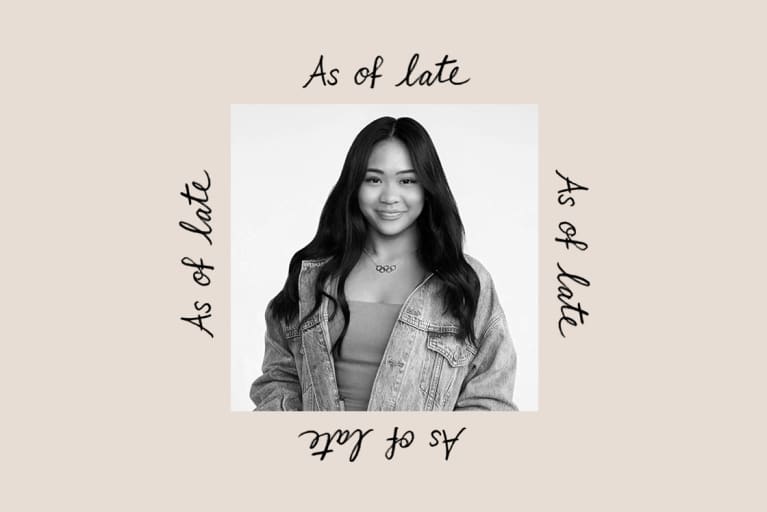 Our editors have independently chosen the products listed on this page. If you purchase something mentioned in this article, we may earn a small commission.
October 4, 2022 — 10:31 AM
Beauty routines are never truly stagnant—practices evolve and change like we do. In As of Late, we chat with influential folks about their current products and rituals. Here, we get a snapshot of what they're doing right now: the sacrosanct formulas they use until the last drop, the fresh launches they've got their eyes on, and of course, the why behind it all. 
You may know Suni Lee as the decorated gymnast who took home gold in the all-around and bronze in the uneven bars in the Tokyo 2020 Summer Olympics. But get to know the 19-year-old St. Paul native, and you'll quickly see that she's also a bonafide beauty gal. She shone like an actual medal at the 2021 Met Gala, with a bronze smoky eye and a sleek, gold-accented pony, and who could forget her iconic Olympic-themed nail art as she posed on the podium? (Lee told NBC that those square-shaped tips actually help her catch the bar—functional beauty at its finest.) 
Along with her affinity for glamorous lacquer, Lee also has a penchant for long, fluttery lashes and, of course, she knows her way around a slicked-back bun (a style with longevity is key when you're flipping through the air). 
Now, she's embarking on her sophomore year at Auburn University; but before the frenzy of move-in day, the first few classes, and a jam-packed practice schedule (she's the first Olympic all-around champion to compete in college), we were able to catch up with Lee about her must-have products and rituals. Behold: This beauty gal did not disappoint. 
The pleasure: A cult-favorite cream & styler 
"I'm surrounded by so many amazing women who love skin care as much as I do, so I was super excited to receive a recommendation to try Augustinus Bader's The Rich Cream. It's so hydrating and incredible, but definitely a splurge! I like to use it at the end of my routine to seal everything in, but they actually recommend using it by itself for 27 days to see pretty dramatic results. I also love to use it on days when I'm in the gym all day—we all know that air conditioning can dry out your skin, so I'll just put a thin layer of The Rich Cream on, and I'm hydrated throughout back-to-back practices.
"I'm also a big fan of the Dyson Airwrap Multi-Styler Complete. If I'm in a pinch and need a blowout look, it creates such a sleek style, and I love the look of it. I know it's another pricey item, but it's one of the best things I've invested in, and I've never looked back!"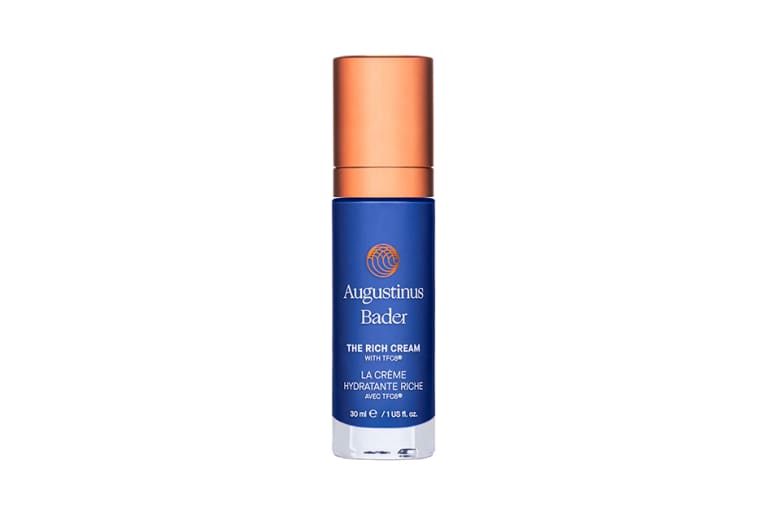 Augustinus Bader
Augustinus Bader The Rich Cream
$280
You'd be hard-pressed to find a beauty editor or expert who doesn't rave about Augustinus Bader's cult-favorite cream. The hero ingredient is the brand's signature Trigger Factor Complex (TFC8), composed of amino acids, vitamins, and synthesized molecules naturally found in the skin.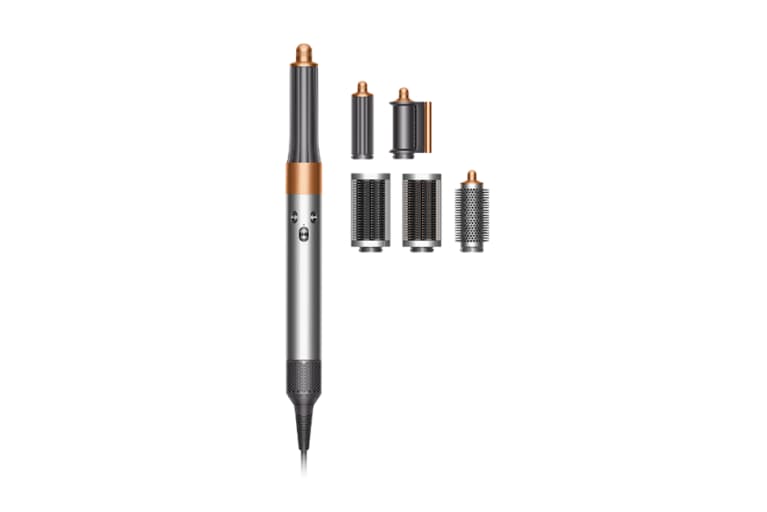 Dyson
Dyson Airwrap™ multi-styler Complete
$600
She's a splurge, but, oh, is she worth it. With multiple attachments and settings, it's like the Swiss army knife of hair tools—plus, the brand's enhanced Coanda airflow promises fast and easy styling with no extreme heat.
The signature: Long lashes & nails
"Besides gymnastics, I think from a beauty perspective, people identify me with my love for lashes and nails. I love a good lash set, and I love my nail extensions! I can remember having a broken nail or two at the Olympics and I was like, I cannot wait to fix this when I get home." 
The carry-on: Clear aligners
"My Invisalign aligners come everywhere with me! When I switched from braces to Invisalign treatment, I could instantly feel a weight lifted off of me. My travel schedule for work and gymnastics is pretty rigorous, so I didn't have time to be popping into the dentist for appointments or worrying about emergency visits. It's a huge part of growing my confidence, too, to have my smile back! I really recommend Invisalign treatment for anyone who has an on-the-go lifestyle like me."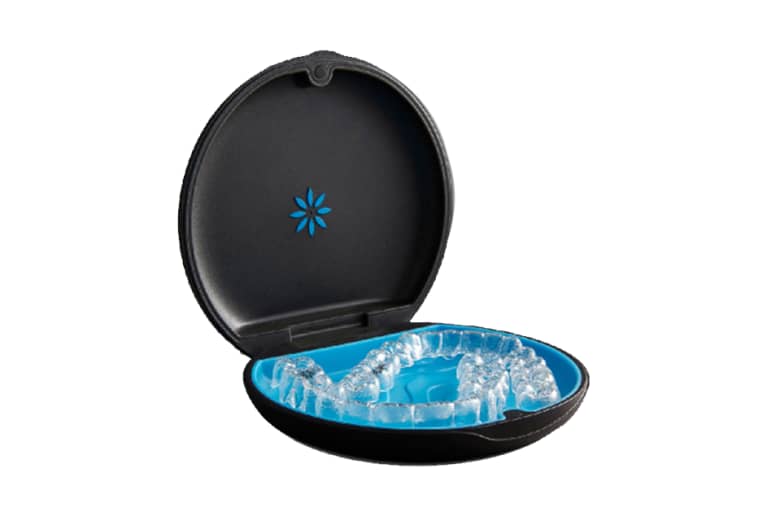 Invisalign
Invisalign Clear Aligners
$NaN
The oral beauty space is abuzz with new treatments and gadgets—but Invisalign remains a tried-and-tested investment that doesn't disappoint. The powerful yet gentle aligners have made a noticeable difference in Lee's pearly whites.
The steal: A hair wax & jelly balm
"Got2b Glued Spray Wax! So affordable, and it's the best for gymnast buns. If you know, you know! It helps to keep my hair in place, whether I'm flying in the air or literally just walking to class. 
Also, Aquaphor is one of my all-time favorites! I'm constantly traveling, on planes, or in air conditioned gyms, so hydrated skin and lips is key. I'll put it on any dry spot on my body, and it helps so much."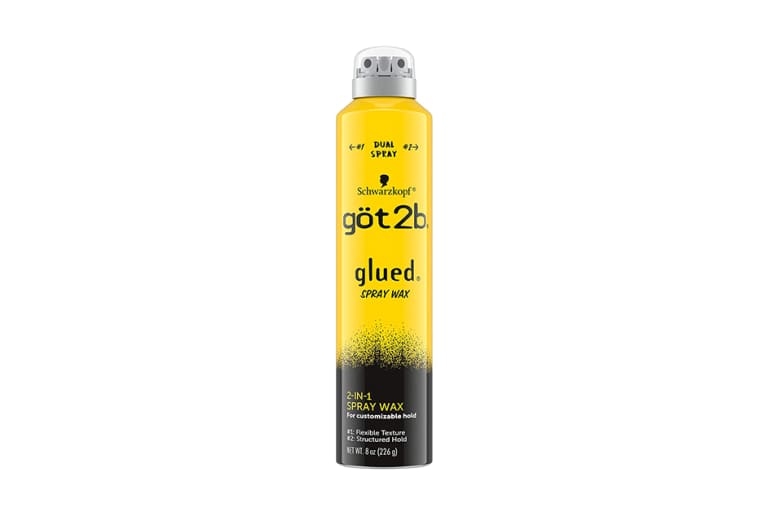 Got2b
Got2b Glued Spray Wax
$7
If you're a fan of slicked-back hairstyles, you know a good hairspray is key. Trust: This spray wax doesn't dare budge. Why else would Lee rely on it as she flips and twirls through the air?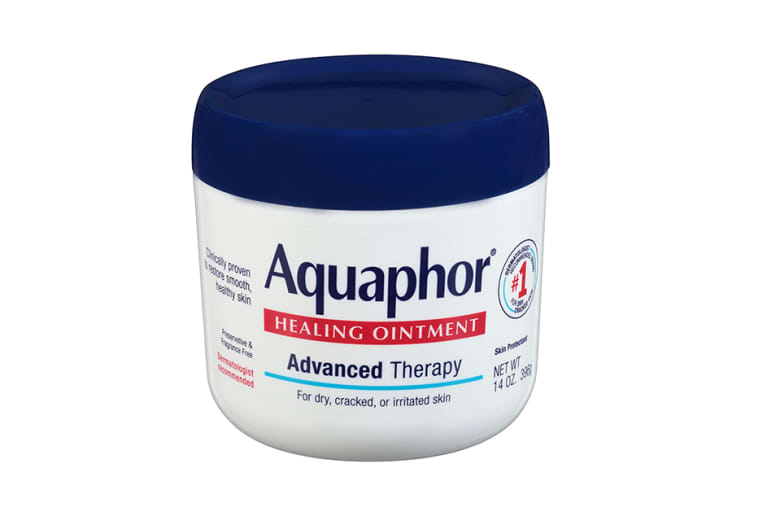 Aquaphor
Aquaphor Healing Ointment
$21
It's a classic for a reason: Aquaphor's Healing Ointment is A+ for sealing in moisture wherever you need it most. Now, some people avoid mineral oil for environmental or skin health reasons; if that's you, rest assured you can find other plant-based oils and waxes that provide the same occlusive benefits.
Heal Your Skin.
Receive your FREE Doctor-Approved Beauty Guide
You are now subscribed
Be on the lookout for a welcome email in your inbox!
https://www.mindbodygreen.com/articles/beauty-routine-gymnast-suni-lee-has-been-using-as-of-late