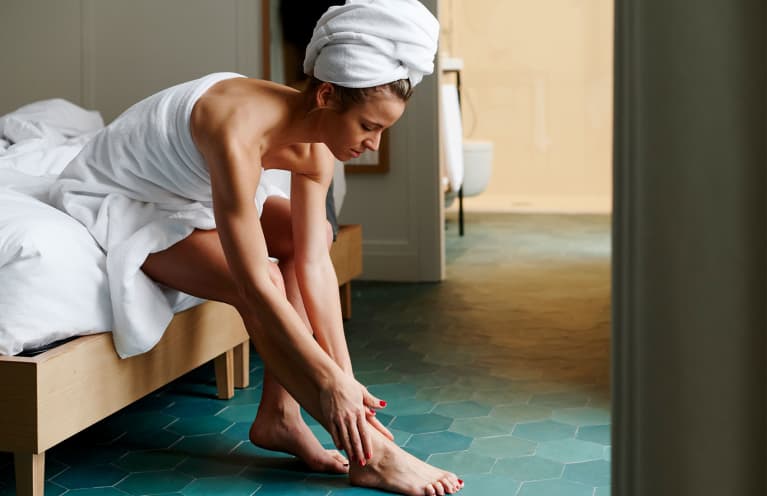 September 20, 2022 — 11:01 AM
If you have sensitive skin (or know somebody that does), you can attest that finding nourishing, gentle products isn't always easy. Oftentimes, the very products marketed for sensitive skin often lack complex, skin-loving ingredients and instead simply hit the bare minimum. 
Here, one sensitive skin-friendly body product that actually goes above and beyond to support skin health and provide long-lasting hydration. It doesn't just soothe easily irritated skin—it strengthens it over time.
How mbg's postbiotic body lotion does more for sensitive skin. 
At mbg, we recognize that not everyone loves a fragranced product, and some people may even react poorly to them—even if a formula uses naturally-derived scents. For this reason, we created a fragrance-free option for our postbiotic body lotion. 
While there are no added fragrances, there is a plethora of high-quality, natural ingredients. First, you have a humectant base, which comes from aloe vera juice. This hydrating botanical works to pull water into the skin and may even help lighten dark spots on the body, including post-acne marks.  
Then a blend of rich emollients and occlusives come into play, including shea butter, squalene, coconut oil, and moringa seed oil. Altogether, these additions help deeply nourish the skin and support the moisture barrier. Plant oils act as an occlusive layer, locking moisture into the skin for lasting hydration. A mixed blend of antioxidants, including CoQ10 and fruit extracts, help protect the skin from free radical damage and soothe the skin thanks to vitamin B5 (panthenol). 
But the real kicker for sensitive skin? Microbiome support from pre- and postbiotics. Our prebiotic blend comes from microalgae, specifically chlorella vulgaris extract. In in-vitro studies, this extract has been shown to promote beneficial skin bacterium and balance other species that, when unbalanced, may lead to troublesome skin. 
The biotech postbitoic in our lotion comes from Lactobacillus, the "educational" bacteria that teaches the skin to protect itself, encourages a more vibrant appearance, and is safe for sensitive skin. The result: less inflamed skin with better microcirculation (yes, sensitive skin included). 
You see, instead of simply hydrating dry sensitive skin, the mbg postbiotic body lotion supports the skin barrier and microbiome, without any added fragrance or harsh actives. Think of it like a nutrient-packed electrolyte beverage, rather than a plain glass of H2O. Both can support your baseline hydration levels—but when you crave a little something extra, why not grab an option with functional benefits, too?
Products formulated for sensitive skin often contain very simple and minimalistic ingredients that serve as moisturizers and not much else. The fragrance-free mbg postbiotic body lotion, however, is more than just a skin hydrator—it contains a blend of gentle yet effective antioxidants, prebiotics, and postbiotics to support skin health on a deeper level. Now that you have a worthy pick for body lotion, you can pair it with one of these sensitive-skin-friendly body washes for your daily cleanse. 
https://www.mindbodygreen.com/articles/how-mbg-postbiotic-body-lotion-does-more-for-sensitive-skin