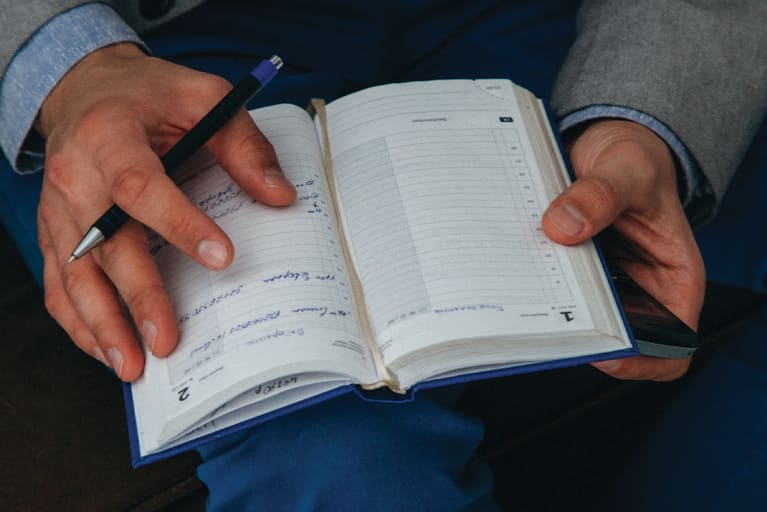 Our editors have independently chosen the products listed on this page. If you purchase something mentioned in this article, we may earn a small commission.
September 10, 2022 — 10:01 AM
PSA: Proper nail care requires so much more than massaging in a cuticle oil. Nothing against those nutrient-rich vials—moisturizing the skin around the nail beds is crucial to keep tips glossy and strong—but it's important to approach meek nails from multiple angles. And sometimes, the best method for hydrated, smooth nails is to go internal.
Just ask metabolic scientist Ben Bikman, Ph.D., who has a doctorate in bioenergetics. On the mindbodygreen podcast, he walks us through his journey to strong and smooth digits. It turns out, Bikman's road to nail health didn't depend on any topicals. 
Why a metabolic scientist loves collagen for healthy nails.
Bikman thought brittle, weak nails were simply part of his genetics. "I have this family trait, I guess," he shares. "I remember as a little boy looking at my dad's fingernails and wondering what the hell was wrong. I'll get these little cracks that run down the length of the nail." He's likely describing vertical nail ridges, which are super common and can crop up for a variety of reasons—including skin dryness, stress, aging, and nutrition imbalances. 
"No ointment I'd rub on would help," he continues, and he believed nothing could fill out those cracks. That is, until he started taking collagen: "[Since] I've been diligent with taking collagen, I don't have that problem whatsoever,"* he notes. "I know of no other variable that I have altered other than being diligent with collagen consumption." Bikman even tried stopping his daily collagen intake and noticed the brittleness start creeping back after a few weeks. "I'll start to get little cracks down the length of my nail," he shares. 
It makes sense why Bikman would see such fabulous results from collagen. Your nails consist of keratin, so it's important to make sure you're getting your fill of keratin-building amino acids—and collagen is involved in the production of keratin. One study even showed that when participants took 2.5 grams of collagen peptides daily for 24 weeks, their nail health was better maintained, including faster growth rates, reduced breakage, and improved appearance.* 
While Bikman didn't share which particular collagen supplement he prefers, he does recommend finding a formula that features vitamin C, since the antioxidant is crucial for the collagen production process.* "Vitamin C helps regulate what's called a 'redox reaction' to help create this essential peptide in collagen called hydroxyproline," he explains. (You can read more about why vitamin C is so critical in collagen supplements here.)
If you're looking for a high-quality supplement that features both hydrolyzed collagen peptides and vitamin C, check out mbg's beauty & gut collagen+. It's one of the most innovative blends on the market (well, if we do say so ourselves) with several targeted, powerful ingredients for holistic inside-out support—including biotin, which has also been shown to support thickness and firmness of nails.* One moderately sized human study, in particular, found that those who took biotin supplements had 25 percent thicker nail beds than the placebo group.* 
To keep his nails healthy and strong, Bikman swears by collagen supplements; nothing else quite worked for him like the inside-out approach. Although, Bikman is not alone in his praise as plenty of other folks believe collagen (specifically mbg's powder) is the only thing that helps truly nourish their nails.*
If you are pregnant, breastfeeding, or taking medications, consult with your doctor before starting a supplement routine. It is always optimal to consult with a health care provider when considering what supplements are right for you.
https://www.mindbodygreen.com/articles/why-metabolic-scientist-loves-collagen-for-healthy-nails