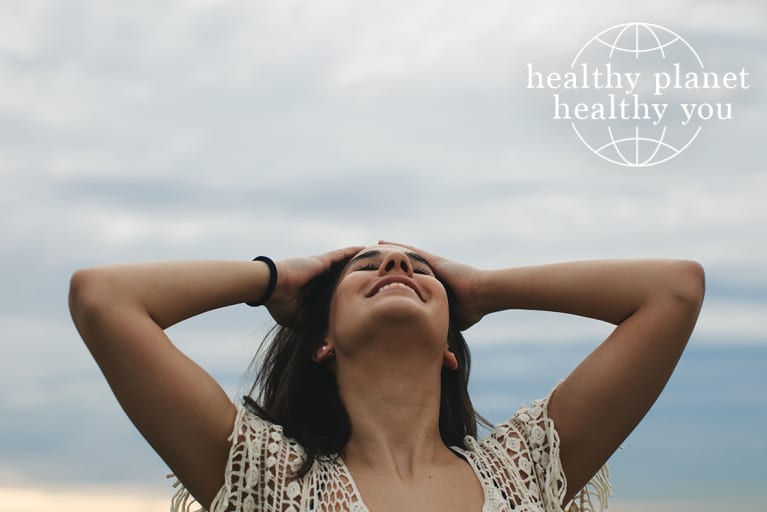 September 1, 2022 — 12:02 PM
Our series Healthy Planet, Healthy You explores just how tightly human health and environmental health are intertwined—for better and for worse. Each month, we'll share the latest news on how nature can rejuvenate us on one hand and damage our health when it's not cared for on the other. We'll end with timely tips and tools to help you care for your environment so it can care for you.
1.
Living near water can improve the mental health in economically deprived groups.
A sweeping 10-year study on over 132,000 people in Glasgow set out to find whether living near blue space (in this case, an urban canal) had any impact on mental health among socioeconomically deprived populations. The team's results, just published in Nature, show that those who lived near the water were 4 to 6% less likely to have a mental health disorder. "Our findings support the notion that living near blue space could play an important role in reducing the burden of mental health inequalities in urban populations," the study reads. (Read the research here.)
2.
The next generation is ill-equipped for the health threats of global warming.
Dealing with the hotter temperatures of the future will take physical fitness and strength—something that today's kids are, on average, lacking. In this study, environmental exercise physiologist Shawnda Morrison, M.D., explores how high levels of obesity and physical inactivity among children could be setting up the next generation to be at increased risk of heat-related health threats like dehydration and heat stroke. (Read the research here.)
3.
Stuck on a problem? Seek out nature for a fresh perspective.
Over in Taiwan, researchers set out to study how nature affects creative thinking and imagination. They asked 100 participants to observe outdoor areas with high-, medium-, and low-perceived naturalness and then looked at how this affected their creativity (as measured by a creativity test called ATTA). Those who looked at areas with more natural features tended to score better on the test—likely because the setting freed up mental space for more flexible thinking, researchers speculate. (Read the research here.)
4.
Hotter temperatures will threaten our sleep—and immunity.
Coming off what will likely go down as the hottest summer on record, most of us are seeing how warmer temperatures negatively affect our sleep. And by disrupting rest, a new review suggests that global warming will weaken immune health and make us more prone to infectious diseases. It looks like sleep and insomnia treatments are going to continue to be—excuse the pun—hot-button issues in the years ahead. (Read the research here.)
5.
Young people need green and blue space now more than ever.
It's no surprise that the pandemic has taken a major toll on young people's mental health. Could access to nature help lessen the blow? A new review study looked at how exposure to green space (parks, gardens, forests) and blue space (rivers, coasts) affected the risk of anxiety and depression among young people aged 14 to 24 years living in urban settings. All signs point to the fact that nature exposure can indeed improve young people's mental health by promoting mindfulness and distracting from negative, ruminative thought patterns. (Read the research here.)
Monthly focus: Find your climate community.
Have you ever set sustainability goals but struggled to stick with them? Like any changes, they tend to be easier to make when you have a supportive group behind you cheering you on. So this month, we're putting the focus on finding climate communities in your area. Whether you attend a meeting for a local nonprofit, reach out to environmentalists you respect on social media, or simply share your climate hopes and dreams with a few friends, try to take at least one action to widen your support network this month. There's power in numbers, so there's no telling where this first step will lead you.
https://www.mindbodygreen.com/articles/healthy-planet-healthy-you-august-2022