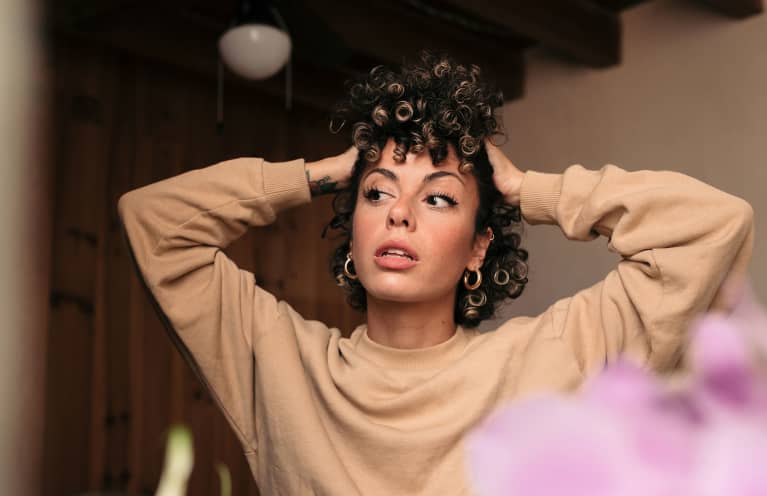 Our editors have independently chosen the products listed on this page. If you purchase something mentioned in this article, we may earn a small commission.
September 1, 2022 — 11:31 AM
What are your nonnegotiable beauty tips? In our series, Essential Beauty, we tap experts for the top three techniques they absolutely swear by. Here, you'll hear from a variety of industry professionals on the fail-safe tricks they always keep in their back pockets. We're all about simplifying your beauty regimen wherever you can, and sometimes the best routines are as easy as 1, 2, 3.
As the seasons shift, it's super common to crave some sort of hair transformation, be it a fresh chop, a '70s-inspired fringe, or a brand-new shade. With fall on the horizon, you might be thinking about adding some autumnal notes to your 'do—think buttery caramel, copper, auburn, plum—or perhaps you opt for a full-on fantasy hue. No matter which shade you choose, a color change can help you welcome the upcoming season. 
But as fun and refreshing as a new hair color can be, it does require some prep before you head over to the salon. Make sure to bring plenty of inspiration photos, understand your undertones, and mind these three essential tips from Nicole Tresch, celebrity colorist at Rita Hazan: 
1.
Commit to maintenance. 
"Know what you are getting into maintenance-wise, and make sure it's realistic for you and your lifestyle," says Tresch. Each color comes with some sort of commitment, but someone looking to go lighter will have a different plan of action than someone seeking a richer hue, which will also differ from someone who wants to cover up grays. 
For example, "A single-process color needs to be done monthly. Reds and/or bright fashion colors fade fast, which need monthly glossing. Highlights are low maintenance, but bleach can be drying," says Tresch, which is something to think about if you have drier hair prone to breakage already. 
Regardless of the exact maintenance schedule, you don't want to wait too long to head back to the salon, lest the hue becomes too oxidized. "It's important to keep up with your color to maintain the look you sign up for," Tresch says. 
2.
Choose your hair care wisely. 
Along with salon maintenance, at-home upkeep is crucial. "Lighter hair needs extra conditioning," Tresch notes, while "darker hair needs glossing to maintain [color] in between appointments." (Rita Hazan's Weekly Remedy Treatment and Shine Gloss are top-notch for the job.) 
Plus, you'll want to be extra careful that the ingredients in your shampoos, scalp scrubs, et al., don't strip the color right off your strands. In addition to traditional culprits (sulfates, parabens, alcohols, salts), look out for sneaky clarifying or purifying agents, like charcoal, salicylic acid, or witch hazel. One rinse likely won't fade the color too much, but just know that these ingredients can slowly lift the dye from your strands over time. And if the product also includes sulfates or salt, the process can happen even quicker. 
"Turn down heat on hot tools as well," advises Tresch. Heat damages your hair, no matter how you slice it—this can lead to not only brittleness and breakage but also a lack of shine. (Even if you don't color your hair, your natural hue can appear dull with constant heat styling.) And if your dye fades quickly, despite sticking to sulfate-free shampoos, deep conditioners, and glosses, heat may be to blame.
That's not to say you must stow the blow-dryer forever (some smart, hi-tech tools even rely on controlled airflow instead of extreme heat). As Tresch explains, just make sure you use a low heat setting whenever possible, and of course, always use a heat protectant to buffer your strands with a layer of nutrients. That way, you can occasionally style your hair to your liking without sacrificing your vibrant color. 
Craving a new color for fall? Many folks certainly do, but make sure you understand the necessary upkeep before diving right in. Keeping your hair as healthy as possible is crucial for a vibrant hue long term, no matter which gorgeous shade you decide to try. 
Heal Your Skin.
Receive your FREE Doctor-Approved Beauty Guide
You are now subscribed
Be on the lookout for a welcome email in your inbox!
https://www.mindbodygreen.com/articles/a-celebrity-colorists-3-tips-for-maintaining-vibrant-strands