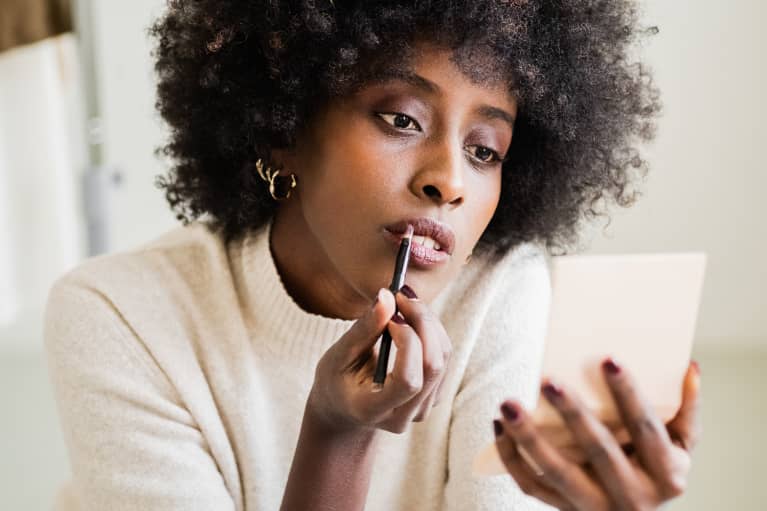 Our editors have independently chosen the products listed on this page. If you purchase something mentioned in this article, we may earn a small commission.
August 30, 2022 — 0:03 AM
If you look back on your go-to makeup routine over the years, chances are what you're doing now is a bit different from the habits you swore by back then. Perhaps you've tacked on a few new techniques (and ditched a couple of others) along the way. How you do your makeup will naturally evolve as you change and grow as a person—that's half the fun of it. 
Whether you learn tips from your best friends, social media, or guides like this one, you're sure to pick up a few new methods as the years go by. Here, 10 game-changer tips I know now that I wish I knew sooner, so you can be ahead of the curve. Take them or leave them, but I can vouch for every last one:
1.
Blend your base products with your built-in tools. 
For years, I switched between foundation brushes and beauty sponges to pat in my foundation. No matter how long I spent trying to make the base look natural, my foundation sat on top of my skin rather than blending in. 
It wasn't until I saw makeup legend Bobbi Brown using an entirely different approach that I considered switching it up. On TikTok, Brown used her fingers (yes, that's it), to blend in her concealer. Since the day I adopted this new application method, I've never looked back. 
2.
Pop a highlighter on your inner corner. 
Even if you're only wearing tinted SPF and a bit of mascara, applying a touch of highlighter to the inner corners of your eyes will make you look more awake and elevate the look in seconds. You can use a shimmer eye shadow if you choose; however, I found that highlighter provides the perfect subtle glow. 
3.
Fake your sun-kissed look on vacay. 
There's nothing like that post-vacation sun-kissed look. However, those rosy cheeks come from excess sun exposure, which isn't so great for the health of your skin. Instead, fake that post-vacay glow with sunburn blush. 
Using a cream or powder blush, apply the product below your under-eyes and swipe a tad on the bridge of your nose. This way, you'll look like you spent endless hours on the beach, sans sun damage. 
Here's the full tutorial if you want a step-by-step guide. 
4.
Apply contour underneath your chin for an extra snatched look.
Contour may be used most often to make the cheekbones pop, but you can also use it to define your jawline. Apply your cream contour right above and below your jawbone, then follow up with a triangle underneath your chin pointing toward your chest. 
This is one of those tips that's much easier to see than read—so here's a TikTok tutorial to give you a visual demonstration, too. 
5.
Let your concealer set before blending. 
Whether you're concealing under-eye bags or covering up a breakout, letting your product sit before blending is the key to creating a finish that lasts. You don't necessarily want to let the concealer sit for so long that it dries out but just enough time to ensure it sticks. 
6.
Set your eyeliner with a shadow to avoid smudging. 
This one is especially relevant during hot summer days. If you want to avoid having eyeliner run down your face or fade after just a few hours, you have to set it in place. Using a matching shadow and angled liner brush, dab the powder directly over your liquid or crayon line. 
7.
Press powder into fine lines to avoid creasing. 
If you have smile lines, fine wrinkles, or crow's feet, this tip is for you. To avoid makeup settling into those crevices, set your base products with a powder. I like to take a bit of translucent setting powder on a blending sponge and dab it over the fine lines right after applying my liquid products. Even if I'm just wearing concealer, this step makes all the difference. 
8.
Let your skin care sit before applying makeup. 
Even if you're in a rush, you should try to let your skin care products sit for at least five minutes before applying makeup. This way, your base will actually stick to the skin rather than sit on top of your layers of serum, moisturizer, and SPF. Here, makeup experts explain why this is so important for nailing a long-lasting look. 
9.
Slug your lips a few hours before doing your makeup. 
If you're prepping your skin for makeup, you can't forget about the lips. To ensure your lipstick goes on smooth (and stays that way), you need to deeply hydrate the lips. My go-to method: lip slugging. All you have to do is use a nourishing lip balm underneath a thicker, more occlusive lip treatment. Here's why it works wonders and what to use. 
10.
Use powder, not wax or crayon, for fluffy brows. 
I have to shout out eyebrow expert Joey Healy for this tip, as it truly changed the game for me. Instead of using a brow pencil, wax, or thick crayon to fill in gaps and define your brow shape, opt for a powder. 
This method creates an illusion of shadow to help the brows look fuller rather than mimicking actual hairs, as the latter can look a bit overdone if you're not careful. I use the Luxe Brow Powder in Corduroy from Healy's own line, and let me tell you, it's the best of the best. Here's how to nail the look.
Our makeup routines evolve as we do, and each year you probably pick up a few new tips and tricks that become a part of your staple routine. These are my best makeup tips for now, but who knows what's to come in the future? If you're on the hunt for even more techniques, check out these makeup tips to beat even the hottest of summer days. 
Heal Your Skin.
Receive your FREE Doctor-Approved Beauty Guide
You are now subscribed
Be on the lookout for a welcome email in your inbox!
https://www.mindbodygreen.com/articles/10-game-changer-makeup-tips-i-wish-i-learned-sooner