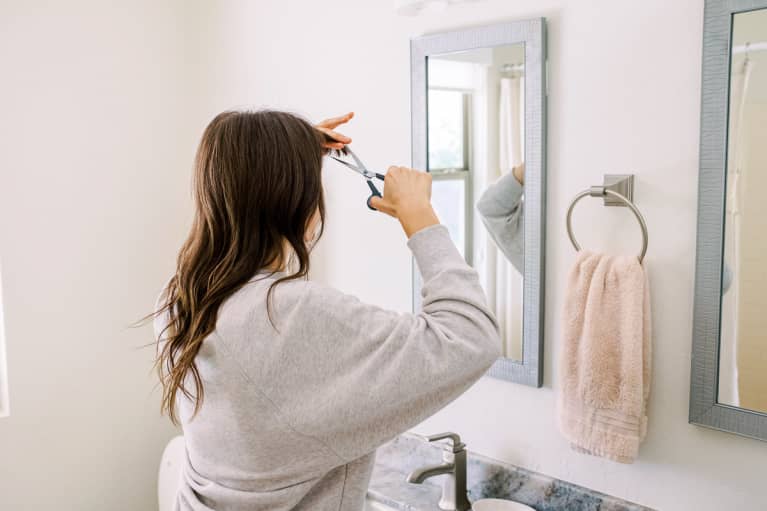 Our editors have independently chosen the products listed on this page. If you purchase something mentioned in this article, we may earn a small commission.
August 28, 2022 — 10:02 AM
Not sure if it's time for a trim? While examining your strands for split ends will certainly give you a clue, there are a few other tell-tale signs it's time for a fresh cut you should definitely keep an eye out for. Here, three dead giveaways. 
1.
Your hair won't gain length. 
Hair growth is influenced by more than a few factors—some of which you can read about here. But if all else is going well (think: scalp care, strand hydration, etc.), and you can tell your hair is growing from the root but not gaining any actual length, it may be due to unhealthy ends. 
Even if your tips aren't cluttered with splits, dry and brittle ends aren't going to encourage visible growth. You can certainly use a hair oil to mask those frizzy, dead ends, but once you're past the point of true damage, there's no reversing it—best to start over with a fresh trim. 
2.
You've been using heat more than once a week. 
It's no secret that frequent heat styling leads to dead ends, dry hair, and a lack of shine. However, we know it's unrealistic to expect everyone to stow the curling iron when they learn the unfortunate facts behind heat-damaged hair. 
If your ends (and strands in general) have been touched by a flat iron or blow dryer more than once a week since your last cut, a trim probably wouldn't hurt. "We can see damage occur with just one aggressive blow dry or chemical process," consultant trichologist Elizabeth Cunnane Phillips at Philip Kingsley once told mbg, "or it can be cumulative over time." So even if you're not using hot tools every day, the damage still adds up. 
3.
Your style begins to look unpolished.
How often you should get a trim for visual upkeep greatly depends on the length. Longer hairstyles (especially those with curly hair) tend to mask growth time fairly well, as it's more difficult to spot uneven ends when every strand twists and turns in a different direction.
However, those with shorter hair—think pixies, bobs, lobs, etc.—should get a trim as often as every four weeks to keep the look polished, Nick Stenson—celebrity hairstylist and artistic director of Matrix previously shared with mbg. And if you're going for a layered look with curtain bangs or face-framing pieces, you'll want to keep up with frequent trims as well to maintain the shape.
Our tip:
Take a photo of yourself or your hair right after your next cut. This will make it easier to recall what a fresh cut looks like. Then when deciding whether it's time for a trim, you'll have a visual aid to refer back to.
Even if you can't spot a plethora of split ends, your hair still may need a trim. If you find that your hair is growing from the root but not gaining visual length, that's a surefire clue. Further, if you've been using hot tools frequently or notice your style appears less refined, you may want to take a trip to the salon (or consider a DIY cut if you're feeling adventurous). 
Heal Your Skin.
Receive your FREE Doctor-Approved Beauty Guide
You are now subscribed
Be on the lookout for a welcome email in your inbox!
https://www.mindbodygreen.com/articles/underrated-signs-it-may-be-time-for-hair-trim