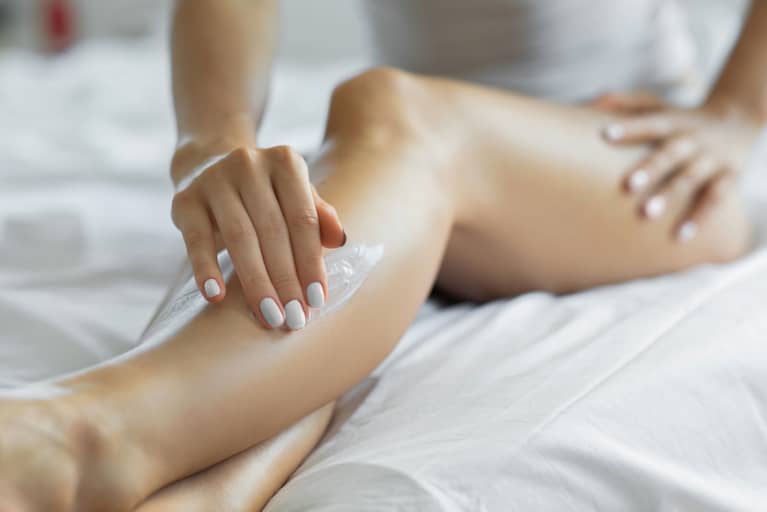 August 23, 2022 — 9:38 AM
We know probiotics are great for the gut, but should they earn a spot in your skin care formulas, too? A top derm isn't so sure. In fact, thanks to the necessary preservatives in topical products, probiotics may actually be useless. "So if you put a living probiotic into the product, that preservative system is going to kill off the probiotic too," board-certified dermatologist Whitney Bowe, M.D., says on an episode of Clean Beauty School.
However, Bowe does approve of two other microbiome-focused ingredients: pre- and postbiotics. If you want to learn why Bowe considers probiotic skin care a no-go, check out the full story here (and lend an ear to the full podcast episode!). Otherwise, here's a quick summary of what other biotic ingredients can do for the skin and how to reap their full-body benefits. 
What pre- and postbiotics do for the skin. 
At mbg, we're well versed in the power of biome-friendly skin care, hence why our postbiotic body lotion is packed with (as you may guess) both postbiotics and prebiotics. Together, these ingredients help to keep your skin microbiome balanced and calm.
Our prebiotic blend comes from microalgae, specifically chlorella vulgaris extract. In in-vitro studies, this extract has been shown to promote beneficial skin bacterium and balance other species that, when unbalanced, may lead to troublesome skin. Thanks to this ability to nurture a healthy biome, it's been shown to have a calming effect on the skin, as it prevents inflammation triggered by an unbalanced microbiome.
Our special biotech postbiotic, on the other hand, comes from Lactobacillus, the "educational" bacteria that teaches the skin to protect itself, encourages a more vibrant appearance, and is safe for sensitive skin. It has been shown to soothe inflammation, regulate microcirculation, and activate the skin's immune system.
We know, it sounds a bit science-y, but your skin is an organ with much more complex needs than hydration—although, a creamy, moisturizing formula never hurts. That being said, our postbiotic body lotion checks that box as well: Ultrahydrating ingredients like shea butter, coconut oil, and aloe vera help to keep the moisture barrier intact, further encouraging a healthy microbiome. 
While probiotics are A+ for the gut, you may want to stick with pre- and postbiotics in skin care. These ingredients can significantly contribute to a healthy skin microbiome, and when combined with nourishing additions like shea butter and aloe vera, your skin will be doused in goodness from the neck down. If you want to dive deeper, check out our guide to postbiotics in skin care and the exciting new research.
https://www.mindbodygreen.com/articles/what-pre-and-postbiotics-do-for-skin