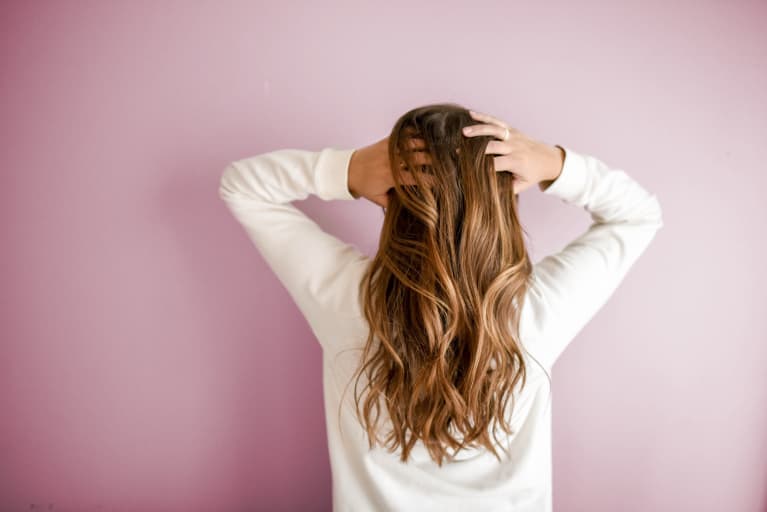 August 13, 2022 — 11:24 AM
When it comes to DIY beauty, there are a handful of gimmicky at-home hacks for all things hair, skin, and nails. Some DIY's (turmeric face masks, for example), have research-backed benefits and thus serve as a great way to save a few bucks and, well, do it yourself. Other tricks may be a bit more…questionable.
Grapeseed oil has been the talk of the internet space as of late, especially on TikTok (the hub for most beauty hacks these days). Users and commenters alike have all been raving about the oil's alleged hair-growth powers—but is there any research to back up this claim? Below, find our investigation.
Benefits of grapeseed oil for the hair and scalp.
Before we decide whether or not grapeseed oil is the best option, let's be clear: It's a great oil to lather on your strands and your scalp. In fact, grapeseed oil can loosen up buildup on the scalp (which is great for hair growth and overall scalp health). This, combined with scalp massage in general (more on that later), is likely why so many TikTok users are loving the oil right now.  
Here, a few more notable benefits of grapeseed oil for the scalp and hair: 
Acts as an antioxidant: Grapeseed oil (especially when unrefined) is packed with antioxidants, which work to fight off free radicals that can lead to oxidative stress in the skin (remember, your scalp is skin, too). What's more, antioxidants help to protect the strands from premature graying and even excess shedding.
Seals in moisture: If you're running a leave-in conditioner through your strands post-wash, layering on grapeseed oil over it may do the trick to seal in that moisture. This will help your strands stay hydrated, which will contribute to a softer texture and overall healthier hair. 
Won't weigh down the hair: If you want to find an oil to leave in your hair, grapeseed oil is an ideal, lightweight option. Some thicker oils may be great for scalp massages or overnight treatments but can build up and create a roadblock in styling. Grapeseed oil, however, is an invisible hydrator. 
Is it the best option for hair growth? 
Grapeseed oil is A+ for healthy hair growth, but there are plenty of other star players out there! For instance, if we're talking about natural remedies for hair growth, we'd be remiss to ignore rosemary oil. When compared to 2% minoxidil (a common ingredient in hair growth products), rosemary oil was equally effective and less irritating to the scalp than its competitor in this clinical study. There are even more benefits to using rosemary oil in the hair, a few of which you can read about here.
That being said, grapeseed oil isn't the only option for a long and healthy mane. Whether you use grapeseed, rosemary, or another natural oil, you can reap the benefits of all those hair-healthy antioxidants and fatty acids. Better yet, if you really want to encourage healthy hair growth, try folding a scalp massage into your routine.
Studies have shown that the promotion of blood circulation in the scalp can aid hair growth for some (since the blood carries oxygen and nutrients to the area, which can result in healthy, thriving follicles). So whatever oil you decide to use, just remember to massage the scalp to double down on the benefits, especially if you're looking to encourage hair growth. Good news: We have an easy tutorial.
While there may be more clinical evidence on the benefits of rosemary oil for hair growth, grapeseed oil is another nutrient-packed and lightweight option for you to use. Whichever oil you decide to apply, remember to massage it into the scalp to encourage circulation and hair growth. If you want to learn more ways to care for your scalp (and your hair) check out our full beauty breakdown for everything you need to know about scalp care. 
Heal Your Skin.
Receive your FREE Doctor-Approved Beauty Guide
You are now subscribed
Be on the lookout for a welcome email in your inbox!
https://www.mindbodygreen.com/articles/grapeseed-oil-for-hair-growth