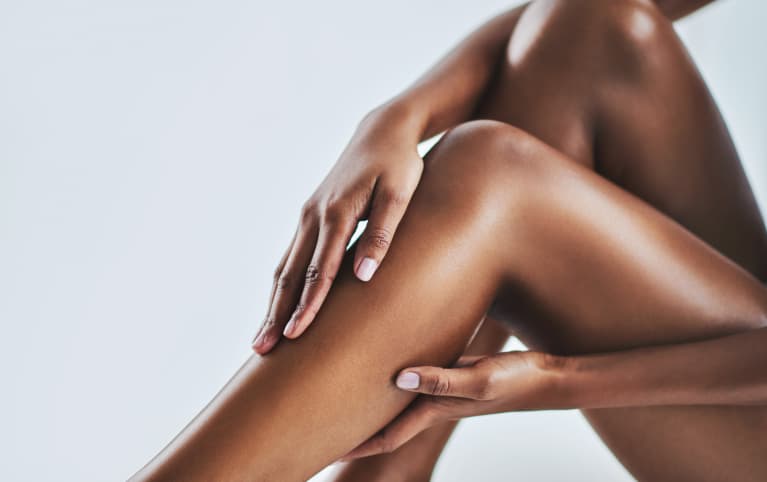 Have you ever tried to pull on skin-tight clothing right after applying body lotion? Allow us to summarize the experience, in case you're unfamiliar: You try to step into your garment only to find the fabric sticking to every inch of your body, thanks to the tacky residue your moisturizer left behind.
If you're not a fan of this feeling (you're certainly not alone), listen up: There is a way you can lather up without worrying about sticking to everything you touch. The ticket? Simply look for this ingredient in your next body lotion to provide some extra slip.
Why you should look for coconut oil in your body lotion. 
That's right, the slippery consistency of coconut oil works to mask other traditionally sticky ingredients and absorb deeply into the skin, without leaving behind any residue. 
Coconut butter and oil alike have been used as a natural moisturizer for centuries, especially by those living in tropical climates where coconuts are abundant. Coconut oil acts as an occlusive layer, meaning it locks moisture into the skin like a protective seal and preventing transepidermal water loss (i.e., the evaporation of water through the skin). 
Other oils may take longer to soak into the skin, thus requiring some sort of dry time post-application. Coconut oil, however, is quick to absorb, since it has a low molecular weight. This makes it a wonderful addition to body lotions, lip balms, and even face masks for some (those with acne-prone skin may want to steer clear, since coconut oil can be comedogenic.) And while coconut oil may clog pores for some, it's generally A+ for body lotions. Even those with oily skin can fare well with a coconut oil-based moisturizer.
What's more, studies show that coconut oil has anti-inflammatory properties and contributes to a healthy, balanced skin barrier—and as we know, a balanced barrier is essential for maintaining internal skin health and a visually smooth surface. 
Now, you may be wondering: Isn't coconut oil known for being super heavy and occlusive? Why, yes, you're absolutely right, but when it's paired with humectants, like aloe vera, the consistency is actually quite lightweight and breathable. mindbodygreen's postbiotic body lotion also adds shea butter to the mix, which gives it a soft, velvety texture. So the formula harnesses the moisturizing power of coconut without leaving your skin feeling too slick—in fact, the consistency feels downright luxurious.
If you've tried to slip on clothing after applying body lotion, you likely find the experience nothing short of frustrating. To avoid this sticky situation, look for ingredients that add slip to the formula, like coconut oil (and aloe, as a bonus!). The benefits of this oil go far beyond the sensorial experience, including easing inflammation and contributing to a healthy skin barrier. If you're in the market for a new lotion, check out this list of our favorites (a few of which include coconut oil, of course). 
https://www.mindbodygreen.com/articles/why-you-should-look-for-coconut-oil-in-your-body-lotion