Contributing writer
Contributing writer
Jamey Powell is a writer and editor living in Brooklyn, NY. Previously the senior market editor at Healthline.com, she has years of experience scouring endless product reviews and testing out the latest and greatest products in the sleep, fitness, and nutrition markets.

Expert review by
Personal trainer & holistic nutritionist
BB Arrington is NASM-certified personal trainer, holistic nutritionist, and sustainability advocate.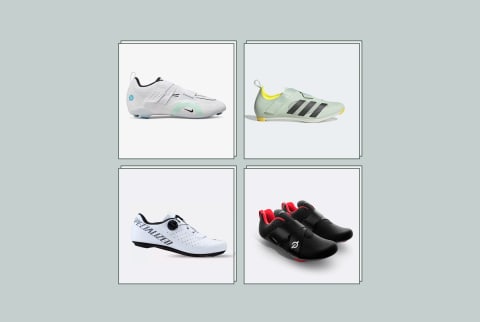 February 15, 2023
Our editors have independently chosen the products listed on this page. If you purchase something mentioned in this article, we may
Indoor cycling is an efficient and fun way to break a sweat from the comfort of your home—but do you really need a pair of cycling shoes, or can you just use your regular sneakers? We turned to two indoor cycling instructors to learn how a designated pair of shoes can improve your ride, and how to choose the right pair for your needs. Below, find our list of the best indoor cycling shoes on the market, with expert-recommended picks.
The best indoor cycling shoes:
Do you need special shoes for indoor cycling?
Need? Not necessarily. Many stationary bikes come equipped with cages on the pedals to slide your sneakers into. If you're happy and comfortable riding this way, by all means, cruise on!
However, some at-home bikes, such as Peloton and SoulCycle, have a unique type of pedal that only works with specific cycling shoes. According to Dyan Tsiumis, Cycling Instructor at Equinox and BODi Interactive, and Jenna Arndt, Head Trainer & VP of Fitness Programming at SWERVE Fitness, there's a lot to love about indoor cycling shoes:
Efficiency: "When you're clipped in you become part of the bike and have a more efficient ride," Tsiumis explains. "Instead of just pushing down, you get a full pedal stroke by pushing down and pulling up (hello, hamstrings!)." Arndt agrees, adding, "When you pull up, you use the hamstrings and glutes, making your effort more balanced and less quad dominant. That means you'll produce more power—and be able to go faster and further—with less effort." In other words, cycling shoes may be just what you need to nail that PR you're chasing.
Stability: "Cycling shoes are made with special stiff soles and connect directly to the pedal, which provides more stability during your ride," says Arndt. While at first you may feel uneasy about being locked into moving pedals, you'll quickly get comfortable and find safety in the stability.
Breathability: Indoor cycling shoes are designed with ventilation in mind. Arndt says this design helps keep your feet cooler during your workout. Plus, having designated cycling shoes for your workouts on the bike will extend the life of your other sneakers.
A quick note on sizing and cleats:
There are two important factors to keep in mind as it pertains to finding the right size:
Sizing: Cycling shoes are often sold in European sizing, so make note of the U.S. conversions (Zappos has a helpful guide). Also, many cycling shoes tend to run small. As a rule of thumb: If you're in between sizes, it's best to size up.
Cleats: There are three types of clip-in pedals you'll find on stationary bikes: SPD, LOOK Delta, and a dual-sided pedal that includes both. Some bikes (e.g. Peloton) are only compatible with Delta cleats, while others (such as Echelon) require SPD shoes. Many studios use bikes with dual-sided pedals that are compatible with both. Before purchasing cycling shoes, make sure they're the right fit for your bike or the bike you intend on using.
How we picked:
We took our expert's insights into account when selecting the best indoor cycling shoes, and even included a few recommendations straight from them.
We read many reviews on each of these shoes, to ensure that our picks will be loved by a variety of people, beginners and experienced cyclists alike.
We stuck with reputable brands and paid extra attention to those that prioritize sustainable materials.
When you consider the gear, the classes, and the bike itself, cycling can get relatively expensive. We included picks that fit a wide range of price points, so everyone can find their perfect pair. 
Our picks of the best indoor cycling shoes:
Best design: Nike SuperRep Cycle 2 Next Nature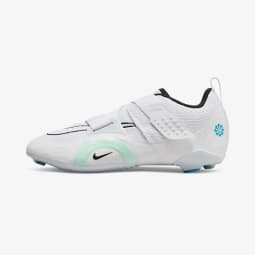 Pros:
Design uses recycled materials
Sleek look with multiple color options
Cons:
Many reviewers recommend going a whole size up
Some quality inconsistency on Amazon
Sizes available: US 5-15 / EU 36-48Half sizes available
Colorways: 7 options
Cleat compatibility: LOOK DeltaSPD
Returns: 60 days
These breathable cycling shoes Arndt's go-to pair to coach in. "They've been great—very stylish and come in tons of cool colors!" she says. Even better, the SuperRep is made with up to 20% recycled materials from post consumer waste as part of Nike's broader sustainability initiative. 
The mesh and ventilated insoles make for a super breathable design, with two adjustable velcro straps to help you find your perfect fit. These shoes are incredibly versatile and compatible with LOOK Delta and SPD pedals. However, cleats aren't included, so you'll need to purchase your preferred type separately. 
In addition to the seal of approval from Arndt, the Nike SuperReps have great reviews on Amazon. They're praised for how breathable, comfortable, and well-made they are. Just keep in mind, almost every review says to order a whole size up.
Best for Peloton bikes: Peloton Altos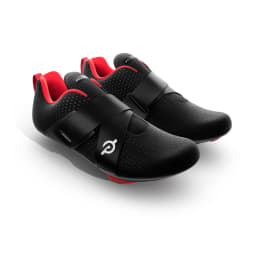 Pros:
Sleek, breathable design
Comes with cleats and installation guide
Cons:
Only one color option
May not work for wide feet
Sizes available: US 5-12 / EU 36-51Half sizes available
Colorways: 1 option
Cleat compatibility: LOOK Delta
Returns: 30 days
An updated design from the brand's original shoes, these streamline your experience by using one single hook and loop strap. The sleek design includes breathable jacquard mesh and all-over ventilation for a cooler ride. They also come with Delta cleats (which are compatible with the Peloton Bike and Bike+) and an installation guide to get you up and riding in no time. 
With 4.4 out of 5 stars from 174 ratings on Amazon, the Altos get great reviews from Peloton riders and even a few road cyclists who use these outdoors. One person writes, "The shoe feels solid on the bike and holds the heels well. I have been riding for three years and these are the best shoes I have tried." A few more critical reviews mention that these shoes are more narrow than the original design (Peloton notes this, too, saying they're best for "narrow to normal" feet). And, like most of the shoes on our list, some people recommend sizing up.
Advertisement
This ad is displayed using third party content and we do not control its accessibility features.
Best for all foot types: Shimano SH-RC100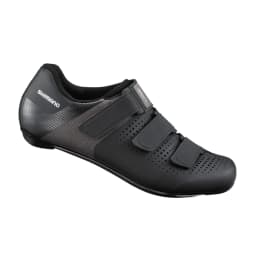 Pros:
Roomy design
Adjustable straps
Cons:
Only 2 color options
Not compatible with SPD cleats
Sizes available: US 5-12.5 / EU 36-44Half sizes available
Colorways: 2 options
Cleat compatibility: LOOK Delta
Returns: 30 days
Shimano is a beloved brand for both outdoor and indoor cyclists. In fact, before boutique indoor cycling studios started designing and selling their own shoes, shoes like the SH-RC100 were pretty much the gold standard, thanks to their neutral fit and durability. With perforated synthetic leather and a lightweight-yet-durable fiberglass sole, these shoes have a roomy fit that makes them great for most foot types. 
Three velcro straps that make it a breeze to find your perfect fit—but they won't fit with all bikes. These shoes are only compatible with triangular, three-hole cleats (such as LOOK Delta for indoor cycling or SPD-SL for road bikes), which are sold separately. 
Both Tsiumis and Arndt recommended these shoes. "I started riding in Shimanos, which lasted nearly 10 years," Tsiumis says. Reviews mention the spacious toe box, comfortable fit, and easy adjustability. And, if this particular shoe isn't a winner for you, Arndt says another Shimano shoe may fit the bill. "They come in lots of styles and models, from road shoes to indoor-specific. Sometimes it can be tough for me to find a shoe I like (I have wide feet) and Shimanos fit comfortably," she adds.
Best for easy transitions: Tiem Slipstream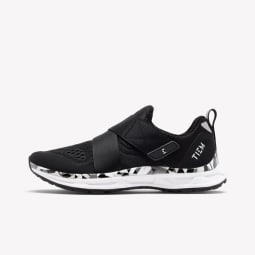 Pros:
Great for bootcamp classes
Lots of color options
Cons:
Only compatible with SPD pedals
More flexible sole may not suit every rider
Sizes available: US 5-12 / EU 36-43Half sizes available
Colorways: 13 options
Cleat compatibility: SPD
Returns: 30 days
If you like to take bootcamp classes that involve getting on and off the bike frequently, these shoes are a great pick. They're designed similarly to a sneaker, with a hidden SPT cleat inside the sole—so you can transition from the floor to the bike with ease. Breathable, yet cushy, these also feature an adjustable velcro strap enclosure. Plus, they're available in a wide variety of colors and patterns. 
Tsiumis is a huge fan of these shoes. "I love my Tiem shoes because they're so easy to get on and off (they're velcro)," she says. "I can walk around in them with ease as the SPD clip is inverted into the bottom—but I only wear them around the house or studio, not outdoors." 
While there's a lot to love about the Slipstreams, there are two things to keep in mind: First, they have a more flexible sole, which you may or may not enjoy. Second, they're only compatible with SPD cleats and pedals.
Advertisement
This ad is displayed using third party content and we do not control its accessibility features.
Best value: Tommaso Pista
Pros:
Highly-rated on Amazon
Purchase includes cleats
Cons:
Limited color options
Mixed reviews from Peloton riders
Sizes available: US 6-11 / EU 36-43Half sizes available
Colorways: 2 options
Cleat compatibility: LOOK DeltaSPD
Returns: 30 days
These sturdy, cushioned shoes are an impressive value for the price. The Denver-based cycling brand's cycling shoes come with cleats already installed, and you can choose SPD or Delta. The wider fit accommodates most foot types, with half sizes available, too. With a vegan leather outer, mesh ventilation panels, and a stiff fiberglass sole, this shoe is well-made and breathable. One consideration, however, is that there are only two color options available: black or white, with either pink or blue detailing. Still, if design isn't your main concern, these are a great budget-friendly option that come with a lifetime warranty. 
With over 3,800 ratings and 4.5 out of 5 stars on Amazon, Tomasso's Pista cycling shoes are a hit with at-home cyclists. One reviewer writes, "Shoes fit true to size and the BEST part is the clips come pre-installed so you only need to make minor adjustments with the hex key that is provided. Great investment for people who want to level up their spin class experience." There are some mixed reviews from Peloton users, including a few who say the cleats didn't fit into their pedals properly and that they are too stiff.
Most comfortable cycling shoes: Specialized Torch 1.0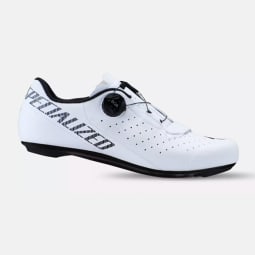 Pros:
Strap-free design
Multiple color options
Cons:
May run more narrow, per some reviews
Only compatible with 3-hole cleats
Sizes available: US 5.5-12 / EU 36-49Half sizes available
Colorways: 10 options
Cleat compatibility: LOOK Delta
Returns: 30 days, used (but not damaged) or unused
One of the most reputable cycling brands on the market, Specialized makes great shoes for riding. The Torch 1.0 is a lightweight, strap-free design that utilizes a Boa dial instead of velcro straps. The dial is essentially a knob that allows you to get super specific with your fit and makes the shoes incredibly easy to put on and take off. They're well cushioned, but well-ventilated too, with a sleek design that's appropriate for both indoor and outdoor use. Just make sure you're aware of the cleats you need: these only work with 3-hole cleats, like LOOK Delta for stationary rides or SPD-SL for road bikes. 
This is a pick from yours truly (the writer)! I've worn these for countless indoor classes and multiple triathlons and can attest: They're super comfortable. I love how easy they are to slip on and off, and the generous balance of cushion and ventilation.
Advertisement
This ad is displayed using third party content and we do not control its accessibility features.
Best for SoulCycle bikes: SoulCycle Legend 2.0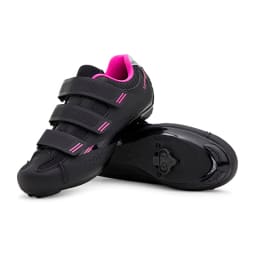 Pros:
Quality design with adjustable dial enclosure
Cleats included
Cons:
Limited styles
No reviews to consult
Sizes available: US 5-11 / EU 36-50Half sizes available
Colorways: 1 option
Cleat compatibility: LOOK Delta
Returns: 30 days
These SoulCycle shoes are a collaboration with longstanding cycling company Pearl Izumi. The design includes ventilated panels, a sock-like fit, and the same Boa dial closure system as the Specialized model—which means they're super adjustable and easy to slide in and out of. Note that while the SoulCycle bike (both in-studio and at-home) is compatible with both Delta and SPD cleats, these shoes come with Delta cleats. 
We weren't able to find any reviews of these shoes from customers.
Best breathable: Adidas Indoor Cycling Shoes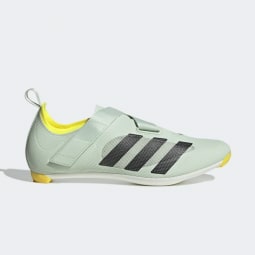 Pros:
Uses recycled materials
Well-ventilated design
Cons:
Mixed reviews about comfort and sizing
Not SPD compatible
Sizes available: US 6-14 / EU 37-48Half sizes available
Colorways: 5 options
Cleat compatibility: LOOK Delta
Returns: 30 days
Another brand that is paying closer attention to sustainability, Adidas makes its indoor cycling shoes with up to 50% recycled materials. The design is available in 5 bright and funky colors, and is one of the more lightweight shoes on our list. It features a ventilated textile upper and a sturdy fiberglass-reinforced nylon sole, so your feet can breathe but will still be supported. 
For easy on-and-off, there's a single velcro strap enclosure. Like a few other shoes on this list, this pair is only compatible with three–hole cleats, such as LOOK Delta.   
These indoor cycling shoes get great reviews from customers, particular for their generous ventilation. One reviewer writes, "Absolutely love them. Comfortable, breathable and cute!!" However, some say they'd prefer a bit more cushion for longer rides. Several reviewers recommend sizing up at least a half size.
Advertisement
This ad is displayed using third party content and we do not control its accessibility features.
How to choose.
Cleat type: Your cycling shoes are no good to you if they don't work with your bike! "You want to make sure that the shoe has the capability to fit with the pedals of the bike you're using," says Tsiumis. "There are various types, but the common ones are SPD and LOOK Delta." If you're unsure what pedals you have, email or call customer service at the company you ordered your bike from. And, if you're hoping to use your shoes at a gym, ask the front desk or your cycling instructor—they'll be happy to help!
Ventilation: Indoor cycling is one of the sweatiest workouts you can do. Arndt suggests prioritizing shoes with mesh panels to help keep your feet cool, especially if you're someone who sweats easily. However, if you're hoping to wear your shoes outdoors, that extra breathability may wind up being a downside in cooler temperatures.
Function: Consider features like adjustable straps and how easy they are to move around in. "If you'll be hopping on and off your bike, you might consider shoes that fit SPD or recessed cleats, as these will be easier to walk around in than Delta, which stand out from the shoe," adds Arndt.
Budget & returns: There are a wide range of prices on our list, so it's definitely possible to find a pair of affordable cycling shoes that meet your budget. And, as we've mentioned, cycling shoes tend to run small. Make sure you're aware of the brands' return and exchange policy before purchasing so you can swap sizes if need be.
A few safety notes:
While indoor cycling is a generally safe activity, it's important to keep a few things in mind—especially when riding clipped into the pedals:
Avoid walking around in your cycling shoes. Unless you're wearing shoes with recessed cleats (like the Tiem Slipstreams on our list), cycling shoes can feel like ice skates, especially on hardwood floors or stairs. Trust me, I used to work at a studio and have personally seen several people wipe out in cycling shoes… it's not pretty. It's best to put your shoes on right next to your bike and take them off as soon as you're done riding.
Always use the break. When you're clipped in, the laws of physics take control. Luckily, most indoor bikes include a break (usually you can push down on the resistance knob). If one or both of your shoes come unclipped while you're riding, press down on the breaks immediately to avoid getting pelted in the shin with your pedal!
Know your setup. Your bike setup can make or break your ride, so it's important to make sure you're riding with proper form. This Peloton tutorial video (at 2 minutes 30 seconds) is especially helpful for finding your perfect seat and handlebar height on any indoor bike, not just a Peloton.
Keep 'em clean: While most cycling shoes are well ventilated, they're still going to get pretty sweaty. It's worthwhile to purchase a shoe disinfectant or deodorizer and make sure they're able to properly air out between rides.
FAQ:
What kind of shoes are best for indoor cycling?

There are a ton of indoor cycling shoes available today, and the best shoes for you will depend on the type of riding you like to do and the type of pedals you're working with. If you're someone who likes a bootcamp-style class and plan to get on and off the bike, consider shoes with recessed cleats, like Tiem's Slipstream shoes. If you're hoping to take on longer rides, you'll want to make sure you've got a supportive, yet well-cushioned shoe like Specialized's Torch 1.0. Whatever you choose, make sure the sole is firm and that you have plenty of room to wiggle your toes.
Are indoor cycling shoes worth it?

If you're indoor cycling regularly, you'll likely appreciate having your own pair of shoes. Not only do they provide more support than your sneakers, cycling shoes improve the efficiency of your ride by limiting unnecessary movement on the pedals. "You'll bring more fluidity to your pedal stroke and pedal more efficiently since you'll utilize the full pedal stroke, pushing down and pulling up," says Arndt.
Are Peloton shoes the same as cycling shoes?

Peloton makes their own, branded cycling shoes that are compatible with 3-hole cleats, like LOOK Delta and SPD-SL for road bikes. However, they're not compatible with regular, 2-hole SPD cleats, which you'll find on Echelon bikes and many gym bikes. It's important to know the pedals you're riding on before buying cycling shoes to ensure they'll be compatible.
The takeaway.
Whether you're a Spin newbie or a devoted cyclist, a quality pair of cycling shoes can seriously elevate your ride. But, just like any other shoe, both Arndt and Tsiumis can't stress enough the importance of finding a pair you're comfortable in. "Comfort is key! Your shoes should feel good but also fit tightly and securely on your feet," says Arndt. And remember: be sure to check the cleat compatibility of the pair you're interested in to make sure they work with your bike, and don't hesitate to ask for help getting them installed at your nearest studio or bike store.