Written by
Kelsea Samson is a writer, content manager, certified yoga instructor and founder of The Mindfulness Program for Kids and Yoga for the Blind in Tampa, Florida.
January 20, 2023
Our editors have independently chosen the products listed on this page. If you purchase something mentioned in this article, we may
There's no denying that weightlifting is an excellent way to boost your health from the inside out. Per various studies, it increases metabolic health1, naturally releases dopamine, improves blood sugar and circulation, and helps regulate hormones2. Ready to get in on these benefits? When it comes to strength training at home, the best weight bench is essential. This versatile piece of equipment can be used to work every muscle group.
With a potpourri of weight benches to consider, it's tough to decipher which are worth adding to cart (not to mention taking up space in your home). Below, we've demystified the topic, rounding up the best weight benches for every exercise type and experience level, with expert advice on how to choose the best one for you.
The benefits of having a weight bench in your home.
Weight benches can support upper- and lower-body exercises that incorporate both static and dynamic movement (i.e., exactly what you'd want in your weightlifting routine. To learn more, we tapped Kenny Santucci, certified personal trainer and founder of The Strength Club in New York City, for his expert opinion.
"A weight bench is very versatile. And [when you have one at home], you'll eliminate any excuse as to why you couldn't get your workout in," Santucci explains, continuing that he and his clients use the weight bench at his gym almost every day of the week. "You can use it for bench press, flys, hip thrusts, step-ups, split squats, plyometrics, and so much more. It's an essential and staple piece in every gym." 
Weightlifting is extremely beneficial to your overall health and well-being—and when you have a weight bench at your disposal, your exercise possibilities are nearly endless.
How we picked:
We scoured the market for the highest-quality safe and durable weight benches.
Each weight bench we selected is well functioning and worth the investment. We considered all fitness levels and analyzed every product's features. 
We read plenty of customer reviews to inform our decisions, always checking for above-par satisfaction (and calling out any negative feedback, too). 
We chose weight benches based on their ability to handle the most results-driving solutions for all kinds of lifters, from novice to expert. 
Our picks for the best weight benches of 2023:
Best on Amazon: REP FITNESS AB 3100
Pros:
Frame is stable enough for step ups
Several color options
Material has good grip
Type of Bench: InclineFlat
Weight Capacity: 700 pounds
Product Weight: 70 pounds
Special Features: Sturdy steel frameLadder adjustmentThree post design
Dimensions: 50.5″ x 11.75″ x 16.75″
This brand makes high-quality weight benches and weight lifting tools and is one of Santucci's go-to bench brands. "I love the REP fitness adjustable bench and have five in my own gym." This particular model is the brand's most affordable adjustable bench, but still features six incline adjustments (from flat to 90 degrees) and three seat positions. It's a heavy-duty, flat-incline bench with a ladder design that allows you to easily and securely switch angles. Built-in wheels make it easy to move around your space.
Reviewers agree that this weight bench is a great choice, with one calling it "simply the best adjustable bench you can buy on Amazon." Others say it "checks all the boxes," and rave that the bench is high quality and durable. People enjoy the wheels for easy portability and the "sharp" red design. One qualm is that this bench is not foldable, so you'll want to consider its full footprint when planning your purchase.
Best budget: Amazon Basics Flat Weight Bench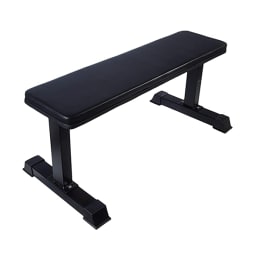 Pros:
Lightweight (under 25 pounds) for easy portability
Quick and easy assembly
Great for small spaces
Type of Bench: Flat
Weight Capacity: 385 pounds
Product Weight: 21.6 pounds
Special Features: Space-saving designDurable constructionLight-weight and portable
Dimensions: 11.22″ x 40.94″ x 17.91″
If you're on the hunt for a no-frills, budget-friendly weight bench for full body workouts, this pick gets the job done. While it doesn't offer any incline positions, this flat-yet-versatile workout bench is sturdy, durable, and perfect for a slew of exercises, such as bicep curls, chest presses and flys, bench presses, tricep dips, floor-to-bench planks, and push-ups. Despite its affordable price tag, most reviewers say it stands the test of time. Plus, those with smaller workout or living spaces will love the small, lightweight design. 
There are over 6,000 Amazon ratings for this affordable weight bench, with a 4.6 overall. One reviewer writes, "This is a better bench than I've used in commercial gyms. It's notably wider and sturdier than most. Amazon Basic can be a crap shoot for quality/value, but this one's a clear winner." A few people do say assembly is a headache, but many others find it to be quite simple.
Advertisement
This ad is displayed using third party content and we do not control its accessibility features.
Best for small spaces: Escape Fitness Deck 2.0
Pros:
Unique design suitable for full-body strength training, circuits, and bootcamps
Lightweight and easy to move and store
Cons:
Lower weight capacity than others
Type of Bench: InclineDeclineFlat
Weight Capacity: 375 pounds
Product Weight: 28 pounds
Special Features: Built-in storage compartmentLight-weightVersatile
Dimensions: 38″ x 12″ x 14″
This multi-purpose workout equipment can be used for almost any type of workout. It has three incline adjustments (30, 45, and 70 degrees), and can double as a stepping platform or a plyometric box. If you've ever been to an Orange Theory class, you'll likely have used this on the weight room floor. Beyond functionality, we love the Deck's portability. Wheels make it a breeze to transport into your desired room, and a built-in storage compartment is great for smaller gym equipment. Added perk: the bench comes with bands as well. 
Maintaining a 4.8 out of five-star rating overall, this bench has nearly 1,200 perfect five-star ratings. Users love the multipurpose design and various height settings. One writes, "So glad I decided to make this purchase. Comes already assembled, easy to use, lightweight, sturdy and overall fantastic!"
Best portable: Supermax Adjustable Weight Bench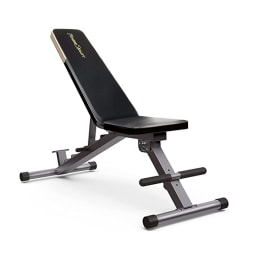 Pros:
Quick and easy assembly
Compact design
Lightweight-yet-durable
Cons:
Some find the width of the backrest to be too narrow
No wheels
Type of Bench: InclineDeclineFlat
Weight Capacity: 800 pounds
Product Weight: 35 pounds
Special Features: Compact folding designLeg rollerUpgrade available for minimal pad gap
Dimensions: 23.5″ x 59″ x 48.5″
Another easy-to-store option, this foldable weight bench takes up a minimal amount of space and can be stowed away when not in use. While incredibly lightweight compared to other options, the bench is extremely durable and stable. So much so that you can do step ups and press up to your max weight without worry. This straightforward design has just about everything you might want, including 12 incline adjustments from -20 to 80 degrees. Though this bench folds to a compact size, we do wish it had built-in wheels for easier transport within your space. 
That said, more than 10,000 Amazon ratings and an overall 4.7 rating speak to the quality of this bench. One pro lifter writes, "I used to be a bodybuilder and this bench is by far the best bench I have ever owned in my life (I have been lifting weights for 30 years). It took me less than 10 minutes to assemble. It comes practically completely assembled. This is one of the most stable benches, including benches in gyms, that I have ever used. Plus, the bench easily folds for easy storage." Note, some reviewers found the width of the bench not large enough.
Advertisement
This ad is displayed using third party content and we do not control its accessibility features.
Best foldable: Bowflex 5.1S Stowable Bench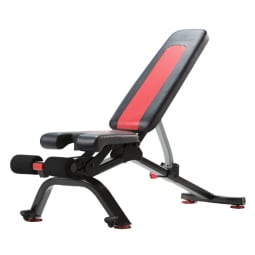 Pros:
Collapsible design for easy vertical storage
Includes leg extension
Six adjustment angles for versatility
Type of Bench: InclineDeclineFlat
Weight Capacity: 600 pounds
Product Weight: 60 pounds
Special Features: Space-saving designLeg extension
Dimensions: 61.3″ x 28.1″ x 49.5″
This stowable weight bench is built for total workout versatility, with a super-sturdy construction and six adjustment angles: 30, 45, 60 and 90 degrees, plus flat and decline (-20 degrees). Thanks to its mid-range price point and quality steel design, it's a great pick for lifters of all fitness and experience levels. This bench can be folded and stored vertically, reducing its footprint by more than 50% when tucked away. 
There are nearly 300 reviews for this bench on the brand's website, and it maintains a 4.7 out of 5-star rating overall. People love how comfortable it is, and the minimal amount of space it takes up when folded. Some users felt that the bench's construction easily loosened after use and required re-screwing.
Best for beginners: REP FITNESS AB 3000 2.0 FID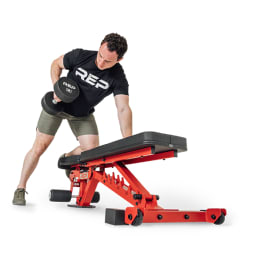 Pros:
High quality materials
Easy to adjust and clean
Minimal gap between seat and back body
Cons:
Cannot be stored vertically
Type of Bench: InclineFlat
Weight Capacity: 700 pounds
Product Weight: 77 pounds
Special Features: Leg rollersPortable
Dimensions: 17.1" x 25.8" x 56.6"
A high-quality choice for lifters who want a rock-solid yet comfortable piece of equipment, this bench features eight back adjustments (-12, 0, 15, 30, 45, 60, 70, 85) and five seat positions (0, 5, 10, 15, 20). The built-in leg roller has six positions, so you're sure to find a setting that works comfortably for you. 
Speaking of comfort, the fabric on this bench has the perfect amount of cushioning, with minimal pad gap. While not the most lightweight option, the 77-pound design is durable and sturdy enough for step-ups. One downside is that this bench cannot be stored vertically, so be sure to consider the size before you make your decision.
Shoppers say you can't beat the value for this price, calling this bench "sturdy, stable, and about as beefy and functional as the benches that cost twice as much." Others praise the grippy material and wide array of incline options, noting that the peg and hook system make it easy to change between levels.
Advertisement
This ad is displayed using third party content and we do not control its accessibility features.
Best weight bench and rack: Powertec Olympic WorkBench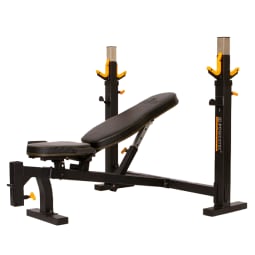 Pros:
Two sidebar catches on front and back to utilize rack for presses and squats
Nine unique horizontal positions
Attachments available for full body workout
Type of Bench: InclineDeclineFlat
Weight Capacity: 600 pounds
Product Weight: 127 pounds
Special Features: Full body workout attachments availableDual bar catch accessFully adjustable bench design
Dimensions: 55″ x 50.5″ x 62″
Instead of searching for a weight bench and rack separately, you might consider a combo unit. This weight and bench rack sets you up for success whether you're doing bench presses, heavy weight squats, or virtually any strength training exercise. To step things up another notch, you can add weights to your purchase, or customize with separate attachments for legs, pec/fly, curls, dips, and lats. This flat-incline-decline bench is fully adjustable, with nine horizontal positions, nine vertical positions, and seven incline adjustments. 
The words "durable," "heavy duty," and "unbelievable" echo through this bench's reviews. One weight lifting enthusiast says, "This is an incredible weight bench! You won't find anything on the market at this price that matches the heavy duty build quality and unbelievable ease of putting it together! It was a breeze!" Another who has been lifting for 20 years says they are "blown away," by the quality and that "Installation was the easiest I've ever experienced with a bench and rack."
Best adjustable weight bench: Rogue Adjustable Bench 3.0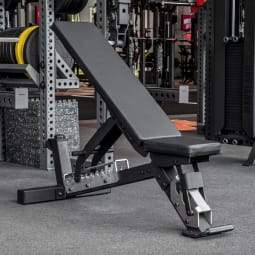 Pros:
Extremely comfortable with quality padding and minimum pad gap
10 incline positions and three seat positions to choose from
Wheels and pull handle make it easy to stow away
Cons:
Assembly required and can take a while
Does not decline
Type of Bench: InclineFlat
Weight Capacity: 1,000 pounds
Product Weight: 125 pounds
Special Features: WheelsPull handlePremium padding30 custom configurationsOption for material upgrade
Dimensions: 52" x 11" x 15" (flat) 52" x 11" x 56" (at 85 degrees incline)
Few benches mix comfort, sturdiness, and customizability like this one. It offers 10 incline positions (0 to 85 degrees) and three seat adjustments (0, 15, and 30 degrees), for a total of 30 unique configurations. "Rogue benches are a staple," Santucci confirms. This bench is designed for all kinds of lifters, with a quality construction that gives you a rock solid foundation and supportive padding. 
The standard model has black powder-coated steel adjustment rails and standard bench wheels that make it easy to move around your space. If you're looking for an even higher-quality piece of equipment, upgrade to the stainless steel model, which has Stainless Steel rails and premium rubber wheels and costs an additional $100. Both are available in 10 colors.
Reviewers praise this bench for its comfort and quality, along with the easy setup and seamless delivery process. One says, "The bench is just awesome. It's solid and comfortable but the pad is firm and it's easy to move around with the wheels. I can't imagine needing another bench ever." It's worth mentioning the overwhelming consensus: the stainless steel model is significantly higher quality than the standard. Many reviewers say it should replace the standard design altogether. 
Advertisement
This ad is displayed using third party content and we do not control its accessibility features.
Best weight bench with squat rack: Better Body Power Bundle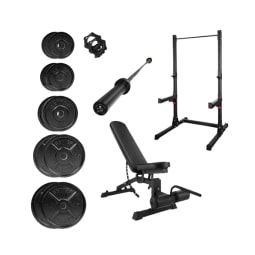 Pros:
Built-in wheels for easy transport
Squat rack, weight plates, barbell, and barbell collars included
High quality construction
Cons:
Not foldable
Installation can be time consuming
Type of Bench: InclineDeclineFlat
Weight Capacity: 1,000 pounds
Product Weight: 510 pounds
Special Features: BarbellBarbell collarsWeight platesPower rackWeight lifting bench
Dimensions: 59″ x 11.5″ x 46″
This bundle is an investment, but truly brings the gym to you. It comes with everything you need to take your strength training seriously, including a steel barbell and collars, weight plates, power rack, and the brand's flagship premium weight lifting bench. The bench has 13 incline positions and three seat adjustments, with leg rollers to keep you stable. By bundling the pieces together, you'll save money in the long run—and these pieces are built to withstand the test of time.
With over 600 five-star reviews and a 4.7 overall rating on the brand's website, this bundle gets high praise from a ton of users. One writes, "This is by far the best bang for your buck if you train at home!! The squat rack itself is simply amazing! I can perform a lot of workouts in a very small amount of space. The barbell and the plates are very solid and can withstand any kind of abuse you throw at it. The only minor drawback was the time it took me to set it up. Definitely ask a bro to help out with the set-up."
Types of weight benches.
Your desired level of weightlifting is a big factor when choosing which bench is right for your home gym—along with the size of your workout room and, of course, your budget:
Flat bench: the simplest, most affordable option that can handle heavy weights and exercises like presses and flys but does not offer incline adjustments and limits the muscles you can target.
Fat bench: great for powerlifters and those using heavy weights, a fat pad helps maximize power and minimize injury.
Adjustable bench: adjustable benches have the ability to incline, decline, and lie flat. With more surface area and access to various seat positions, these benches support a wider variety of exercises.
Whichever option you choose, you'll reap health benefits. Santucci says, "One of the things I say to all of my clients is you'll never regret a workout. Strength training improves not only the things you see but the things you don't see, how you feel. It increases red blood cell count, it increases muscle mass, increases circulation, you can fix pain through exercise, it increases dopamine naturally, which helps you feel better, it increases your mood, and can make you feel more confident from the inside out."
What to consider when buying a weight bench.
First, consider your individual fitness goals. "Ideally, if you're using a home gym, you want a universal bench that is adjustable so you can get the most out of it," Santucci elaborates. "If you are a powerlifter or you're lifting heavy weights, a fat bench is the best because it is more durable and can hold more weight. If you are looking for a cheap option, flat benches are the simplest. For most people, I would recommend something adjustable with an incline, decline, and flat option." 
You'll also want to determine how your weight bench will fit in your home. Do you need something that can be stowed away when not in use? Are you planning to add attachments like a squat rack? Start to cast the vision for how this new, important piece of exercise equipment will work in your space.
FAQ:
What is the best brand for a weight bench?

According to certified personal trainer Kenny Santucci, Rogue is a staple brand. It's affordable and of great quality. That said, depending on what you are looking for, you might consider another option on this list.
What type of bench is best for bench press?

Any safe and durable bench that lies flat is great for a bench press.
How much is a good weight bench?

The weight benches Santucci recommends range from $350 to $600. "A cheaper bench won't be made as well, but you can still perform a ton of exercise on a simpler, less expensive option," he says.
Are weight benches worth it?

Santucci confirms that, yes, weight benches are an essential piece in any commercial or home gym. "A weight bench is very versatile. You can perform thousands of exercises on them and eliminate any excuse as to why you couldn't get your workout in," he adds. 
The takeaway.
Investing in a weight bench can help you achieve all the benefits of weight training from your own home. For an even more well-rounded approach to your fitness routine, consider supplementing your strength training with some cardio. Check out our picks for the best treadmills for runners (or for walkers!) and the best exercise bikes to add to your home gym.