mbg Beauty & Wellness Editor
mbg Beauty & Wellness Editor
Jamie Schneider is the Beauty & Wellness Editor at mindbodygreen, covering beauty and wellness. She has a B.A. in Organizational Studies and English from the University of Michigan, and her work has appeared in Coveteur, The Chill Times, and Wyld Skincare.
January 10, 2023
Our editors have independently chosen the products listed on this page. If you purchase something mentioned in this article, we may
Beauty routines are never truly stagnant—practices evolve and change like we do. In As of Late, we chat with influential folks about their current products and rituals. Here, we get a snapshot of what they're doing right now: the sacrosanct formulas they use until the last drop, the fresh launches they've got their eyes on, and of course, the why behind it all.
Advertisement
This ad is displayed using third party content and we do not control its accessibility features.
Stress management is skin care. Just think about it in the context of breakouts—high levels of cortisol (the infamous stress hormone) trigger inflammation and create an optimal environment for acne-causing bacteria. What's more, that uptick in cortisol breaks down collagen and elastin over time, which can accelerate skin aging (read: fine lines and sagging). The point being: A mental health and beauty routine go hand-in-hand. Meditation itself has even been shown to strengthen the skin barrier1! 
It's only fitting, then, that Naomi Osaka prioritizes soothing, stress-busting practices throughout her regimen—she hails mindfulness habits just as much as daily SPF.
In fact, the 25-year-old world-class tennis champion is on a mission to destigmatize mental health and make self-care more accessible for all; on that path, she also founded KINLÒ, a sun care brand specifically designed to raise awareness about health risks for melanin-rich skin tones and amplify the importance of sunscreen. 
In an overly saturated industry, Osaka's holistic, grounded routine feels especially refreshing. Ahead, the tennis star walks us through her entire beauty lineup, including the ritual that helps grow her confidence on the court, the calming scents that put her mind at ease, and the coconut body oil that always leaves her glowing. 
The tried-and-true: A glowy SPF.
"I use an SPF every day; it is the most important part of my skin care routine. No matter the time of year, or if I'm indoors or outdoors, protection from harmful UVA and UVB rays is always top of mind. It's a common myth that those with melanated complexions aren't as susceptible to sun damage, but that is not the case. 
"This is why I created my sun care line, KINLÒ, to educate people that no matter what, they should be applying sunscreen at the top of their day. KINLÒ's Golden Rays Sunscreen is great because it is a mineral sunscreen, which is better for your skin and the environment, and it is specially formulated for melanated skin, so it leaves skin glowy and never ashy." 
KINLÒ
KINLÒ Golden Rays Sunscreen
$ 19.99
Along with zinc oxide, you'll find niacinamide, green tea extract, allantoin and safflower seed oil in this silky, smooth formula. And thanks to the slight tint, you won't experience that dreaded white cast. Of course, this sunscreen is also sweat-proof and water-resistant—Osaka swears by it on and off the court.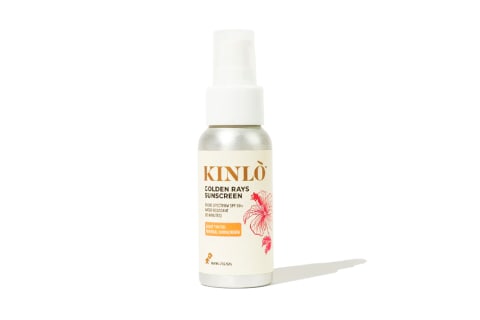 The surprise hit: Incense.
"I actually started burning incense about a year ago, and now I absolutely love it. It was never something I thought I'd use, but a friend introduced me to a really nice scent and I've been hooked ever since. It's such a part of my routine now—whether I'm just relaxing at home or doing a meditation, I really love to have the added sensory component of smell." 
Advertisement
This ad is displayed using third party content and we do not control its accessibility features.
The secret: Music.  
"Honestly, I'd probably have to say music. Not that music is underrated, but I think people don't realize how much music is involved in every part of my day. I'm always listening to music before and after practice or matches, definitely in the gym to hype myself up while I'm training, and also while I'm at home cooking or getting things done around the house.
"I almost always have music playing whether it's through my Beats headphones, in my car, or on the speaker system in my house. It's a huge part of my life that probably goes unnoticed."
Beats
Beats Studio Buds
$ 149.99
Yes, music can and should be part of your well-being toolkit. Certain songs and frequencies have the ability to calm or uplift your mood, so don't ignore the power of a good hype song! These wireless Beats Studio Buds contain active noise canceling technology and spatial audio that truly immerses you into the listening experience. There's no better way to tune in.
The up-and-coming: A helpful meditation tool.
"I'm a strong believer in meditation, and I know many people who are now starting to incorporate meditation into their daily routines, which is great. While it seems intimidating at first, the Core Meditation Trainer by Hyperice is a great tool that really helps with guided meditation, maintaining focus, and helping to support the development of mindfulness habits. It has been a great tool for me and has made me calmer, improved my mood, and I get better sleep now. You can even track your progress within the Core App, which I find helpful and encouraging!  
"I also highly recommend Modern Health to anyone who is struggling with mental health or might just need a little extra support. It has been such a transformative tool for me in my journey and evolved into an integral part of my daily routine."
Hyperice
Core Meditation Trainer by Hyperice
$ 179
If you're someone who has trouble sitting still in silence, you simply must give the Core device a try: The soothing sounds and tones help anchor you to the experience and make meditation 10x more soothing. Osaka even provides her own calm instructions via the Core by Hyperice app's exclusive "Relax with Naomi" meditation. Meditation has never felt so easy.
The steal: A quick & easy lunch. 
"My go-to budget-friendly gift is always a gift card because it's the easiest way to stay in your price range while also giving a personalized gift. I usually give a Sweetgreen gift card because it's the perfect way to give friends and family dinner or lunch 'on you' even if you are far away!"
sweetgreen
sweetgreen Digital Gift Card
$ Varies
Even if you don't have a sweetgreen in your area, a restaurant gift card is a great, low-lift way to treat a loved one (or yourself!). For an impromptu lunch date, you could even chat on the phone or FaceTime as you both fuel your body with fiber-rich greens.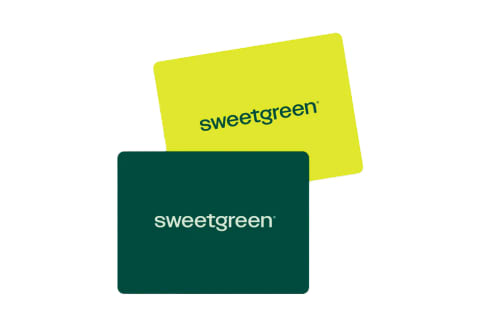 The thing my makeup artist taught me: The power of facial massage. 
"My makeup artist has taught me about the importance of facial massage. It really helps with lymphatic drainage, and I feel instantly more contoured after a good massage. The massage also helps skin care products seep into skin better, and I feel more 'awake,' too. I like using gua sha tools but also my hands in a pinch."
Advertisement
This ad is displayed using third party content and we do not control its accessibility features.
The travel staple: A rose fragrance.
"My favorite travel product is the Le Labo Rose 31 travel tubes. I always love to have them on hand when I'm traveling so I can just give myself a little spritz after a long flight and feel refreshed. They are perfect if you are running around and can be tossed into your purse or makeup bag so you always have them on hand."
Le Labo
Le Labo Rose 31 Travel Tube Set
$ 174
This isn't your average garden rose. The classic floral pairs with cumin, olibanum, cedar, and amber for a touch of woodiness, a hint of sensuality, and a whole lot of mystery.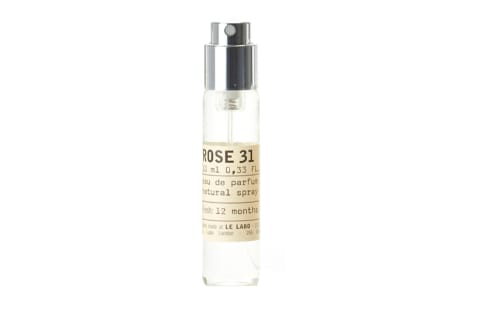 The seasonal staple: A moisturizing body oil.
"My skin always gets drier during the winter, so hydration is key. I am obsessed with KINLÒ's Coconut Body Oil year-round but especially during the colder months. It helps protect my skin barrier and keeps my skin feeling super moisturized but not greasy. I also love KINLÒ's Hydrating Lip Balm. I have them all over the house and in all my bags so I never have to be without."   
KINLÒ
KINLÒ Coconut Body Oil
$ 9.99
Osaka's pure coconut oil is a true multitasker: Use it to hydrate skin, tend to split ends, remove makeup, or massage sore muscles for a glow from head to toe.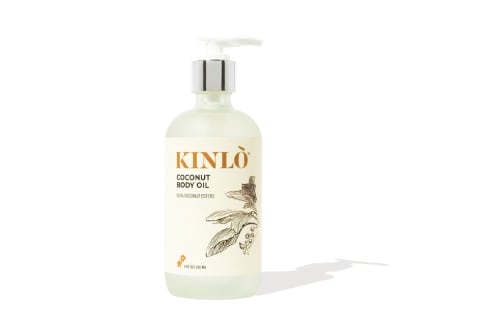 The signature: A bold tennis outfit. 
"Well, I think since people mostly see me on the court, they probably identify me with Nike since I'm always wearing it. Nike has been such a good partner, and they actually give me custom looks for each tournament, so I look super cool and different from everyone else on the court. 
"I also work together with Nike to design my very own Naomi Osaka Collection, which is more off-court lifestyle apparel and drops twice per year. The most recent season just dropped [in November], and it's definitely my favorite yet. The color palette was inspired by my own personal expression and evolution—there are bold colors and adaptable silhouettes that work for everyone." 
Advertisement
This ad is displayed using third party content and we do not control its accessibility features.