Written by
Kelsea Samson is a writer, content manager, certified yoga instructor and founder of The Mindfulness Program for Kids and Yoga for the Blind in Tampa, Florida.
Medical review by
Board-Certified Pediatric Dentist
Staci Whitman, DMD is a board-certified pediatric dentist and a diplomate of the American Board of Pediatric Dentistry. She is the founder of NoPo Kids Dentistry in North Portland, Oregon where she takes a whole-body, holistic, and functional approach with her patients.
December 9, 2022
Our editors have independently chosen the products listed on this page. If you purchase something mentioned in this article, we may
New to water flossing? Think of water flossing like the first step in a 10-step skin care routine, only for your dental hygiene rather than your skin health. Water flossing is not a substitute for dental flossing, but rather should come first, before dental flossing and brushing. The best water flossers will blast away the plaque that can lead to inflammation, gum disease, and cavities, so the string floss can get into the nooks and crannies—similar to how double cleansing removes makeup and debris, before applying moisturizer.
To learn more about why dental hygiene is important and how to pick the best water flossers, we consulted two dentists, Dr. Renae Sweeney and Dr. Andrea Sarmento.
But first, a quick distinction on Waterpiks, water flossers, and air flossers. As Sarmento explains, "There is no difference between them. Waterpiks and air flossers are both water flossers." To this, Sweeney adds, "Waterpik is a brand of water flosser. Air floss is also a water flosser made by the brand Sonicare," though it's been discontinued. Call it by any name, dentists recommend water flossers to remove more bacteria-causing plaque than dental floss alone, and we think they deserve a spot in your daily routine.
Keep reading to find our picks for the best water flossers of 2022.
A peek at the best water flossers of 2022:
Who Should Use a Water Flosser?
Our experts agree that pretty much everyone could benefit from using a water flosser daily, before dental flossing and brushing—especially those who have gingivitis, wear braces, aligners, or other hardware, or struggle to maneuver string floss efficiently. "Water flossers are especially great for those with arthritis or limited dexterity, and they are an excellent way to target hard-to-reach spots when you have braces, implants, crowns, bridges, or extensive dental equipment in your mouth. The stream of water is able to work around wires and hardware that string floss is unable to wiggle into and remove pieces of food and plaque," Sweeney adds.
Water flossers are also often gentler on gums than dental floss, especially if you tend to floss aggressively, or aren't using the proper technique, which experts say can cause damage to delicate gingival tissues.
"The con of water flossers is that they cannot clean under the gums as adequately as string floss when using a proper technique, and won't remove all the plaque from the tooth's surface", she says. So, it's important that water flossing is an addition to your oral care routine, not a replacement for dental flossing and brushing.
Sarmento reaffirms this, saying, "Dentists do recommend water flossers, but not as a replacement to regular flossing! Water flossing does not replace regular string flossing or brushing but is a great way to remove food debris and plaque."
While everyone can benefit from a water flosser, both Sweeney and Sarmento warn that water flossing can be a little messy (hello, splash zone!) and require a little time to get used to.
How to Choose
While plenty of water flossers will get the job done, the best one for you depends on which design (corded or cordless) you prefer, which features are must-haves, and what your budget is. Ideally, you'll choose a water flosser that has earned the American Dental Association (ADA) Seal of Acceptance, meaning it is clinically proven to protect oral health between dental visits. Waterpik was the first brand to receive this certification, which is why the brand has earned three out of six spots on our list. The Sonicare Power Flosser is also ADA approved and has been proven to yield the results promised.  
Our dental experts found Waterpik, Sonicare, and Oral–B to all be excellent choices. Whichever water flosser you try, just make sure you follow the usage instructions. "Using your water flosser improperly could cause adverse outcomes," says Dr. Sweeney. 
How we picked:
Because many of these are chargeable options, we paid close attention to battery life, ensuring that you will get the most time out of each charge.
There are pros and cons of each design, so we made sure to include options for both plug-in and cordless models.
We picked water flossers that fit a wide range of budgets, including best-selling Amazon options and the top dentist recommended options, for those looking to invest in their at-home oral care for years to come.
Each water flosser on our list has earned the ADA Seal of Acceptance, and many are backed by dentist approval.
Our picks for the best water flossers of 2022:
Best for braces: Philips Sonicare Power Flosser 7000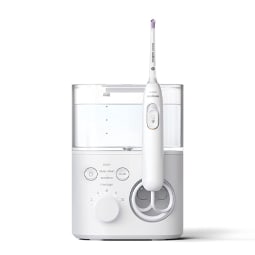 Pros:
Whisper quiet design
Guided session so you don't miss a spot
4 flossing modes and 10 intensities
Dimensions: 10" x 5" x 5"
Pressure settings: 10
Type: Corded
Reservoir size: 20.2 ounces
Attachment nozzles: 4
The Philips Sonicare Power Flosser 7000 is a corded flosser with an X-shaped water stream nozzle that gives a more thorough clean between the teeth and along the gum line, ideal for people with braces or other hardware. The brand claims this design is up to 180% more effective than traditional flossing, thanks to its quad-tip stream. One feature that certainly comes in handy is this flosser's pulse wave technology, which lets you know when it's time to move on from one tooth to the next, ensuring each tooth gets equally cleaned. It holds over 20 ounces of water, has a whopping 10 pressure settings, and is surprisingly quiet on each.
Reviewers say this water flosser delivers a "just left the dentist" clean feeling. One mom of a daughter with braces writes, "She was having trouble with flossing and this was recommended. I'm glad we got it! It's a powerful, easy and an effective tool to help her get in those hard-to-reach spots and the variety of tips makes it convenient for different purposes." As far as negative reviews on Amazon, nothing stood out that the brand's lifetime limited warranty didn't fix.
Best budget : Waterpik Cordless Express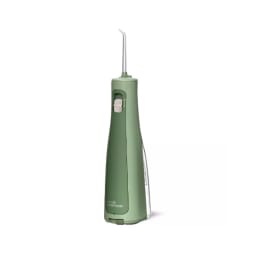 Pros:
Multiple colorways
Great for travel
Waterproof and can be used in the shower
Cons:
Lower pressure than corded options
Smaller water chamber requires frequent refilling
Dimensions: 12" x 3" x 4"
Pressure settings: 2
Type: Cordless
Reservoir size: 5 ounces
Attachment nozzles: 3
Waterpik is definitely the most well-known water flosser brand and is accepted by the ADA. The brand makes plenty of great options, with budget friendly, travel-friendly, and effective designs. The Cordless Revive Portable Water Flosser is battery-operated and combines water pressure with pulsating action to remove 99.9% of plaque (if the flosser is operating at a pressure range (PSI) above 70), bad bacteria and debris that traditional brushing and flossing can't reach, which is great for gum health. 
The flosser's handle has dual pressure control, making it easy to alternate between 45 to 75 PSI as you're flossing over tender areas. It's no secret that water flossing can be a bit messy, but this one is waterproof and can actually be used in the shower to minimize cleanup.
One reviewer writes, "It's like taking a micro pressure washer to your teeth and gums. I'm amazed at the number of particles that the Waterpik loosens and rinses away." One common note is that you may need to fill the water once or twice per session. That said, most reviewers agree that this is a fair trade for its portability and small size.
Advertisement
This ad is displayed using third party content and we do not control its accessibility features.
Best portable: Waterpik Cordless Advanced Water Flosser
Pros:
Great for travel
Comes with four different tips
Quiet
Cons:
Lower PSI than corded models
Small water chamber
Dimensions: 12" x 3" x 4"
Pressure settings: 3
Type: Cordless
Reservoir size: 7 ounces
Attachment nozzles: 4
Another portable model from the same brand, this water flosser proves that you don't need to sacrifice many bells and whistles while you travel. It has four tips, three pressure settings (ranging from 45 to 75 PSI), and a travel bag for easy storage and packing. There's even an attachment nozzle specifically designed to close the top while you travel. While small, the water reservoir is easy to fill and holds up to 45 seconds of water capacity.
It's hard to ignore the over 50,000 reviews on Amazon, or the fact that this flosser has an overall rating of 4.5 out of 5 stars. One reviewer dubs this product "the best flosser on the market," while another says it's "the only water flosser worth the money." Some mention that the water pressure is weaker than other Waterpik flossers, but that is to be expected with portable models.
Dentist recommended: Waterpik Aquarius Water Flosser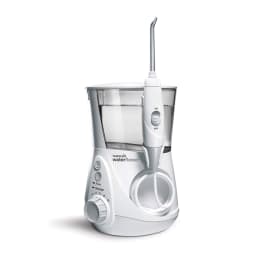 Pros:
Holds a large amount of water
Top selling water flosser on Amazon
Professional and ADA accepted
Dimensions: 11" x 6" x 6"
Pressure settings: 2
Type: Corded
Reservoir size: 22 ounces
Attachment nozzles: 7
Check out this Waterpik water flosser on Amazon and the first thing you'll notice is a plethora of five-star reviews the length of short stories. Who knew a water flosser could evoke such joy? This professional flosser has enhanced pressure, 10 settings, a massage mode for gum stimulation, and a built-in timer to help track your flossing time. The best part might be its large water reservoir which holds roughly three times more water than cordless flossers. It's an Amazon best-seller for a reason, and is currently 30% off.  
With an average 4.7-star rating over 113,000 reviews, this flosser gets a lot of love, to say the least. Most feedback sounds a lot like this particular review: "After every use, my mouth feels like it was cleaned by a dental hygienist."
Advertisement
This ad is displayed using third party content and we do not control its accessibility features.
Best cordless: Aquasonic Aqua Flosser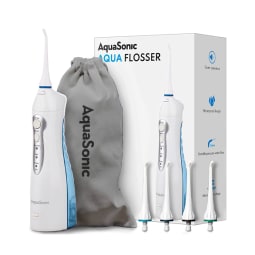 Pros:
360-degree rotary tips are great for braces
Portable
4 attachment nozzles and 3 pressure modes
Cons:
Smaller water chamber requires frequent refilling
No ADA seal of approval mentioned
Dimensions: 10" x 3" x 4"
Pressure settings: 3
Type: Cordless
Reservoir size: 5 ounces
Attachment nozzles: 4
Like most cordless options, this portable water flosser has a smaller chamber capacity (5 ounces), but it comes equipped with four attachment nozzles and utilizes three pressure settings: : normal, soft, and pulse, which helps the water last longer and the brand says is great for improving your dental hygiene. Fully charged, the battery will last up to 8 hours. 
Some customers say the water chamber holds enough for two floss sessions, while others say they need to refill it halfway through. What the majority of reviewers agree on, though, is that this is a powerful and effective option, that's great if you don't want to deal with cords and want something lightweight and portable.
Best Customizable: Oral–B Water Flosser Advanced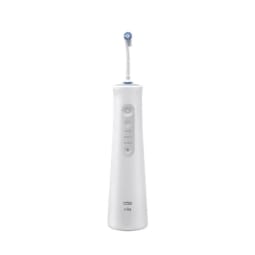 Pros:
Cordless and portable
Personalized stream and pressure settings
Money back guarantee
Cons:
Some found the water chamber to be too small
No ADA seal of approval mentioned
Dimensions: 12" x 3" x 4"
Pressure settings: 2
Type: Cordless
Reservoir size: 5 ounces
Attachment nozzles: 3
This cordless, single-body water flosser from Oral–B is customizable, allowing you to personalize your cleaning with intensities for gum massage, all-around clean, and targeted clean. There's also an on-demand mode that gives you the ability to release water only when you need it, minimizing the splash zone effect (and saving water). Plus, the brand's proprietary technology uses water that's enriched with micro-bubbles of air. which it says helps to eliminate plaque and leftover food particles, for healthier gums.
There is no mention of ADA approval on this water flosser, but a few experts we spoke to advised that this certification is not make or break, and the brand is also highly recognized for its traditional dental floss, which is ADA compliant.
Almost 70% of reviewers gave this water flosser a perfect rating. One reviewer writes, "My teeth and gums are so happy after using this. I love that it has three different levels of pressure because some days I feel sensitive and just want a light blasting, but most days I like the medium mode. The amount of gunk that falls into the sink is frightening, even after using regular floss. This tells me that this product really does its job well!"
Advertisement
This ad is displayed using third party content and we do not control its accessibility features.
FAQ:
Is there a difference between a Waterpik and a water flosser?

No, Waterpik is a brand that makes water flossers.
What is the best water flosser brand?

Waterpik is certainly the most widely-known. It was the first water flosser to earn the American Dental Association Seal of Acceptance and is clinically proven to protect oral health between dental visits. That said, the other options we've included also meet our expert's recommendations.
Is a water flosser damaging?

Dr. Sarmento says, "No. A water flosser should not be damaging to your teeth or gums if used correctly." 
But don't forget about traditional dental floss.
As much as you'll love your new water flosser, don't let your (hopefully) existing floss routine fall by the wayside. Our experts confirm that water flossers should not replace brushing or flossing. Shop a few of our favorite ADA-approved dental floss options below.
The takeaway.
As experts confirm, everyone can benefit from adding water flossing to their daily oral care routine. There are plenty of great, clinically-proven options, and each of the models on our list have been dentist-approved. Next, consider upgrading your toothbrush to one of our picks for the best electric toothbrushes for a healthy, cleaner mouth.