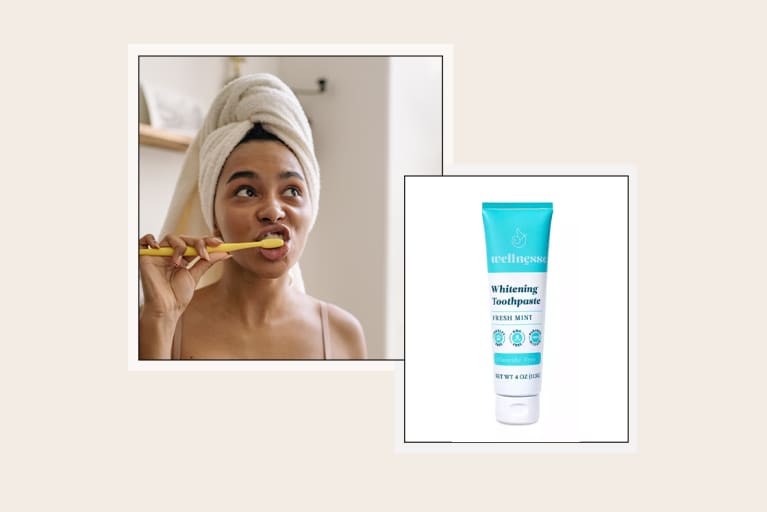 Our editors have independently chosen the products listed on this page. If you purchase something mentioned in this article, we may earn a small commission.
October 19, 2022 — 9:33 AM
Oral care is popping up more often in the beauty space as of late—but with a twist. Rather than a surge of white strips and super-strength mouthwashes, natural ingredients and aesthetically pleasing oral accessories are slowly becoming the norm. Among the medicine cabinet essentials getting a makeover? Toothpaste.
Natural toothpaste is growing in popularity, as more and more brands launch formulas without sodium lauryl sulfate (SLS) or fluoride. And while there's plenty to love about the cleaner ingredient list offered by these brands, I've found that many of these formulas don't give me the same "freshly cleaned" feel as their traditional counterparts. What can I say, I love when my mouth feels like I just left the dentist.
Knowing this, I've tried a few different formulas throughout the years, but it wasn't until recently that I found a formula that competes with its less natural counterparts: the Wellnesse Whitening Toothpaste. Not only does the clean formula deliver the ultraclean feel that I crave, but it leaves my breath minty and fresh. Here's why I simply can't get enough of Wellnesse.
What's the difference between traditional and "natural" toothpaste?
First things first, it's important to understand what event counts as a natural toothpaste. Like many things in the beauty and health space, slapping "natural" in front of a product name doesn't always mean it comes from actual plants or is even free of harmful additives. When referring to natural toothpaste, this generally means formulas that are sulfate-free, fluoride-free, or both.
The great debate over whether or not fluoride is good for your teeth seems never-ending. Some holistic dentists recommend staying away, while other dental professionals deem fluoride essential. At the end of the day, it really gets down to personal preference. Sulfates, however, may be a bit more problematic. Research shows that sulfates can potentially irritate your soft oral tissue and disrupt your oral microbiome (which may in turn lead to chronic bad breath)—which means SLS-free is a must.
Why the Wellnesse Whitening Toothpaste stands out. 
As mentioned, I'm not exactly new to the world of natural-leaning toothpaste brands. I've learned that personally, I'd rather brush with a fresh minty flavor than a complex lemon, zingy anise, or floral lavender taste. What's more, I'm not willing to compromise on a good clean or noticeable whitening power—even if that means exposure to less savory ingredients.
After using and not loving countless options, I tried the Wellnesse Whitening Toothpaste, and I quickly became obsessed. It works even better than conventional pastes I was using previously—not just to whiten my teeth but also to leave them feeling freshly polished day in and day out.
Rather than fluoride, Wellnesse calls upon hydroxyapatite, a naturally occurring mineral that works wonders to polish the teeth and strengthen enamel. It pairs this active ingredient with neem oil, which reduces the deposition of plaque and enhances the immune response in the mouth. Plus, the formula even relies on green tea extract to help fight bad bacteria.
Altogether, the blend is a supercharged good-for-you paste that actually works. Plus, they even have a natural strawberry flavor for those who prefer something other than mint (perfect for the kiddos). 
Wellnesse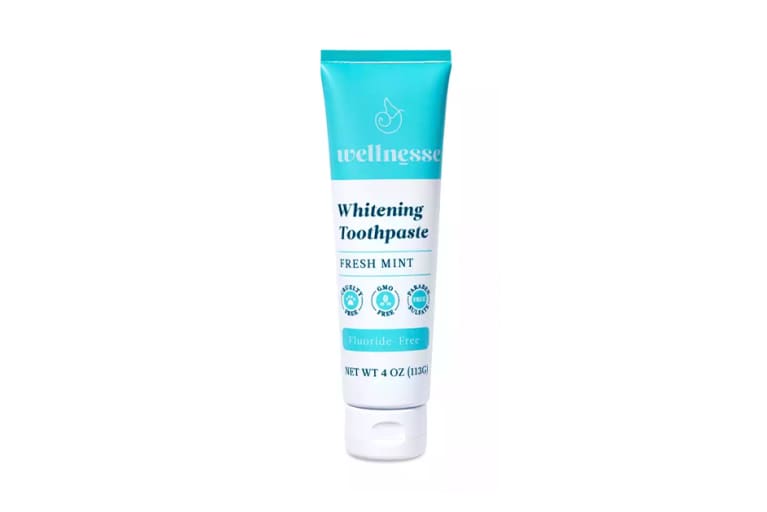 Wellnesse
Whitening Toothpaste
$15
The term "natural toothpaste" generally means fluoride-free or sulfate-free—sometimes both. If you're in the market for a natural paste that actually works—there's no formula I like more than the Wellnesse Whitening Toothpaste. It leaves your teeth feeling glossy and shining bright, sans irritation or stinging. If you're looking for more oral care tips and tricks, check out these tips from a dental hygienist.
Wellnesse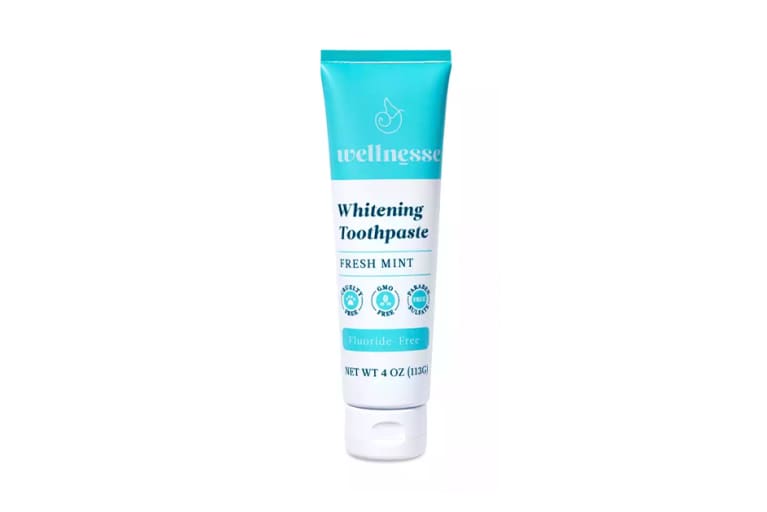 Wellnesse
Whitening Toothpaste
$15
https://www.mindbodygreen.com/articles/wellnesse-whitening-toothpaste-review