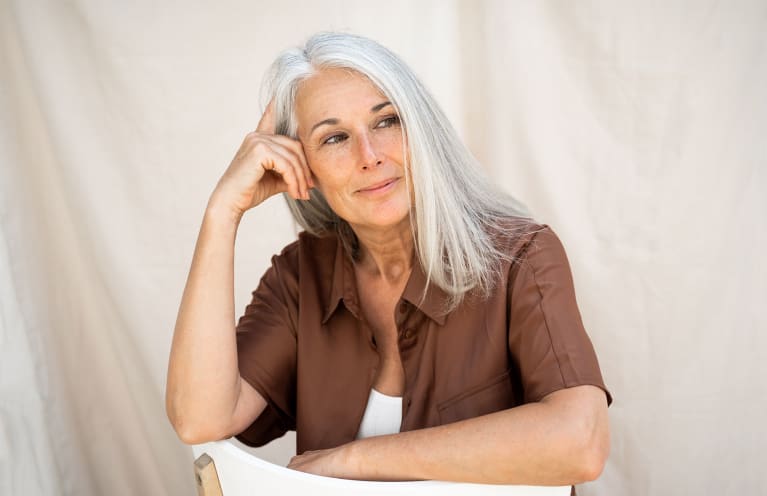 Our editors have independently chosen the products listed on this page. If you purchase something mentioned in this article, we may earn a small commission.
August 28, 2022 — 9:57 AM
Nothing will turn back the clock, try as we might. As I've said many times before, aging is a good thing—to age means to live. However, I also believe there's nothing wrong with wanting to improve the appearance of your skin as you grow older. Personally, I want my skin to look and feel its best for as long as possible, and I take proactive steps to accomplish that goal. 
As a beauty editor I get to learn about and try a wide range of tactics to support my skin, to varying levels of success. And through my research—and, ahem, trial-and-error—there are a few expert-backed habits that seem to offer real results. (A reminder: every skin type and need is different, so what works for one person may not work for another. Always view recommendations through the lens of your own self knowledge.) If you're looking to enhance your skin's appearance now, and for years to come, these tips are a good place to start. 
1.
Visit a professional, as regularly as you can.
One of the most meaningful things you can do for your skin is to find a skin care professional who can give you tailored, thoughtful advice for specific skin concerns. Not only that, but if you build a relationship with your skin therapist, they can help you as your skin changes and evolves with time. 
"[People should find and] build relationships with their 'skin people.' I think it's really important for people to find therapists who can take care of you as an individual," says Natalie Aguilar, a dermatological nurse and founder of N4 Skincare. 
Most professionals recommend a monthly cadence for a facial treatment. "The skin regenerates about every 28 days. The skin cells come back and accumulate," says board-certified dermatologist Ava Shamban, M.D., founder of SKINFIVE, in our guide to facials. "Therefore, it's best to treat the skin at the end of the skin-life cycle just about every month." 
Of course, this can be a costly endeavor that may not be available to everyone. If monthly is out of the question, try and schedule one for seasonal changes (about twice or four times a year). Additionally, you can always talk to your skin care practitioner about your budget and time constraints, so they can better guide you on how to take care of your skin during the longer gaps between appointments. 
Once thought of as an "edible hoax," the robust and growing research around collagen peptide supplement has shown getting a collagen supplement is more than worth the investment. 
"There are, in fact, numerous published studies on collagen peptides, and the science continues to build. When there are enough clinicals to compile them in a systematic review or meta-analysis, that's definitely a sign that a certain bioactive or nutritional component has a noteworthy breadth of clinical evidence," says Ashley Jordan Ferira, Ph.D., RDN, vice president of scientific affairs at mindbodygreen, says about the supplement's efficacy.
Even dermatologists, once some of collagen's most ardent critics, sing their praises. As board-certified dermatologists Whitney Bowe, M.D., said, "There are very compelling studies—clinical, placebo-controlled, randomized, the gold standard in terms of types of studies that can be done—showing that ingesting collagen [peptides] consistently over time can actually stimulate your own collagen production in your skin, increase hydration, and help with firmness, elasticity, and fine lines and wrinkles."* She even notes that collectively, "the science behind collagen would put some of these other trendy skin care ingredients everyone talks about all the time to shame." 
Of course, you'll want to find a high-quality product that has a meaningful dose of collagen for the skin (studies show that a range of 2.5 to 10 grams per day can be beneficial for skin support.)* Additionally, you may consider an option that comes with other skin care-focused ingredients like hyaluronic acid, vitamin C, E, and other antioxidants.* 
For more, check out our all time favorite collagen supplements. 
3.
Tried-and-true topicals
Daily maintenance is the baseline. Even if you get monthly facials and take only the highest-quality beauty supplements, it won't be impactful if you're not caring for your skin twice daily with science-backed topicals. 
At the bare minimum, you should be washing your face, using a moisturizer, and applying SPF. However, for more targeted results, opt for a healthy aging skin care routine. This will be a slightly more involved process, but don't worry—it's something even a skin care minimalist can get behind. 
In addition to your core 3 steps, you should add in a rejuvenating serum, such as a retinol serum or a vitamin C serum. These are considered the most widely studied topical ingredients for the skin, and are often recommended by the pros. However, if you cannot tolerate these ingredients (or aren't interested in them for whatever reason), peptides, AHAs (like lactic), niacinamide, and biotic ingredients can also help support your skin's appearance. 
If you are pregnant, breastfeeding, or taking medications, consult with your doctor before starting a supplement routine. It is always optimal to consult with a health care provider when considering what supplements are right for you.
https://www.mindbodygreen.com/articles/healthy-aging-habits-for-skin