Reviewed by Krista Maguire, R.D., C.S.S.D.
---
Looking for more Ultimate Reset recipes and meal plans to support you during your cleanse? It's now easier than ever to follow the Beachbody Ultimate Reset 21-day healthy cleanse program.
With the Ultimate Reset cookbook, "A Taste of The World," Beachbody's healthy cleanse diet offers even more recipe options to help keep your meal prep simple, and your plate exciting and delicious.
Latin American Recipes | Mediterranean Recipes | Indian Recipes
What Is Ultimate Reset?
For the uninitiated, Beachbody Ultimate Reset is a 21-day healthy cleanse program that helps you renew your body from the inside out.
Whether your diet has gone off the rails, or you feel like you need a whole-body revamp, Beachbody Ultimate Reset can help you lose weight, reset your diet, cleanse your system, and improve your energy, digestion, and overall health and well-being.*
Unlike detox juice cleanses that can leave you hangry, Ultimate Reset involves an easy-to-follow clean-eating diet that allows you to eat whole foods that help nourish your system while removing foods that could be putting stress on your gut and compromising your energy, digestion, and overall wellness.
With premium supplements that help support the body's natural detoxification processes, Ultimate Reset provides the essential nutrients you need to help you stay healthy during your cleanse, including plenty of fiber.
Plus, the program offers a variety of meal plans that won't leave you famished.*
What's Inside the Ultimate Reset Cookbook?
"A Taste of The World" features 60+ delicious Ultimate Reset recipes, inspired by popular Mediterranean, Latin-American, and Indian dishes.
You can feast on fajitas and guacamole, nosh on falafel and hummus, or savor some saag and curry.
Each comes with a meal plan and shopping list to help simplify your cleanse.
The cookbook also provides three time-saving Ultimate Reset meal plans called "Reset in a Crunch" — menus that allow you to make meals in a hurry without a lot of meal prep or cooking time.
The recipes in "A Taste of The World" work with the current 21-day Ultimate Reset program guide and plan.
However, you might find these recipes so delicious, that you'll want to use them even when you're not doing the cleanse.
Take a peek at some of the recipes featured in the cookbook below!
When you're ready to start the cleanse, download the full digital recipe book for free from the Ultimate Reset program materials on Beachbody On Demand.
11 Ultimate Reset Recipes From "A Taste of The World"
Latin-American Meal Plan Recipes
Baja-Style Cauliflower Ceviche Tostada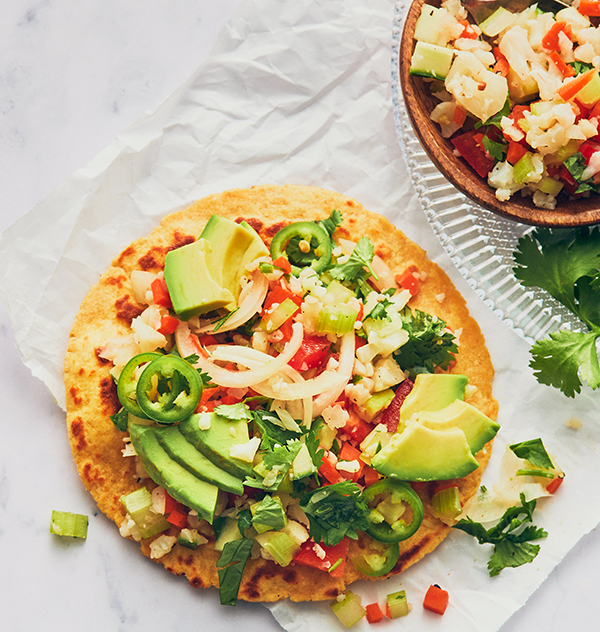 There's no need to skip out on Taco Tuesdays just because you're on a cleanse.
Lime, jalapeño, and apple cider vinegar-marinated vegetables sit atop crispy corn tortillas for a crunchy and colorful fiesta in your mouth.
Designed for Phase 1, this recipe can also work in the later stages by omitting the tortillas.
Pro tip: Choose raw apple cider vinegar for natural probiotic benefits.
(Makes 2 servings, approx. 3 cups each)
Fantastic Fiber (F), Gluten-Free (GF), No Dairy (ND), Vegan (V), Vegetarian (VG)
Phases: 1 (see tip for Phases 2 and 3 below)
Total Time: 20 min. + 1 hr. chilling time
Prep Time: 10 min.
Cooking Time: 10 min.
Ingredients
2 tsp. avocado oil
2 cups / 170 g cauliflower florets, chopped
½ medium onion, sliced
2 medium carrots, finely chopped
½ medium cucumber, chopped
4 medium celery stalks, chopped
1 medium red bell pepper, finely chopped
½ cup / 10 g fresh cilantro (coriander leaves)
½ medium avocado, sliced
¼ cup / 60 ml apple cider vinegar
1 medium lime, juiced
1 medium jalapeño pepper, deveined, deseeded, thinly sliced
¼ tsp. sea salt (or Himalayan salt)
¼ tsp. ground black pepper
Nonstick avocado oil cooking spray
2 (6-inch / 15-cm each) corn tortillas
Instructions
Heat oil in a large nonstick skillet over medium-high heat.
Add cauliflower; cook, stirring occasionally, for 8 to 10 minutes, or until soft. Remove from heat.
Add onion, carrots, cucumber, celery, bell pepper, cilantro, avocado, vinegar, lime juice, jalapeño, salt, and pepper; stir to combine. Refrigerate in an airtight container for 1 hour, or until chilled.
When ceviche has chilled, heat a dry nonstick skillet over medium-high heat; lightly coat with spray.
Add tortillas; cook for 3 minutes. Flip; cook for an additional 3 minutes, or until crispy.
Pro tip: To make this recipe during Phases 2 and 3, omit the tortillas.
Nutritional Information (per serving):
*Estimated nutritional information for this recipe.
Calories: 288
Total Fat: 13 g
Saturated Fat: 2 g
Cholesterol: 0 mg
Sodium: 353 mg
Carbohydrates: 40 g
Fiber: 13 g
Total Sugars: 12 g
Added Sugars: 0 g
Protein: 8 g
Portion Fix Containers
3 Green
½ Yellow
1 Blue
1 tsp.
Vegan Portion Fix Containers
3 Green
½ Yellow B
1 Blue
1 tsp.
2B Mindset Plate It!
Add a protein and make a great lunch.
Love this recipe? Check out just a few of the many delicious and flavorful recipes you'll get with this cookbook:
Avocado and Egg Ranchero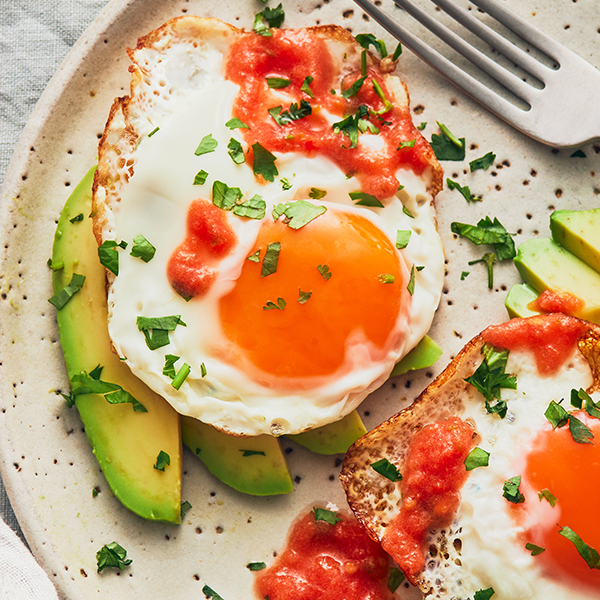 This quick and easy recipe is inspired by the Mexican dish huevos rancheros, a hearty late-morning breakfast eaten by ranchers and farmers.
With fresh sliced avocado, salsa, sea salt, and cilantro, this flavorful Phase 1 breakfast packs plenty of flavor, plus protein and healthy fat to keep you feeling satisfied.
Though eggs are allowed only in Phase 1 of the program, this Ultimate Reset recipe can be modified and enjoyed throughout your cleanse.
Papaya Oats Parfait
Sweet and juicy papaya takes center stage in this delightful oats and yogurt parfait recipe.
It has a melt-in-your-mouth texture and tastes similar to cantaloupe and other melons and it's perfect for Phase 1 when you might still be adjusting to eating less sugar.
Papayas also contain gut-friendly enzymes that can help with digestion.
Tempeh Fajitas
These Ultimate Reset fajitas are a great weeknight go-to recipe, whether you're on a cleanse or not. Seasoned sautéed veggies meet crispy, golden tempeh for a meatless version of the Tex-Mex treat.
Earthy, savory, and somewhat nutty, tempeh makes a great meat alternative because of its versatility; like chicken, it absorbs the flavors it's cooked in.
Mediterranean Meal Plan Recipes
Apricot and Avocado Salad
If salads don't usually excite you, feast your eyes on this colorful Mediterranean salad recipe that's almost too gorgeous to eat.
Creamy avocado, crunchy and tart pomegranate, bright citrus, savory mint, and sweet apricot come together for a perfectly balanced blend of texture and flavors that will turn the staunchest salad skeptic into a believer.
(Don't worry: If apricots aren't in season, swap them out for mango, peach, or pear.)
Lemon Garlic Salmon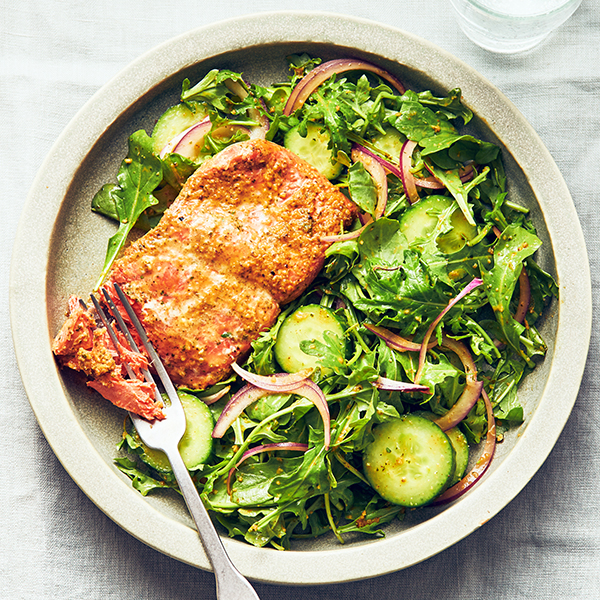 Simple, refreshing, and fast, this light and bright Phase 1 salmon dish borrows its flavors from Mediterranean green sauces like Italian salsa verde and gremolata.
Garlic, fresh herbs, lemon juice, and oil serve as both the fish marinade and the dressing for the bed of greens it's nestled in.
Celery Root Hummus
Celery root takes the place of chickpeas in this delicious twist on the traditional Middle Eastern staple.
Cooked celery root has a smooth, creamy consistency and a sweet and mild taste, similar to potatoes with a hint of celery. Think of this Ultimate Reset recipe as your cleanse comfort food.
Indian Meal Plan Recipes
Vegetable Curry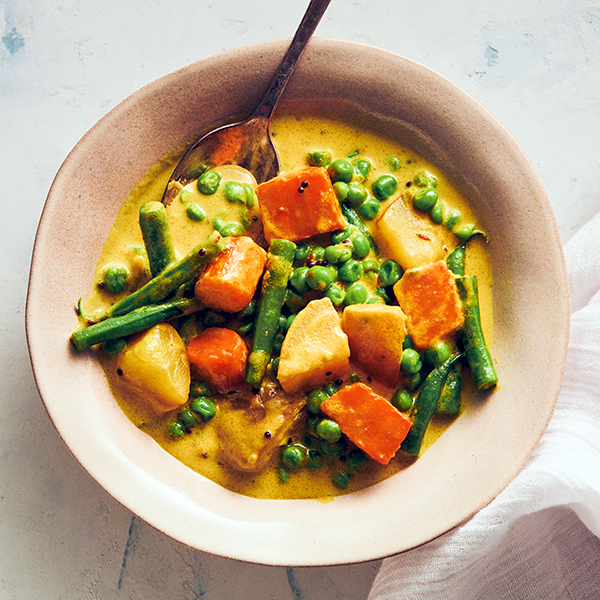 Who doesn't love a bowl of sweet and spicy curry?
Doused in a luscious coconut-milk broth, flavored with turmeric, cumin, and coriander, everyday vegetables like peas, carrots, and green beans get a saucy makeover in this Indian-inspired Ultimate Reset recipe.
High in fiber and flavor, this satisfying vegan stew can be whipped up in 30 minutes.
Golden Chia Pudding
This creamy and delectable chia pudding recipe is comfort in a cup, thanks to the warm, spicy chai-like flavors of turmeric, cinnamon, vanilla, and maple syrup.
Make it ahead of time for a grab-and-go breakfast or snack during Phases 1 and 2.
Kitchari
Traditionally used in Ayurvedic cooking as a cleansing dish, kitchari is a vegan dish of rice, lentils, vegetables, and spices that is said to support good agni, or digestive fire.
Hearty and nourishing, this delectable kitchari recipe works in Phases 1 and 2, before you eliminate grains and legumes in the final Ultimate Reset phase.
Mango Lassi
A yogurt-based drink popular in Indian cuisine, lassi is traditionally consumed as an after-meal digestive aid. This version combines mangoes, honey, mint, and Greek yogurt for a sweetly satisfying treat.
Enjoy this for breakfast during Phase 1 of your Ultimate Reset cleanse.
Interested in trying Beachbody Ultimate Reset?
Learn more about the 21-day program and its benefits. Or read up on how to prepare for a cleanse, including what to eat before the cleanse and after.